It feels like a little while now since we headed down to Portsmouth for the Great South Run! I won my entry in a social media competition, and having never completed a Great Run event before I decided to make the trip. We turned it into a family weekend with E completing the Junior event on the Saturday, and myself running the 10 miler on the Sunday.
We stayed over in a hotel I found on Booking.com which was 10 minutes from the start line and was like an upmarket youth hostel, with a shared kitchen, plus games room with pool table, table football, air hockey and piano! I'd definitely recommend booking somewhere local so that you can just wake up in the morning and walk to the start of the race – with 20,000 people taking part it was pretty busy, and you don't want to be stressing about finding a car parking space or getting stuck in traffic.
The weather was really mild the weekend of the race (21st October), and I enjoyed the most stunning blue skies and sunshine the whole way round. The warmer temperatures did make running 10 miles rather more challenging, but the support on the course was great and really gave me a lift when I was struggling or needed a bit of extra motivation. As well as charity cheering points, there were branded 'boost zones' from race partners like SimplyHealth and Garmin playing music from loud speakers, live bands and lots of local residents and spectators who had made the effort to come out and cheer! I opted to wear a baseball cap to keep the sun out of my eyes, as I find I get a headache from squinting otherwise, which I think was a good decision given how open the course was.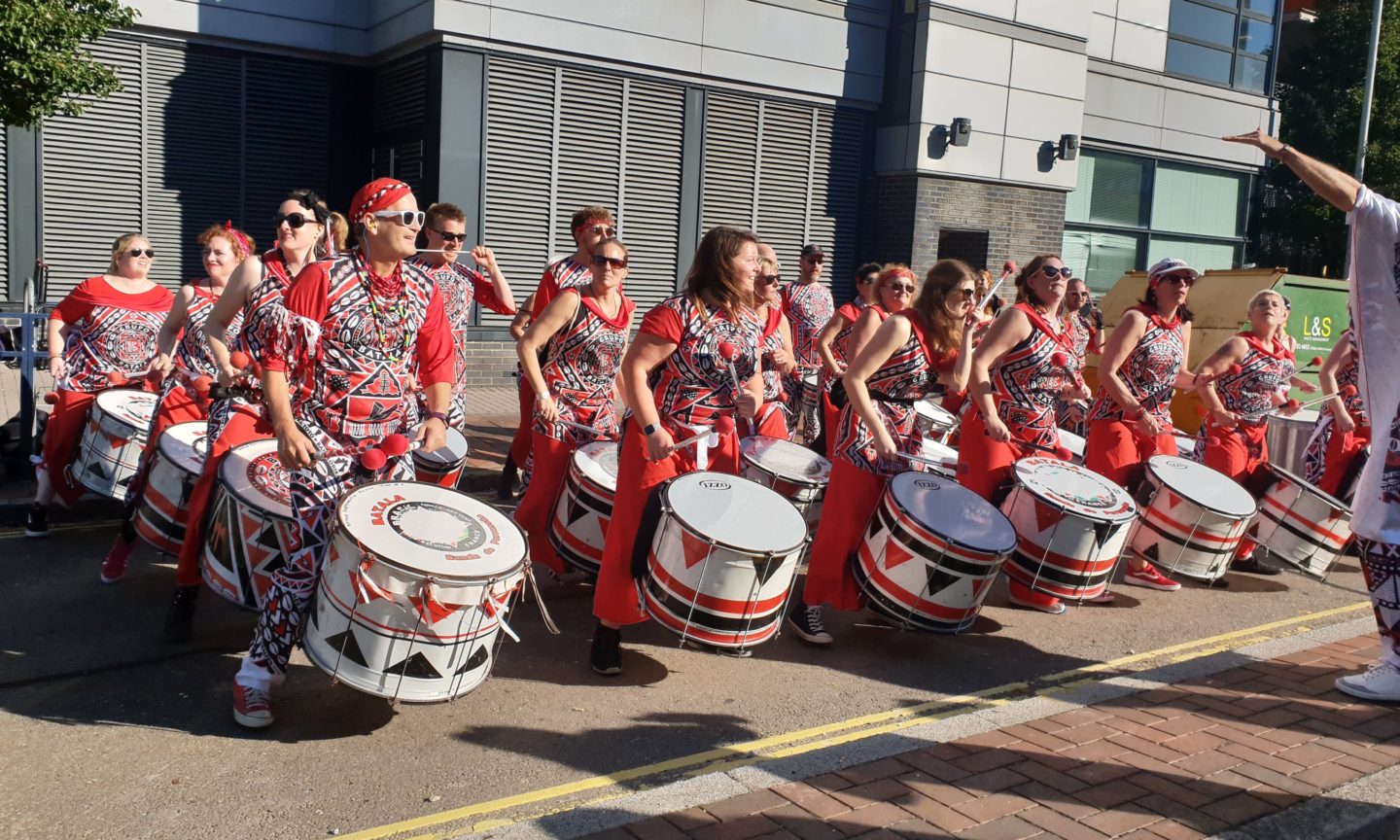 The route was well signposted with water stations just after miles 3, 5 and 7, and an SiS gel station at 6 miles. I opted to carry my own CLIF Shotbloks which I prefer, but it was worth noting as a slower runner that they hadn't run out of product which has happened to me before!
The flat course heads through Old Portsmouth, home of the Portsmouth Cathedral, before entering the Historic Dockyard, passing iconic landmarks such as HMS Victory, HMS Warrior and the Mary Rose Museum. I loved seeing the old ships, as well as people dressed up in naval uniforms and enjoyed the twisting nature of the route which presented a new sight round each corner!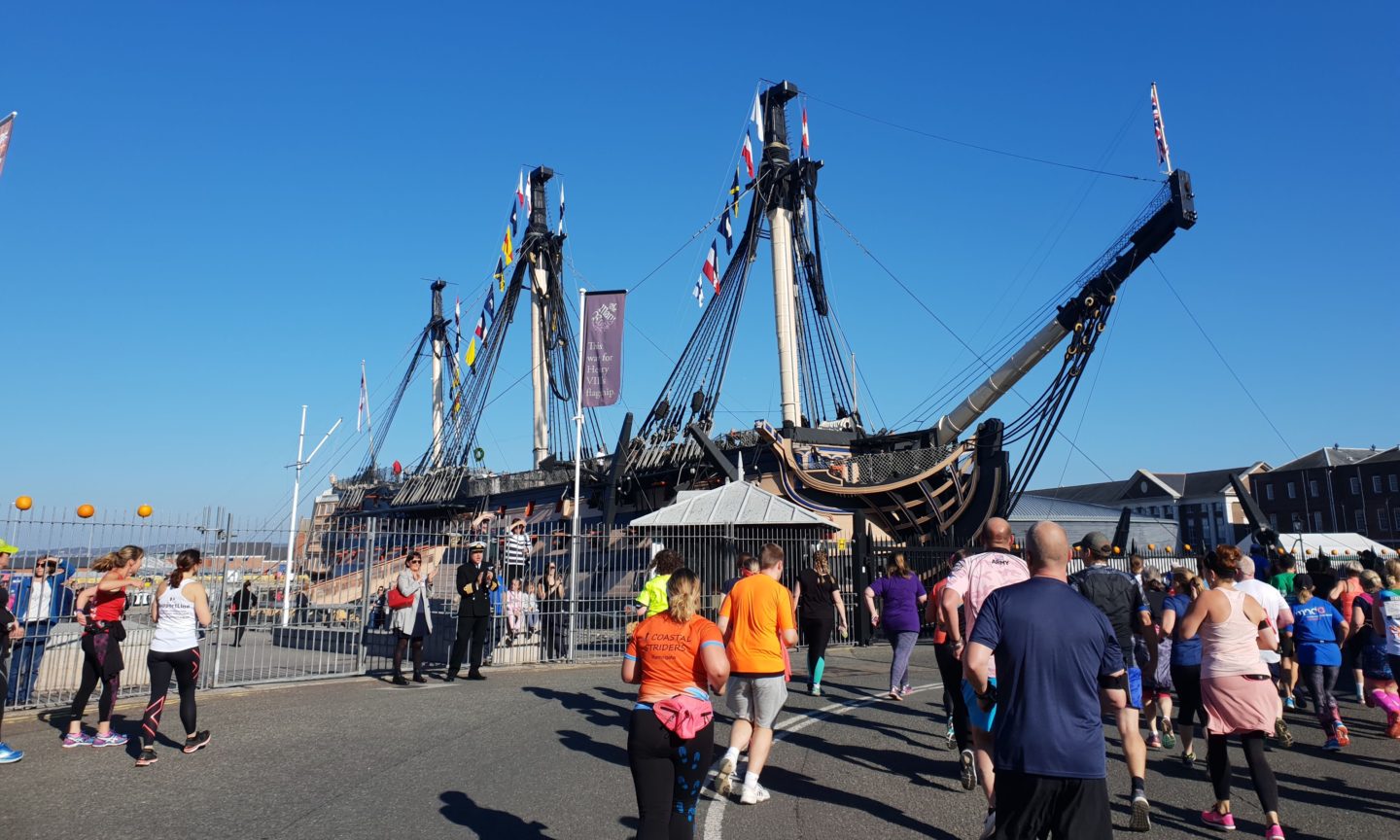 After leaving the Dockyard we ran through residential streets towards Southsea Common, before turning back along the scenic seafront to complete the final two miles to the finish. I'll be honest, I hadn't really done enough training for a 10 mile race. I was feeling pretty strong up until about 6 miles when I started wishing that it was a 10k instead! I wasn't sure I had the energy for another 4 miles but decided to take the pressure off and just enjoy running somewhere new. The beauty of taking part in a larger race is that there are always lots of people around you to push you on – someone running in a charity vest with an emotional message on the back or a runner in elaborate fancy dress.
I really enjoyed running by the sea as well – I loved Brighton Half Marathon for the same reason – and finally spotted James and E who were cheering on the promenade in the last mile or so. It was great to see them and get a boost to push me over the finish line!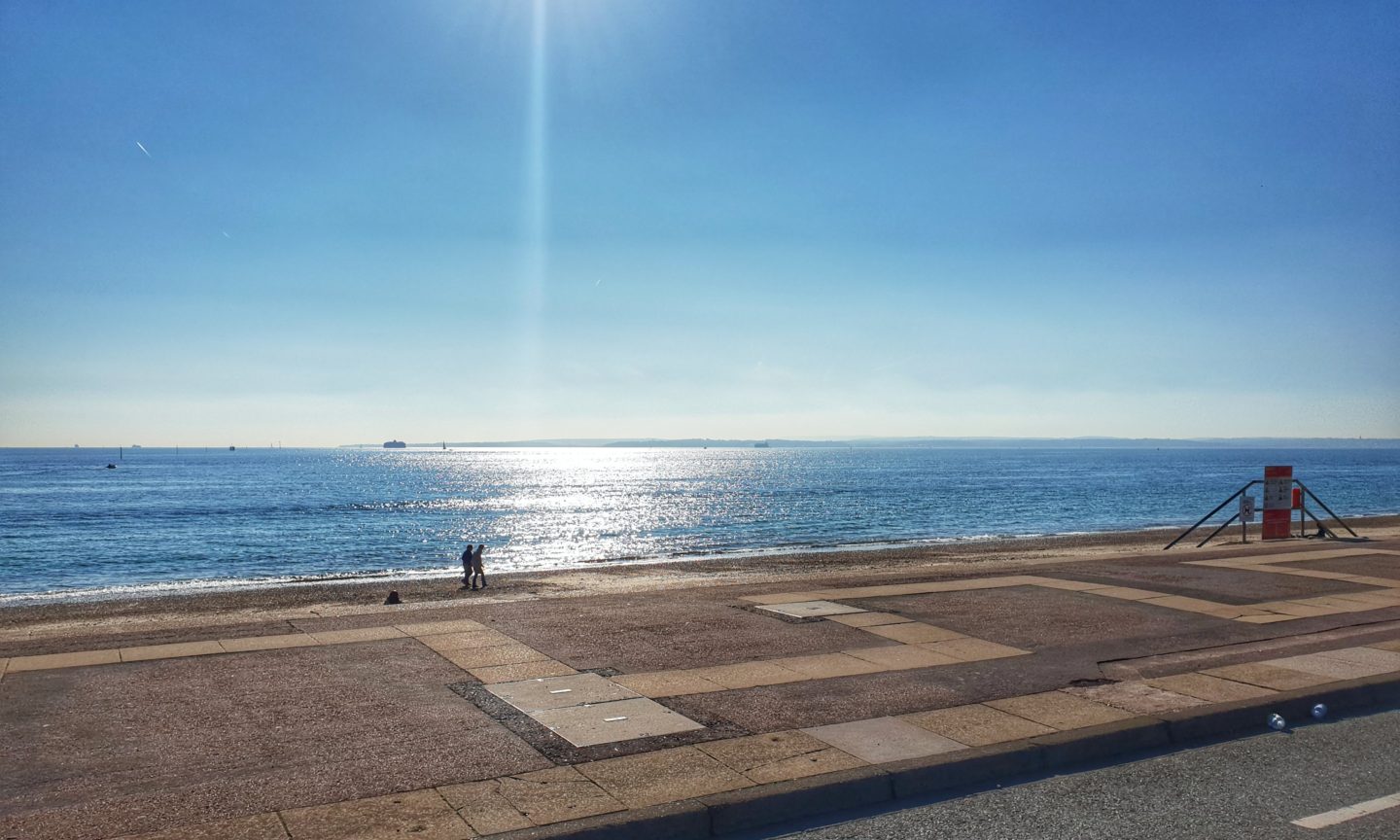 All runners were funnelled through the finishing chute to collect our finisher's packs – this was a drawstring bag which contained water, snacks, a technical t-shirt and a medal. The t-shirt was a nice added bonus, but I really dislike it when events don't even bother to put the medal around your neck at the finish line! I understand its more difficult to organise when there's so many people but it's such a big moment for most runners – you've worked hard to complete the distance, there should be some sort of fanfare to the accomplishment and just being handed a bag was a bit anticlimactic. The medal itself was nice enough, but the design wasn't particularly exciting – I get the feeling they have a standard format for all of their races?
That said, I did appreciate the post-race Event Village – as well as the usual food vendors and partner stands, they had large flags sporting different letters of the alphabet so that you could meet your family and friends easily, and free massages from Simply Health! This really helped my legs to not be as achey and stiff the next day as I was expecting, especially as I had to sit in the car for 3 hours on the drive back home that afternoon.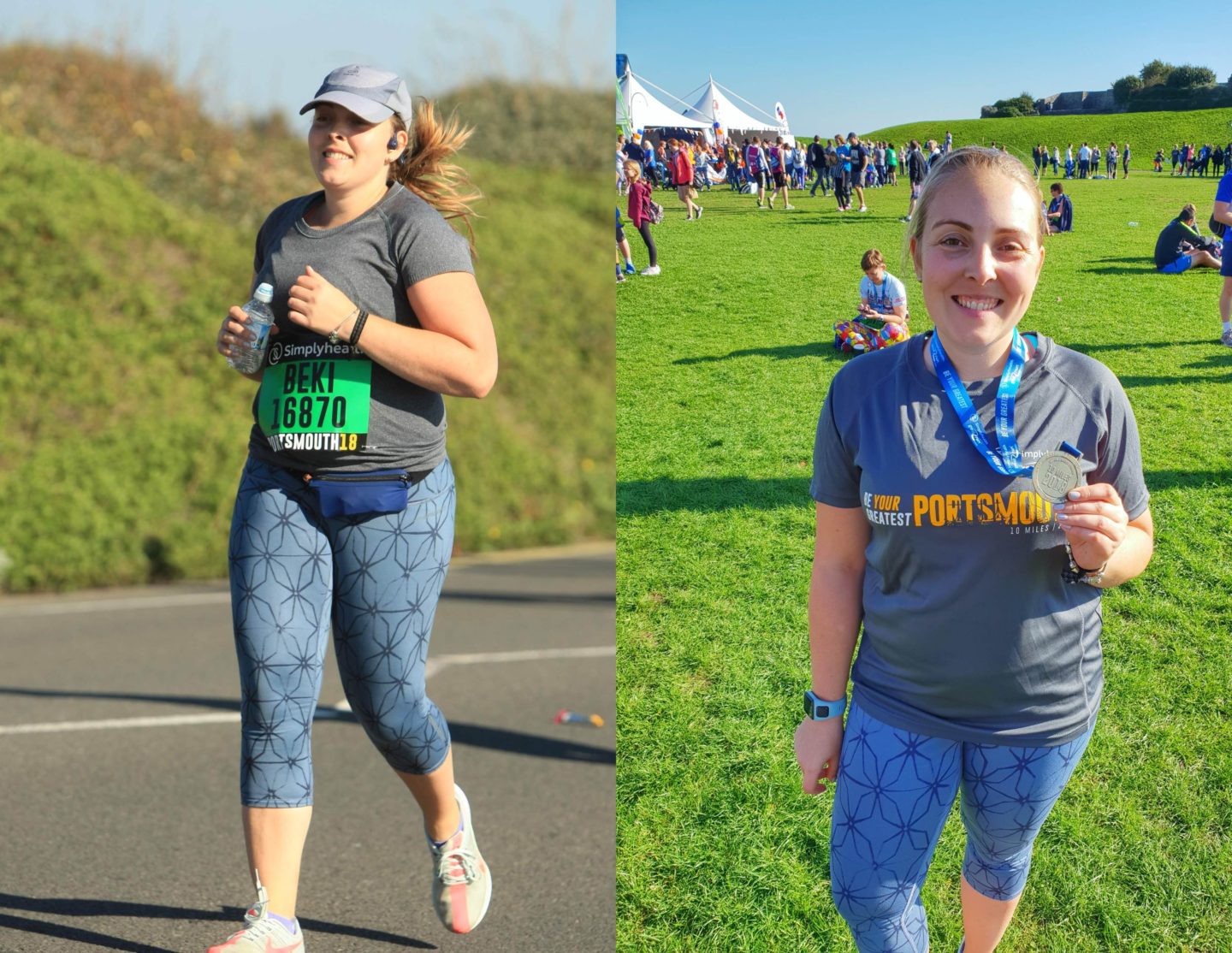 Photos from the race were a little disappointing – the only one I got was that above on the left, which doesn't really tell you where I am at all! I would have liked one with the sea as a backdrop, or even just a finish line shot but unfortunately they seemed to have missed that.
All in all, I think that I would recommend the Great South Run if you're looking to take part in a big race with a great atmosphere, or one with a scenic flat course, that offers PB potential – in part because its a 10 mile race and not many people will have done an event of that distance! At £42 I don't think it's bad value for money either, with all of the things you get included (t-shirt, medal, massage etc).
I've actually done a few 10 mile events now including the London 10 Mile (very hilly) in Richmond Park, Fairoaks Ten in Chobham (very muddy) way back in 2014, but think this is definitely one of the best organised and well supported races I've completed. I did also love the inclusive nature of the weekend – it was an event for the whole family, from the Junior races, to the Canicross event, the adults 5k and the main 10 miler on Sunday.
Have you done any Great Run events?
Beki x