The inaugural London 10 mile around Richmond Park was hot, hilly and TOUGH! But that was mainly through my own lack of preparation rather than the race itself. I spent the previous week on holiday, camping on the south coast. It was a fantastic break, but I drank a lot of gin, ate fish and chips, ice-cream, sat around a lot, got sunburnt and generally neglected any appropriate race prep! Even down to not having my usual race breakfast, and forgetting the gels I'd carefully packed in my bag, as well as my Spibelt so I had to carry my phone in my hand the whole way round.
Still, our journey to the start went smoothly and despite a few hiccups (long queues for the toilets, a 15 minute delay to start the race) we were soon over the line and heading off around the beautiful park in the sunshine.
The first mile was pretty much straight uphill which was rather a rude awakening for my legs, but the crowd support was great, and I loved the 'squirrel high-fives' to spur the runners on.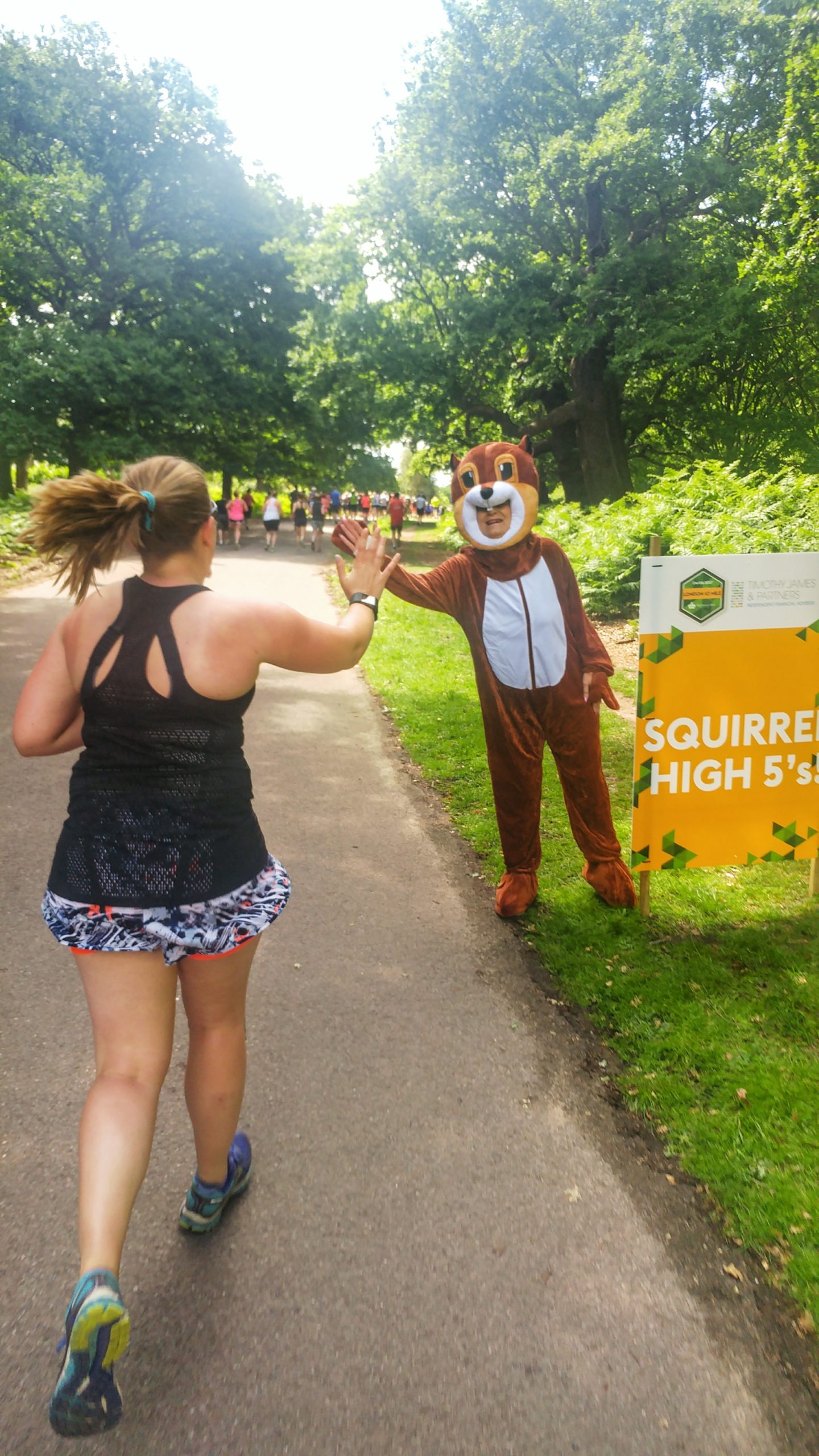 With the race starting at 10:30am (11am by the time we got going), it was pretty warm and sticky and my legs felt very sluggish, so I distracted myself with admiring the scenery and spotting deer. By Mile 4 I was struggling quite a lot but fortunately there were plenty of water stations (2.5, 4.5, 6.5 and 8 miles) to keep hydrated, and I started taking two cups at each one – one to drink, and one to pour over my legs and shoulders to keep cool!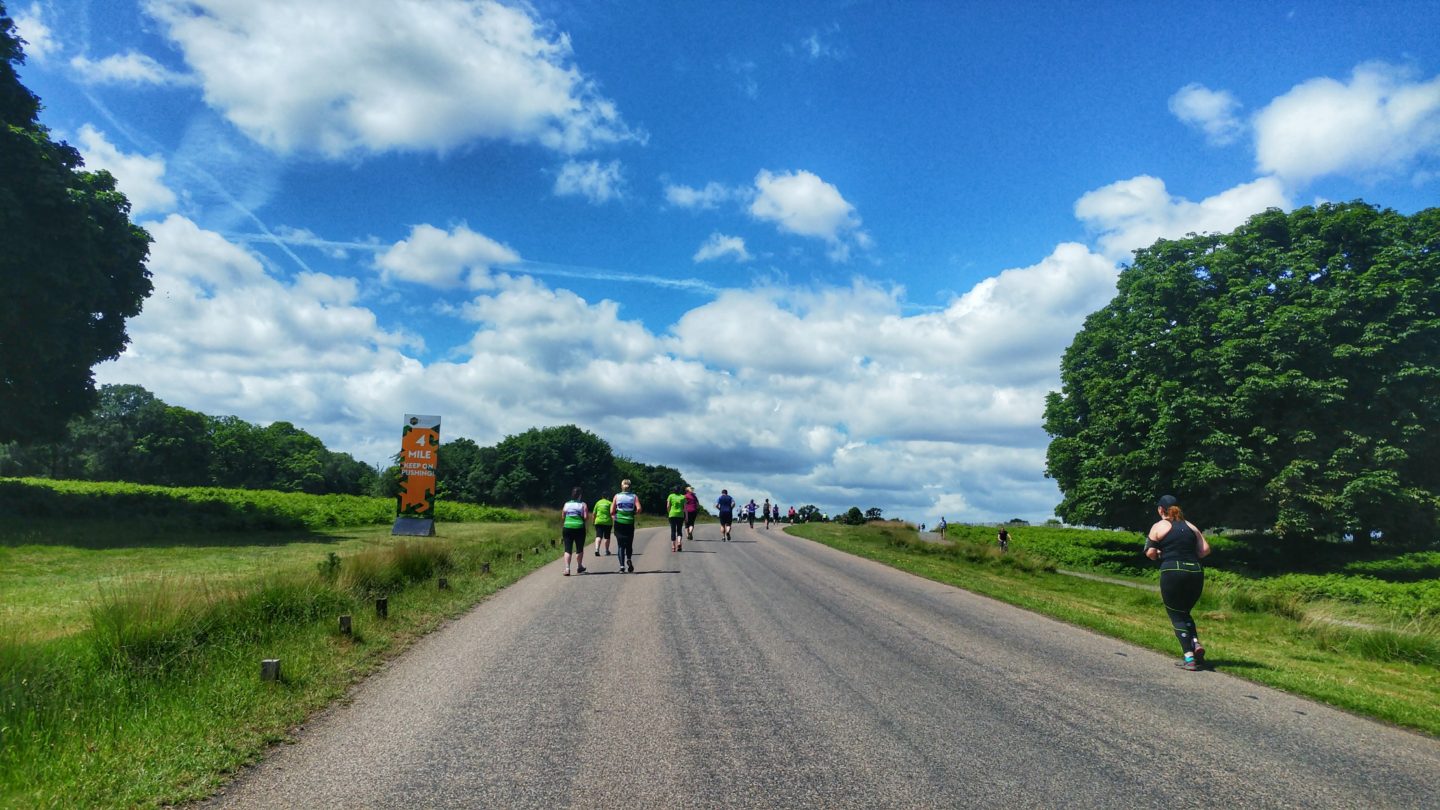 James and I started together and he stuck with me for the first hour which was just before Mile 5, but I could tell he was itching to pick up the pace so I told him he could push on. Unfortunately the halfway point photographer cropped up just after he headed off, so we didn't get any pics together but in our separate photos we both look pretty happy!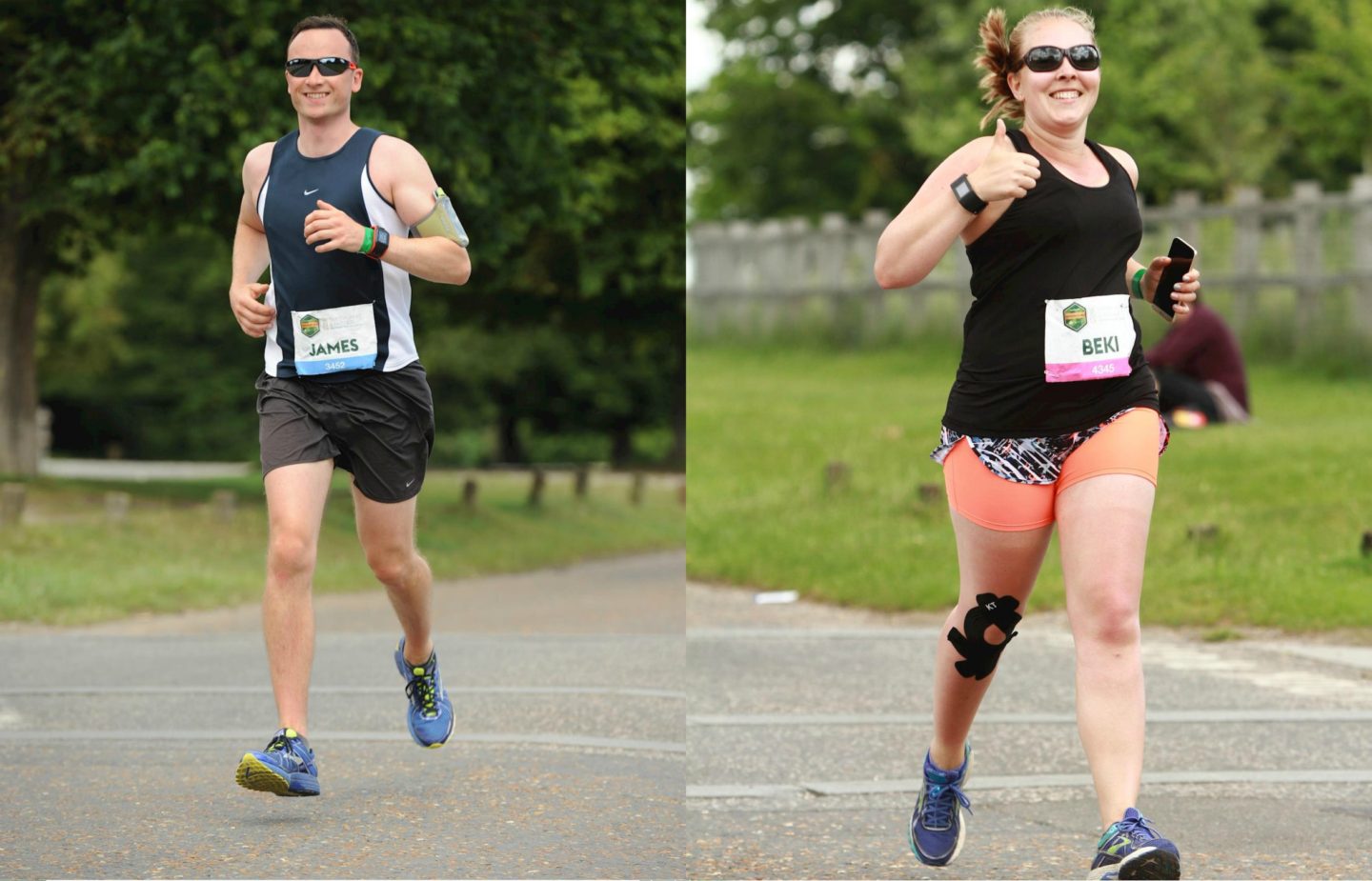 On the second half of the course I opted to run/walk, mainly walking up the hills of which there were a few! One of my favourite sections was the 'Big Hill' at just after 6 miles where signs directed us to 'Look Up' only to see tree surgeons hanging by ropes overhead and cheering everyone on as they puffed and panted to the top of the climb. It made me smile and was definitely something I've not come across in an event before!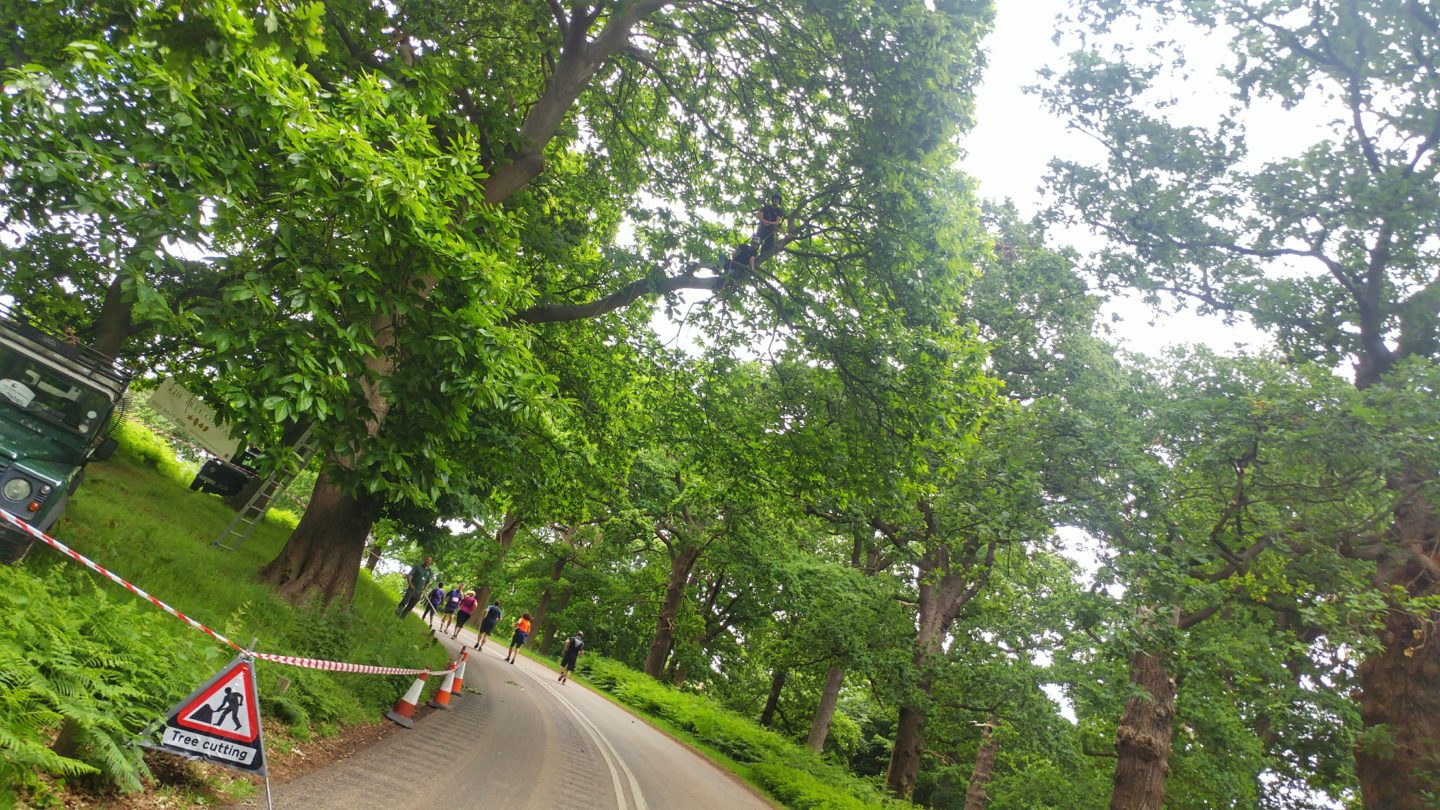 There was also a CLIF bar fuel station on the route with gels and shotbloks so I was able to grab a handful, stuff them in my bra and use them to keep me going although they did get rather sticky! From Mile 8 to 9.5 was ALL uphill and I resorted to power walking behind two incredibly fit army guys, who were carrying rucksacks that probably weighed as much as I do – I wondered if they might be able to carry me instead…
Fortunately the last half a mile was downhill to the finish line – the same section which we had run up at the beginning – which was very welcome! Large parts of the course were pretty quiet in terms of support, Richmond Park is big, and unless spectators wanted a long walk, most congregated near the start/finish in the Event Village which did make for a fantastic atmosphere as you approached the finishing archway. With our names on our race bibs the announcer shouted my name as I crossed the line, which was a nice touch, although if I'm honest I was so exhausted it was all I could do not to just lie down on the grass right there!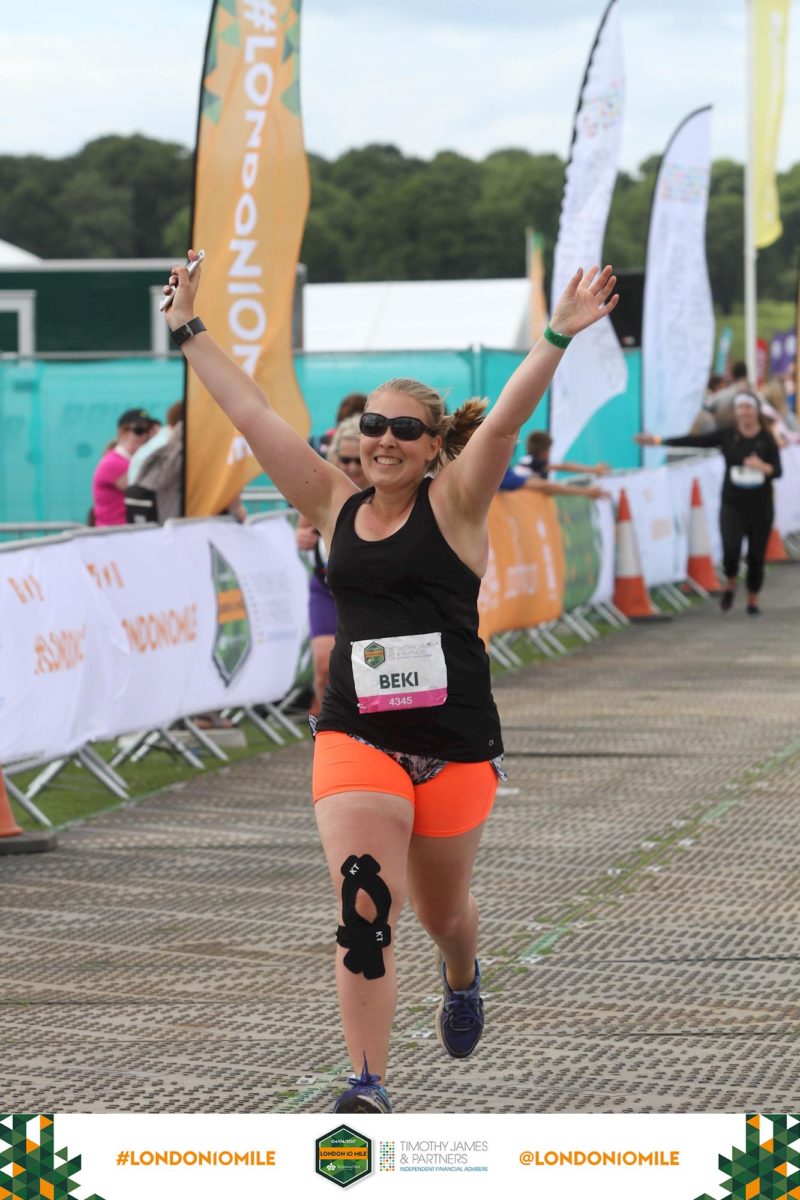 Fortunately the event village was stocked with plenty of food and drink stalls (including churros, Prosecco and Pimms), and after a lot of water and a burger, I was feeling much more human and able to appreciate the fantastic medal and awesome entertainment. We sat on hay bales and listened to a great band playing country-style covers of popular songs, which had attracted quite a crowd of youngsters who were dancing in front of them, and clapped the last runner over the line.
I've already pre-registered for the 2018 London 10 Mile, and would definitely recommend it as a fantastic event to get involved with – for the first year, it was brilliantly well organised and with some lovely touches, including free race photos for everyone to download. My only note would be regarding the use of headphones – in the race guide it stated headphones were 'strictly forbidden/prohibited etc' but I saw loads of people using them with no repercussions, and definitely missed having mine towards the end for a little mood boost! Ten miles is a long way, but it's a unique distance so you're guaranteed a PB, and if anything, with it being a round number it makes any maths calculations while running a lot easier (who else does that?)! I would absolutely run it again, although I may make a mental note to prepare a little more wisely next time…
Have you run a 10mile race before?
Beki x 
NB: I was given a complimentary entry to the London 10 mile but as always all opinions (and achey legs) are my own.