Christmas is fast approaching and the days are getting colder and darker, but while we still have a sprinkling of crunchy leaves on the ground, I wanted to share some of the family autumn adventures we've got up to in the last few months. If I was being organised I should have shared these as 'things to do' before we actually did them, but perhaps you can bookmark this for next year…
Pumpkin Picking
A new experience for us this year but one which I think will become a firm family tradition, was heading to The Patch MK for their pumpkin picking celebrations. We wrapped up warm and stomped around the fields selecting some fun looking pumpkins and squashes, both for carving and for eating. I will admit, it was very easy to get carried away and we may have come back with more vegetables than I really knew what to do with but it's been fun figuring out some new recipes and trying different flavours. Arthur had his first taste of pumpkin puree! And I made some yummy apple and pumpkin muffins, bolognese stuffed squashes and lots of soup.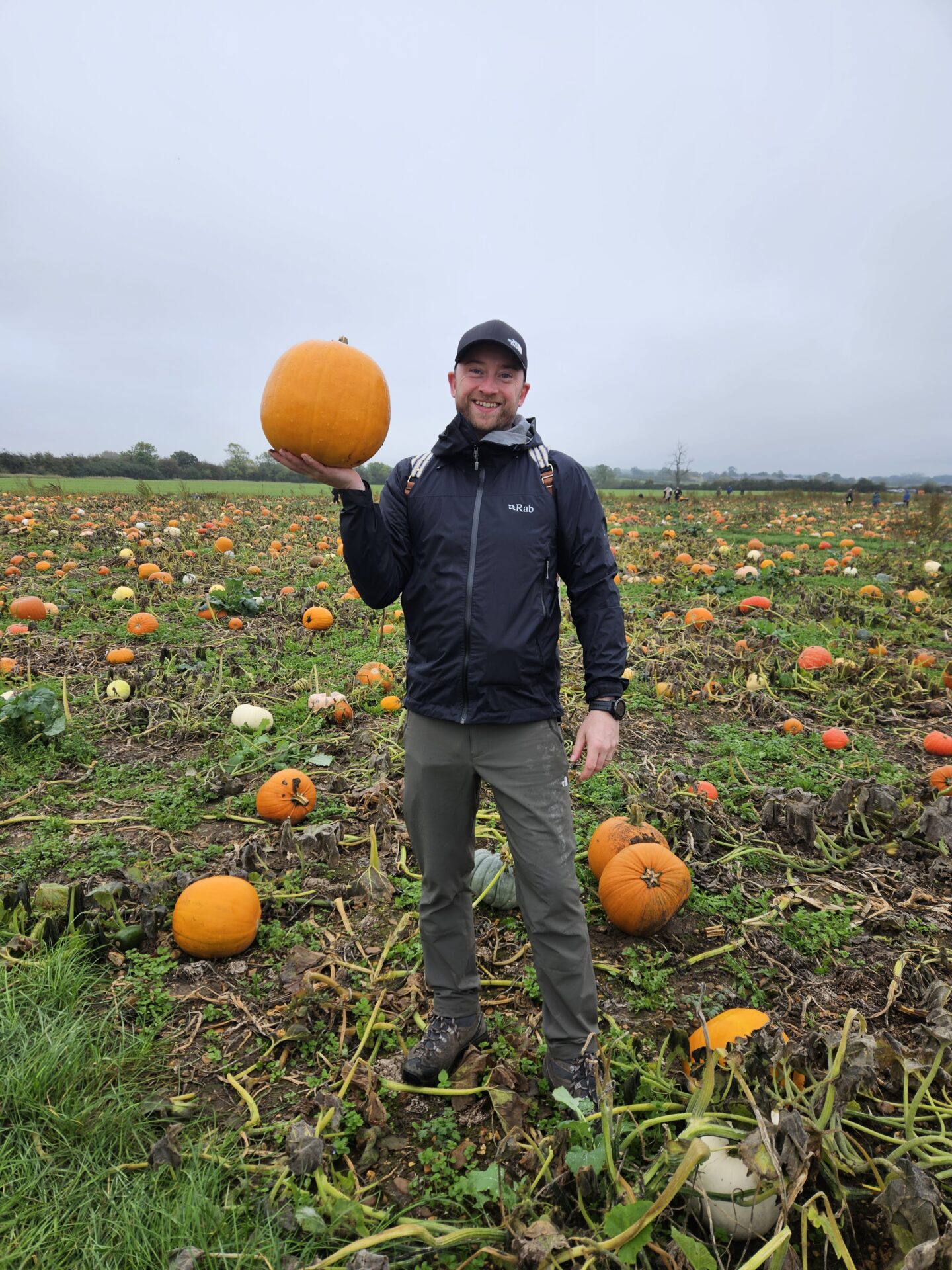 The Patch MK setup was really well organised and fun for the whole family. You could grab a wheelbarrow to carry your selected pumpkins, and they had lots of photo opportunities around the site with fixed art installations and people dressed up as witches and other Halloween characters. There was also plenty of hot food and drink and benches for eating. I had some of the best mac and cheese I've ever had, and we enjoyed toasting marshmallows on their fire pit too. The site was suitable for buggies, although you needed big wheels and not to be too worried about it getting muddy!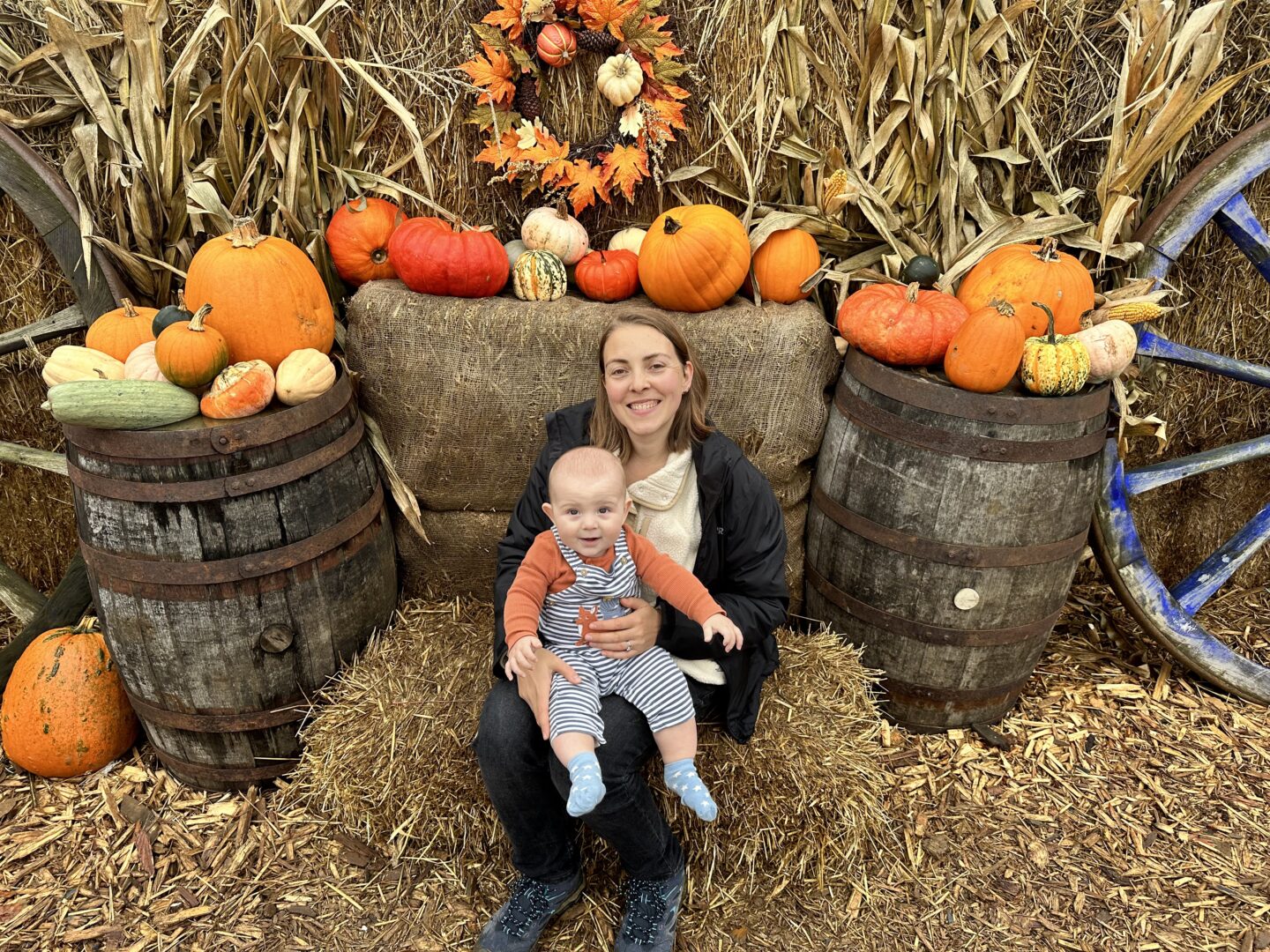 Bonfire Night and Fireworks
I love watching fireworks for Bonfire Night on 5th November and this year we managed to make it along to the local village display. It was small scale with no choreographed music or fairground rides or anything, just a huge bonfire and some fireworks set off on the village football club grounds. It was the perfect first experience for Arthur as we could walk there from home, was held relatively early in the evening and didn't feature too many of the huge fireworks that can be more scary for little ones. He wore some baby ear defenders to protect him from all the loud noises and seemed to quite enjoy the pretty lights!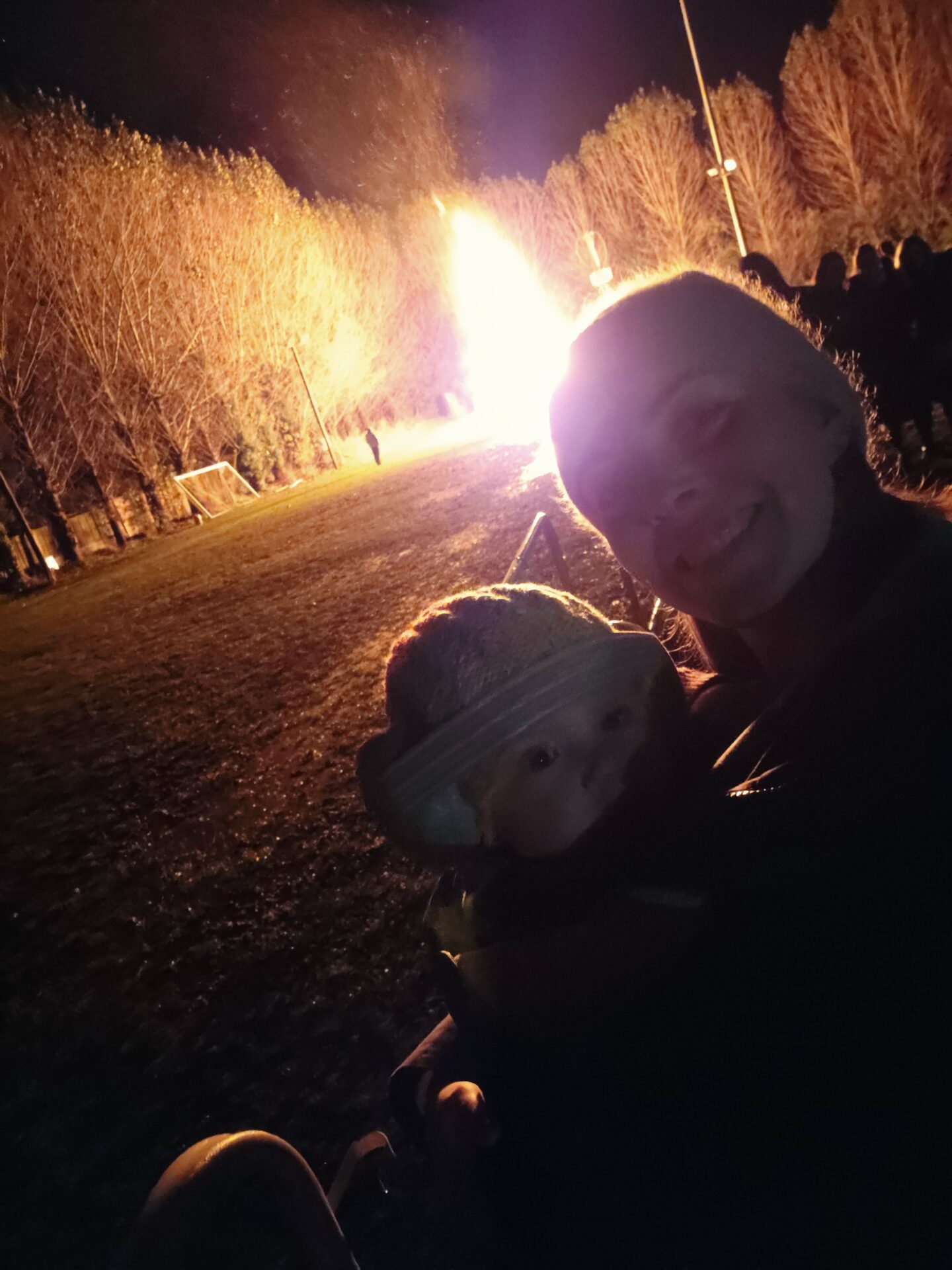 Muddy Walks
Family autumn adventures wouldn't be complete without a few good muddy walks. The best kind are those where you pull on your wellies and your woolly hat and head out into the woods, or around the fields, returning home a bit windswept and chilled to warm up with a cosy hot chocolate.
We're lucky to have some great routes on our doorstep, but if we're venturing a little further afield my two current favourites are:
Maulden Woods – is one of our favourite places to visit for a good muddy dog walk, as it has a wider, flatter path running through the middle and lots of smaller paths off each side, so you can always find a new route. We walked here on New Years Day this year when I was still heavily pregnant, and cooked some hot dogs on the Jetboil at one of the picnic spots in the middle of a clearing – a great way to start the year!
Bromham Mill Nature Reserve and Bromham Park – with the bonus of a fantastic coffee shop to refuel at the end of your adventure, and a little hidden fairy garden part way round, this patch of green near the River Ouse in Bromham has some lovely autumn walks.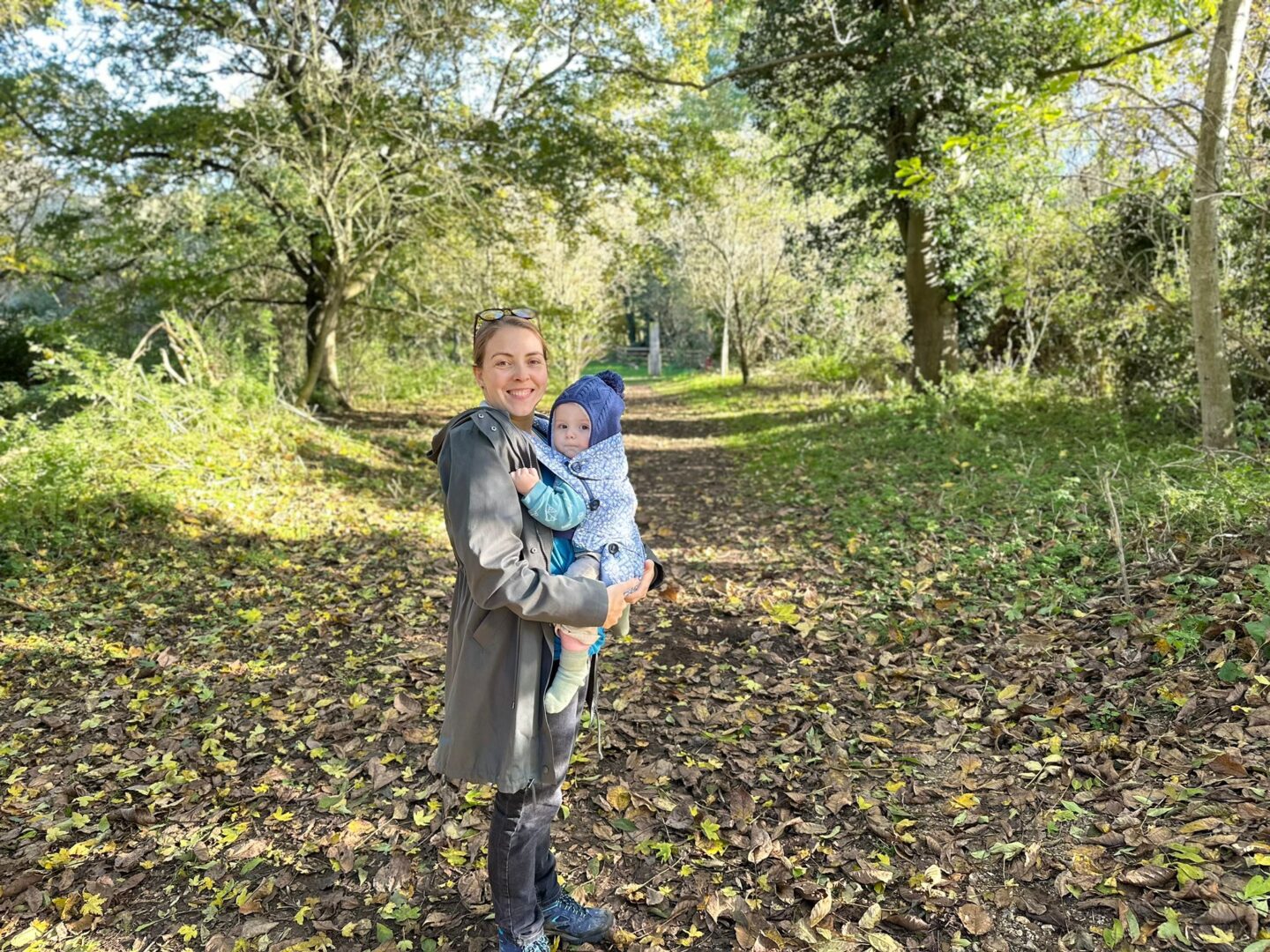 What to wear for Autumn Adventures
Layers! It can be a challenge to decide what to wear at this time of year, especially in early autumn when the days can still be quite mild, but also rather wet. Thin layers that you can take on and off as the weather changes are perfect for autumn adventures. One of the items that I've been loving recently is the Terrex Xperior Light Fleece Hooded Jacket from adidas. It's a slim fit lightweight layer that keeps you toasty warm, but wicks away sweat and can easily be worn under a coat. It's also longer at the back which is great for stopping it riding up and creating that gap between jumper and trousers where you get a cold midriff.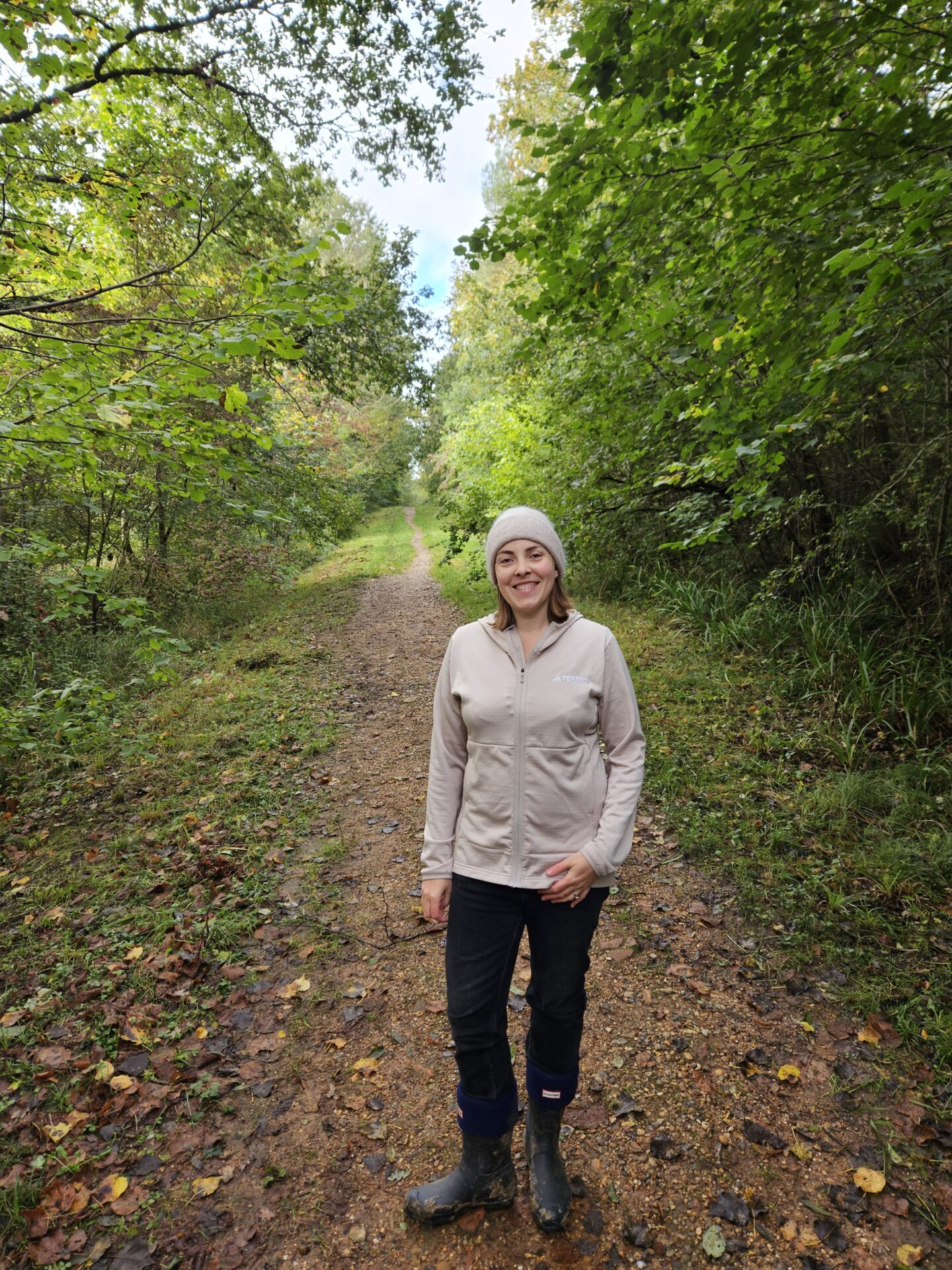 A waterproof coat is another autumn essential as is a good pair of welly boots or walking shoes. I've been testing out the Terrex Multi Rain.Rdy Two Layer Rain Jacket which uses adidas Rain.Rdy technology to channel the rain away from your body. Unlike a lot of waterproof coats you don't get hot and sweaty wearing it, as it has a waterproof breathable membrane and a mesh lining to manage ventilation. The stowaway hood with a built in peak is really useful for keeping the rain out of your face, and the jacket itself packs down really small so is perfect to throw in the bottom of the pushchair in case of showers.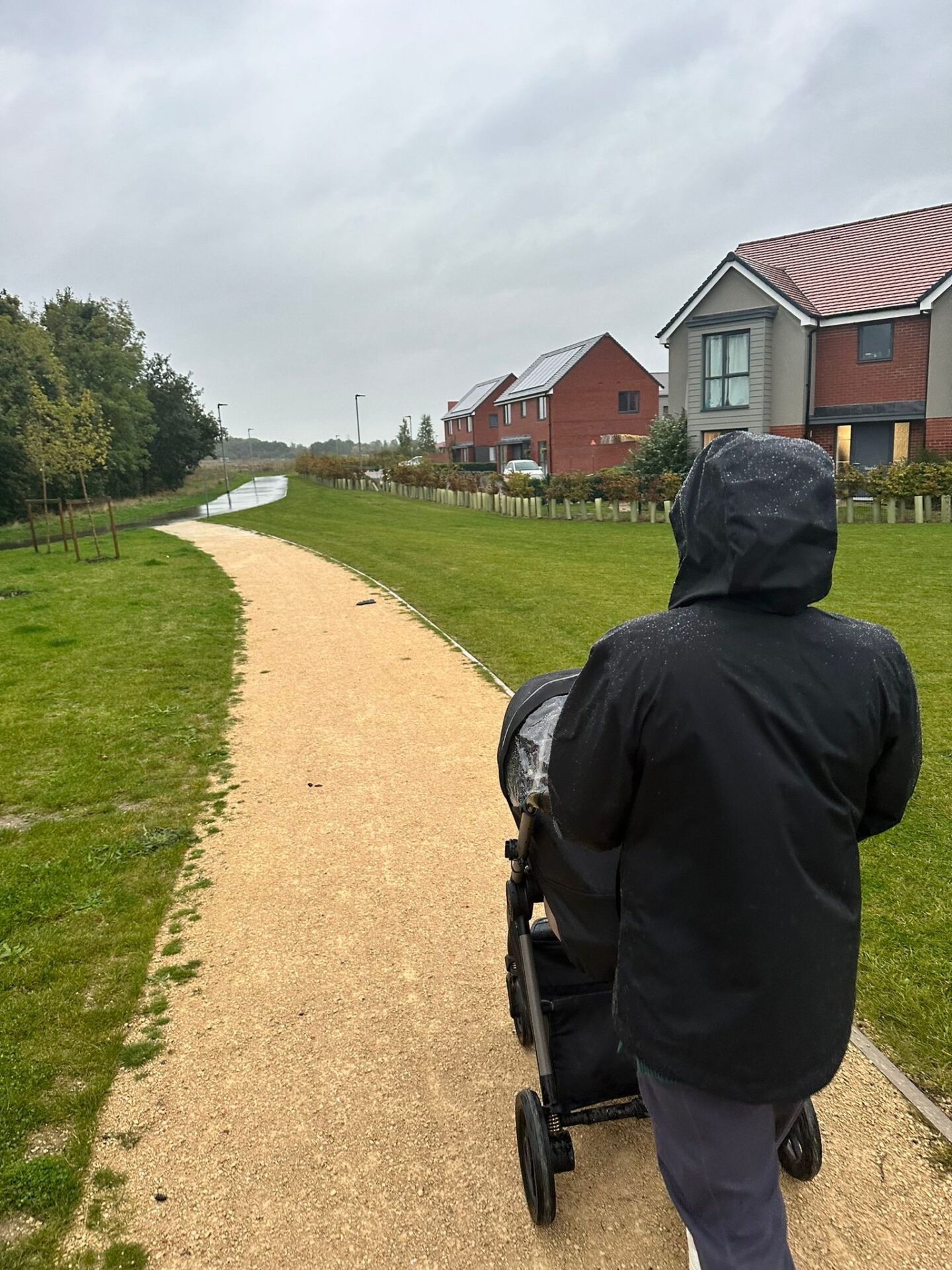 I wore it pumpkin picking when it was pretty wet as well as plenty of soggy dog walks straight out the front door. You can see the rain just beading and running off in the photos and I've stayed dry and warm on all occasions so far!
What Autumn Adventures have you been up to?
Beki x
NB: The adidas kit was purchased using a gift card that I was awarded as part of my involvement in the adidas blogger community. As always, all opinions are my own.