My usual Christmas Gift Guide looks a bit different this year, and features some of my favourite pregnancy fitness items that have been helping me to remain active over the last few months. Most would make good gifts even if you're not pregnant though!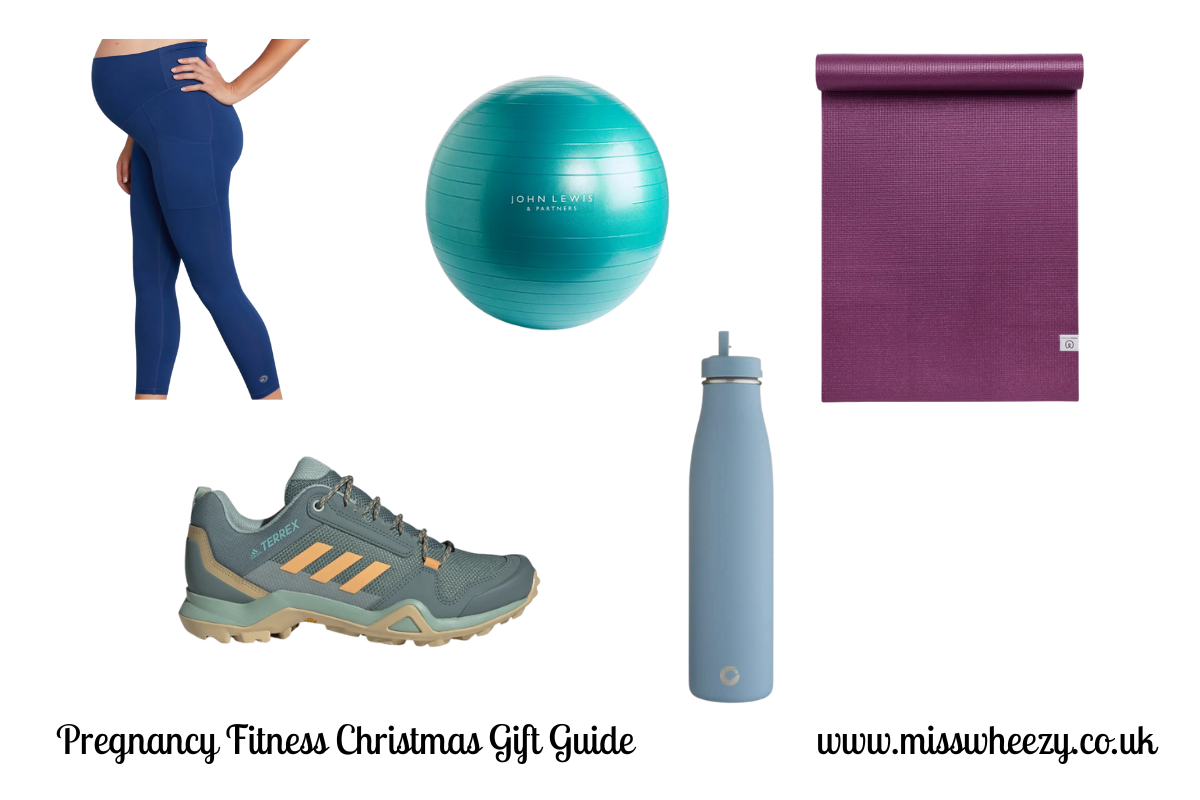 Pregnancy Fitness Gift Guide
These beautifully soft, squat proof maternity leggings are designed to see you through every stage of your pregnancy and can still be worn postnatally too. The wide, non-slip, over bump panel is really comfortable, and provides support as your baby grows, or as a high-waist legging post-pregnancy. They even have pockets on both sides. Natal Active currently have 30% off for Black Friday so if you've been eyeing up a pair, now is the time to make a purchase!
2. Yoga Matters Sticky Yoga Mat
I've had my Yoga Matters mat for years now – it's lasted really well, and has excellent grip so you don't slip when moving into different poses. Plus the material is really soft and cushioned to protect your knees and joints, which is great for Pregnancy Yoga where you spend more time sitting or kneeling.
Exercise balls are designed to help with balance and coordination, and are great if you're looking to strengthen your core muscles. However, they also play a key role in pregnancy and can be used for stretches, as a more comfortable place to sit, and during labour. This particular one is a 65cm ball which is perfect for me at 5ft3, but do make sure to check what size you need for your height – ideally you want to have your knees lower than your hips when sitting on it.
4. Adidas Terrex Hiking Shoes*
I mentioned these shoes in one of my recent blog posts and they're still one of my go-to pairs for daily dog walks, or weekend outdoor adventures. I'm not running at the moment, so a great pair of walking shoes that help me to get my steps in are ideal. As mentioned they are really lightweight and breathable shoes, with lots of cushioning and good stability. They have a durable Continental rubber sole that gives great grip on muddy paths, although I would recommend switching to wellies for when the puddles get a bit deeper!
5. One Green Bottle stainless steel water bottle
A reusable water bottle makes a great gift for any fitness fanatic, but is even more useful when you're pregnant and want to stay hydrated. I actually have quite a few different options that I would recommend from S'well, Klean Kanteen, Chillys that are all pretty similar stainless steel, insulated bottles so they keep drinks hot or cold, and are all leakproof. However, what I like about the One Green Bottle one I have at the moment is the internal silicone straw, which means that you can drink from it without needing to tip the bottle up or remove the lid. The straw is detachable for easy cleaning too.
What's on your Christmas list this year?
Beki x
*gifted item