If you were inspired during lockdown to take up cycling, you might be wondering what the difference between road cycling or mountain biking is, and which one you might prefer? Or if you're looking to purchase a bike and feeling a bit overwhelmed by all the different types (I agree with you there!) then here's a short breakdown of the main points when it comes to road cycling and mountain/off-road biking.
I'm not an expert by any means and my biggest piece of advice is just to try everything and see what your personal preference is. The same is true when it comes to kit – you can cycle on the road with any bike, not necessarily just a carbon-framed, lightweight roadie with drop handlebars and equally you can tackle the trails with your Brompton if you really want to! And if you find yourself loving everything about cycling, then the golden rule to remember is just N+1 – you can never have too many bikes…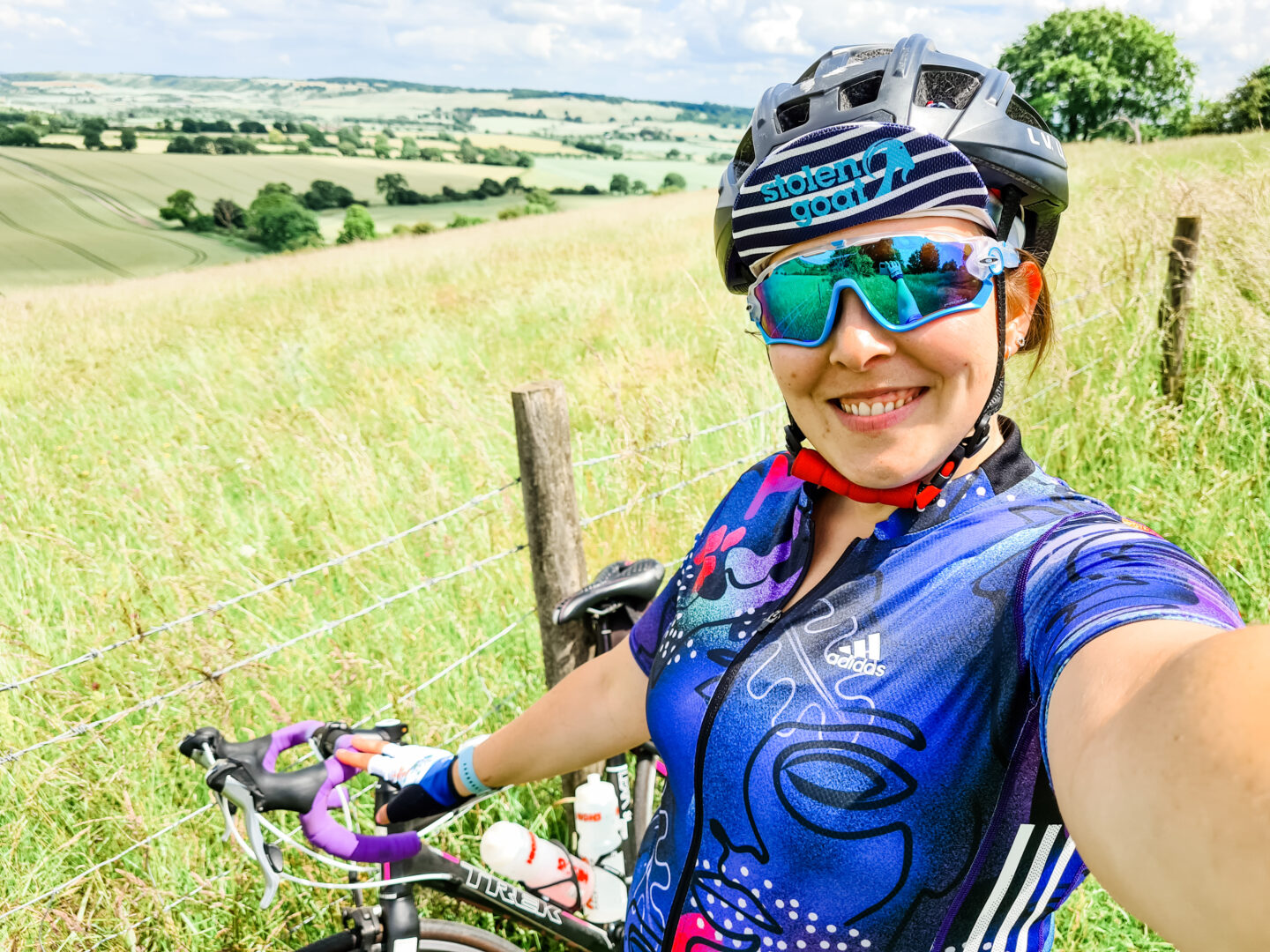 Road Cycling Facts
Road cycling, as you would suspect by the name, means cycling on the roads, usually with longer sustained efforts of power which builds your aerobic fitness. It mainly uses your lower body, although you'll need a strong core to hold yourself comfortably on the lower handlebars. Typically you can ride faster and therefore cover more distance and, with practice, will be able to take on undulating climbs and hit milestones like your first century ride (whether in km or miles!). You can explore the roads near where you live or travel further afield to tick off some of the bucket list climbs such as Box Hill in Surrey, Hardknott Pass in the Lake District or in my neck of the woods, Whiteleaf Hill! There are many sportives that will introduce you to new routes, or you can join a local club. I highly recommend Breeze Rides if you're just starting out and want to ride with like-minded women.
Road Cycling Kit
I'm not going to go into the actual specifics of the road bike itself as there are so many variables here! I have a Trek Lexa SL which is 7 years old now and although I've replaced the saddle and the tyres it's had no real upgrades, so don't feel like you have to spend thousands.
The two most important pieces of cycling kit in my opinion are of course a helmet and some good padded shorts! I wear the Livall smart helmet which you can read more about in my blog post from 2018 when I got it. It's such a clever and comfortable design, with lots of great features and I wear it on all my rides.
It's been a bit more of an experiment over the years to find padded shorts that I get along with. Unfortunately I fell in love with the Anna's Legs cycling tights which are no longer manufactured, so I've had to search out alternatives. Anna's Legs were also only winter full-length tights, so in the summer I love the Rivelo Ranmore Shorts which are super comfortable. They were always my shorts of choice for RideLondon, even the year it absolutely poured with rain the whole time!
Then it comes down to cycling jerseys, gilets, gloves, arm warmers, caps, socks, buffs, the list is endless! I will probably do a post another time of my favourite cycling accessories but I do love a good bright patterned jersey. My latest addition is a really gorgeous design from Adidas! They are a brand I would definitely buy activewear from but hadn't really looked at the cycling kit from Adidas before – I have to say, I've been really impressed so far. The jersey I have is called the JEM Cycling Jersey* and the design is made with inspired graphics by Brooklyn, New York, artist Jordan E. Moss. It has three rear pockets for snacks (yes!) and a small zipped pocket as well which is great for keys, card or anything more valuable you don't want to fall out accidentally. What I love even more is that it's made with a fabric called Primeblue, which is a high-performance recycled material made in part with Parley Ocean Plastic. So it looks awesome, feels really comfortable when riding and is better for the planet!
My one piece of advice would be to size up – I ordered an L, which is snug but the right kind of fit for a cycling jersey where you don't want a lot of flapping material.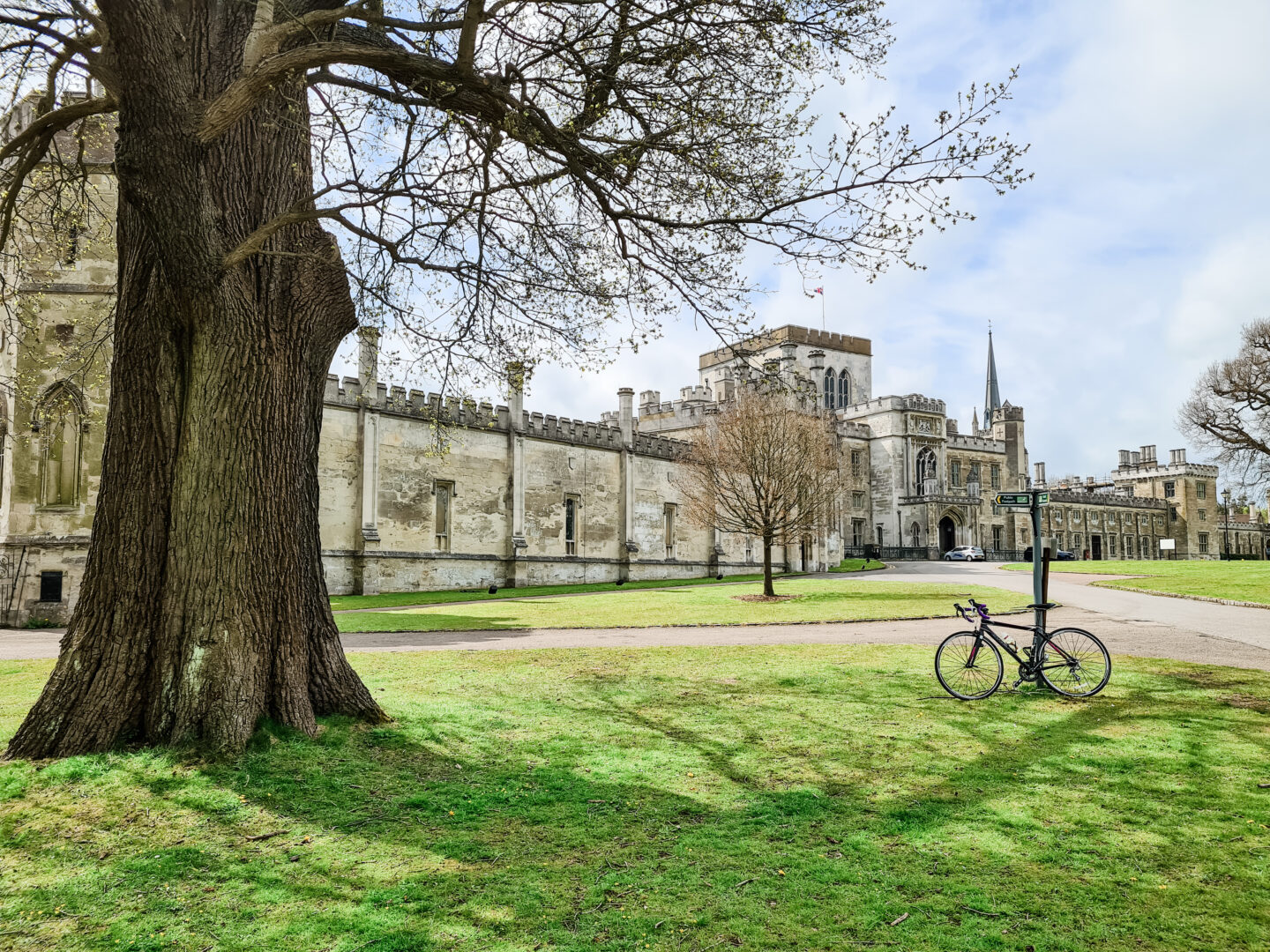 Mountain Biking/Trail Cycling
Ok, so there is a difference between 'proper' mountain biking and trail cycling but I'm going to talk about the type of off-road riding where you have to deal with more technical elements than just pootling along the canal towpath, but you're not having to wear a full-face helmet and knee pads! That's the happy medium where I sit anyway.
Generally mountain biking is more about short bursts of power, which builds your anaerobic fitness, and you will tend to cycle slower and ride shorter distances as you're dealing with rugged off-road terrain. It's definitely more of a full-body workout and requires a focus on bike handling and additional technical skills, although this does of course depend on the difficulty of your terrain. You could have tree-roots and rocks to ride over, short, steep climbs to attack and fast downhill sections where you have to control the bike on a looser surface.
You will also find that your bike will get much dirtier than with road cycling so you'll need to factor in the time for cleaning it and the products you'll need to clean it with! (Check out Muc-Off as a great starting point.)
There are plenty of places in the UK where you can get some experience of off-road riding, but I recommend trying to visit a bike park with marked routes if you can. We've cycled around Swinley Forest near Reading and the Forest of Dean, both of which have bike hire and different graded trails depending on your experience.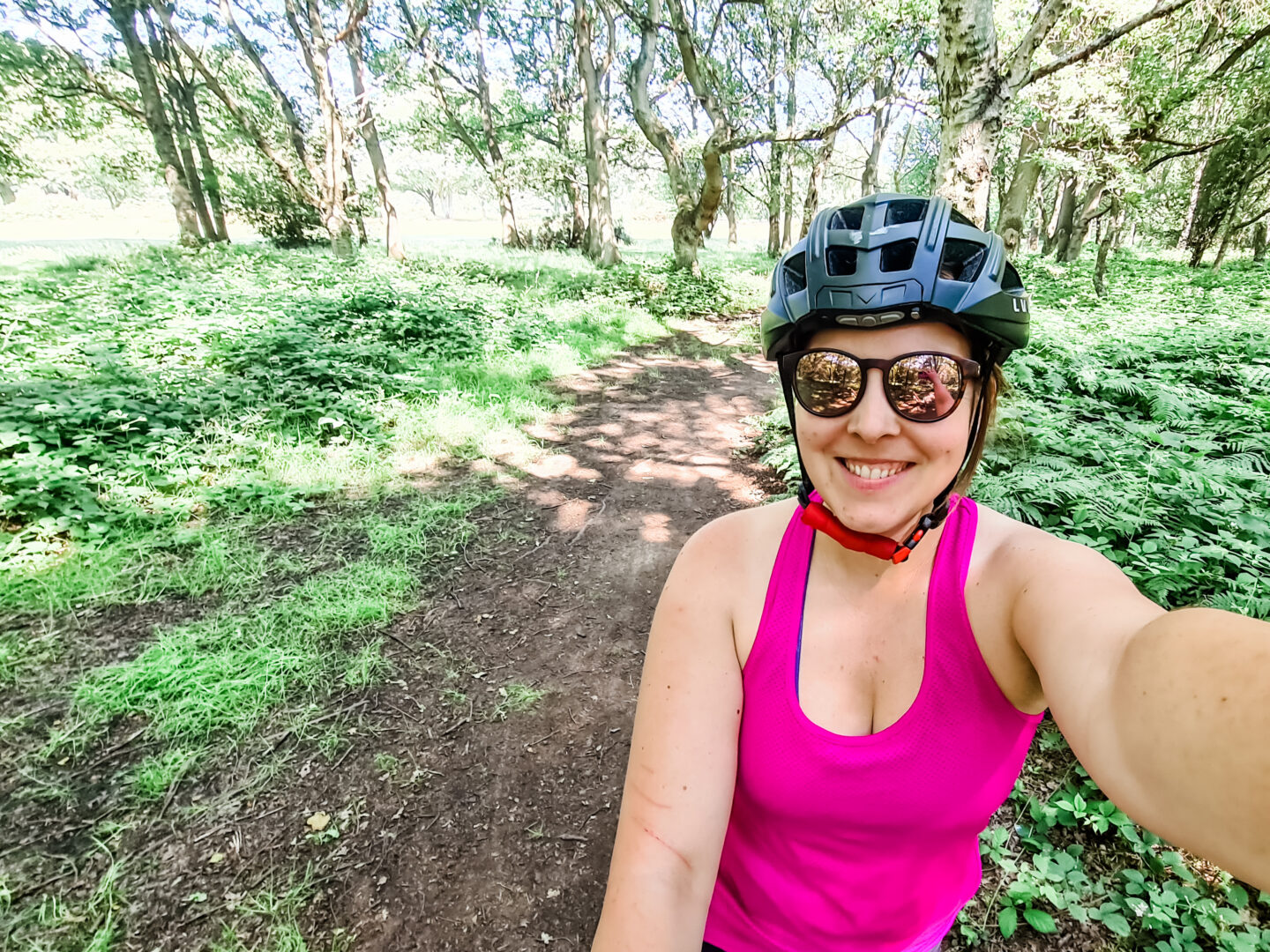 Mountain Biking Kit
I have a Liv Rove 0 which is a mountain bike style hybrid with flat handlebars and front suspension. It works really well for me as I can cycle from home on the roads with the suspension off, and then flip the lever to turn it on once I hit the trails!
In terms of mountain biking kit I never really wore anything other than leggings and a technical top, with a long sleeve cycling jersey/jacket over the top as everything pretty much ends up covered in mud anyway! However, you do want to make sure you've got gloves, to protect your hands when gripping the handlebars, and good shoes. I always just wore a pair of trail running shoes as they have better tread which is good for sticking to the pedals, but recently I got a pair of Adidas Five Tens* which are amazing! The idea is that they are firmer and sturdier than regular trainers to provide you with increased power, have a rubber sole for unbeatable grip, and they are compatible with all clipless mountain bike pedals if I did want to clip-in in the future. Mine are called the Hellcat (mainly chosen for the name!) and they make me feel very skater-ish, but they're also really comfortable to wear as well. I got a size 6.5 which is half a size bigger than my normal shoes, and what I usually go for in running trainers.
To complete the look, I also got a pair of the Five Ten 'Brand of the Brave' Shorts* which are durable mountain bike style shorts with great stretch and flexibility, and side pockets for storing anything you might need (like snacks!). I wear these now with my Velovixen padded cycling knickers for a bit of extra comfort on the bumpier trails!
So which type of cycling is your favourite? Maybe it's neither of these and you're more into bikepacking, cyclocross or time-trialling! Whichever way you prefer to take to two wheels, each brings its own unique set of challenges and fun. They can all compliment each other really well, in terms of the different type of fitness required, and they all provide a good low-impact alternative to pounding the pavements on a run once in a while.
Beki x
*These products were gifted but as always all opinions are my own.