This year was the third time that I've taken part in RideLondon-Surrey 100 and with the previous two years having been dry and sunny, I should have known that the weather was bound to throw us a curved ball this time around!
Sure enough, even though it had been a heatwave for the previous 60 days, the weekend of RideLondon dawned with winds, torrential rain and cold temperatures forecast. I'd been worrying about staying hydrated in the heat, and had bought a sleeveless cycling jersey to try and keep cool, but all those plans went out the window! Instead, I was packing my waterproofs and wondering whether shorts were actually the best option or if thermal underwear was needed.
Having stayed in a hotel on the Saturday night, we cycled to the start line pretty early under grey cloudy skies. Miraculously both James and I had been allocated the same wave and start time, pretty slim odds from 25,000 riders! It meant we crossed the start line together to 'Who Let The Dogs Out' (yup) just after 8am, as the rain started to fall.
And it didn't stop falling for the whole day.
The first few miles through London on closed roads are always fun, but I felt like everyone was a little more restrained this time around. After a hairy moment where my front wheel skidded on a manhole cover and I just managed to keep control of my bike, I was concentrating so hard on riding safely in the rain that I didn't perhaps relax and enjoy the freedom of no traffic or stopping at junctions as much as I did in previous years.
We made it to Richmond Park before deciding to take a break to refuel, by which point I was completely soaked to my skin. We stomped up and down outside the portaloos swinging our arms and stamping our feet to keep warm. Generally throughout the ride I tried to keep my stops to a minimum and make sure they were short, as the longer I stood around the more the cold and wet seemed to sink in!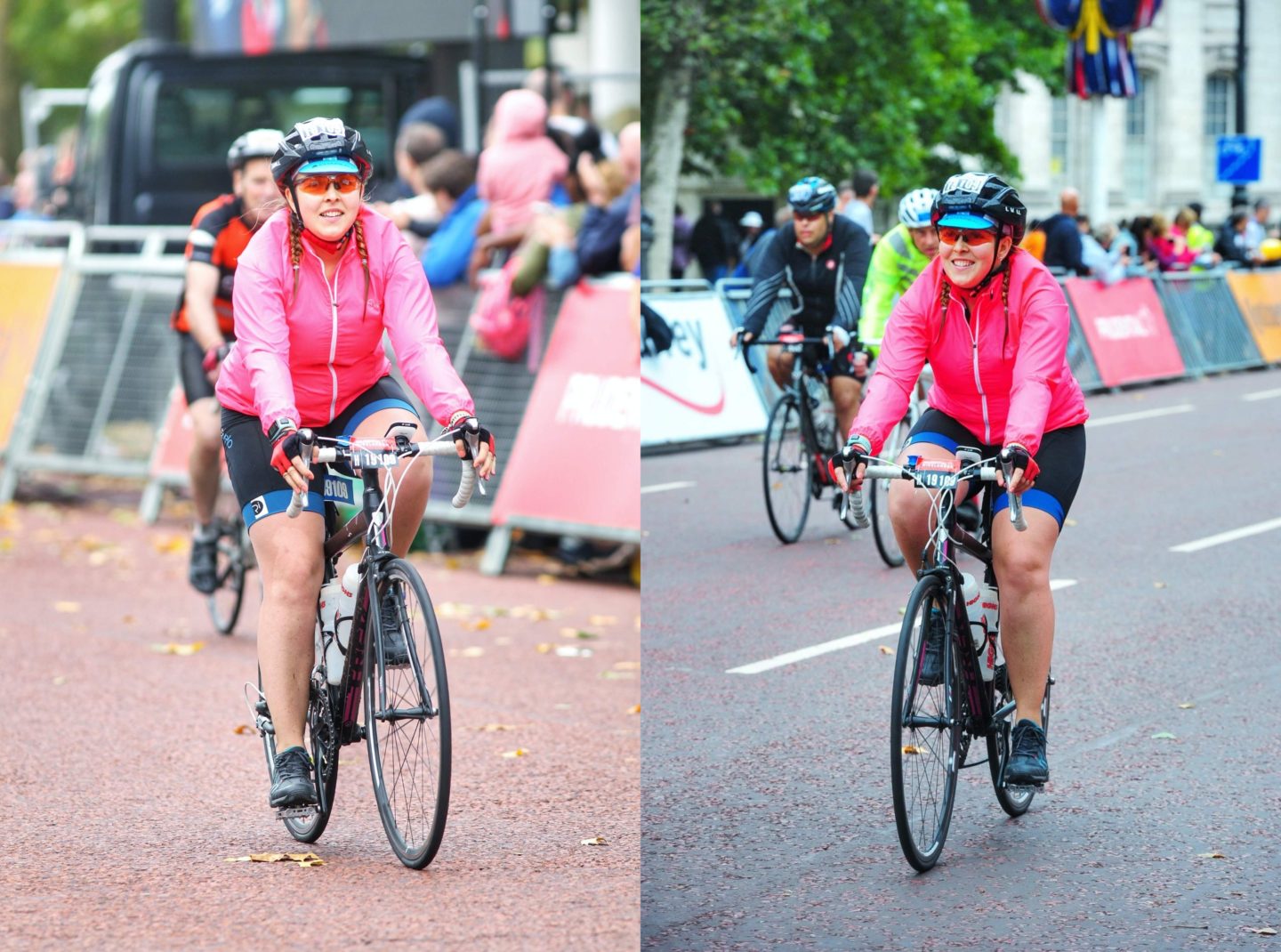 From Richmond Park the route winds its way out into the Surrey countryside with Newlands Corner the first real hill just before halfway. The feed station here was very exposed to the wind, and with soggy bananas and branding blowing around we didn't stay for very long. I'd agreed with James that as long as he stuck with me up until this point, I was happy for him to go off and do his own thing after that, as I felt like I would have enough motivation to get myself through the second half of the course!
Consequently, we went our separate ways just before the two major hills of Leith Hill and Box Hill. Due to the ridiculous weather I'd decided I wasn't going to do Leith Hill. I didn't feel safe and quite frankly just wanted to get back to somewhere warm and dry as quickly as possible! I took the bypass section of the route and headed towards Box Hill, feeling more positive about tackling this challenge and then heading home.
However, the weather had other plans and unfortunately a serious accident closed Box Hill just before I got there, with everyone diverted around. It transpired that Leith Hill was also closed just after James rode through so I think I made the right choice really, avoiding either getting caught up in the incident myself or just held up and made to walk for ages in the cold and rain.
Therefore I turned my bike back towards London, with the knowledge that I'd only be completing 86 miles this time around. I have to say, I wasn't particularly bothered. I rode the full 100 miles last year so I have done it once, and with the conditions showing no sign of improvement I was just keen to make it back in one piece! With the number of people littering the sides of the roads with punctures, or coming off their bikes in the wet, I feel so lucky that James and I (and my friend Jo who was riding) escaped with no issues.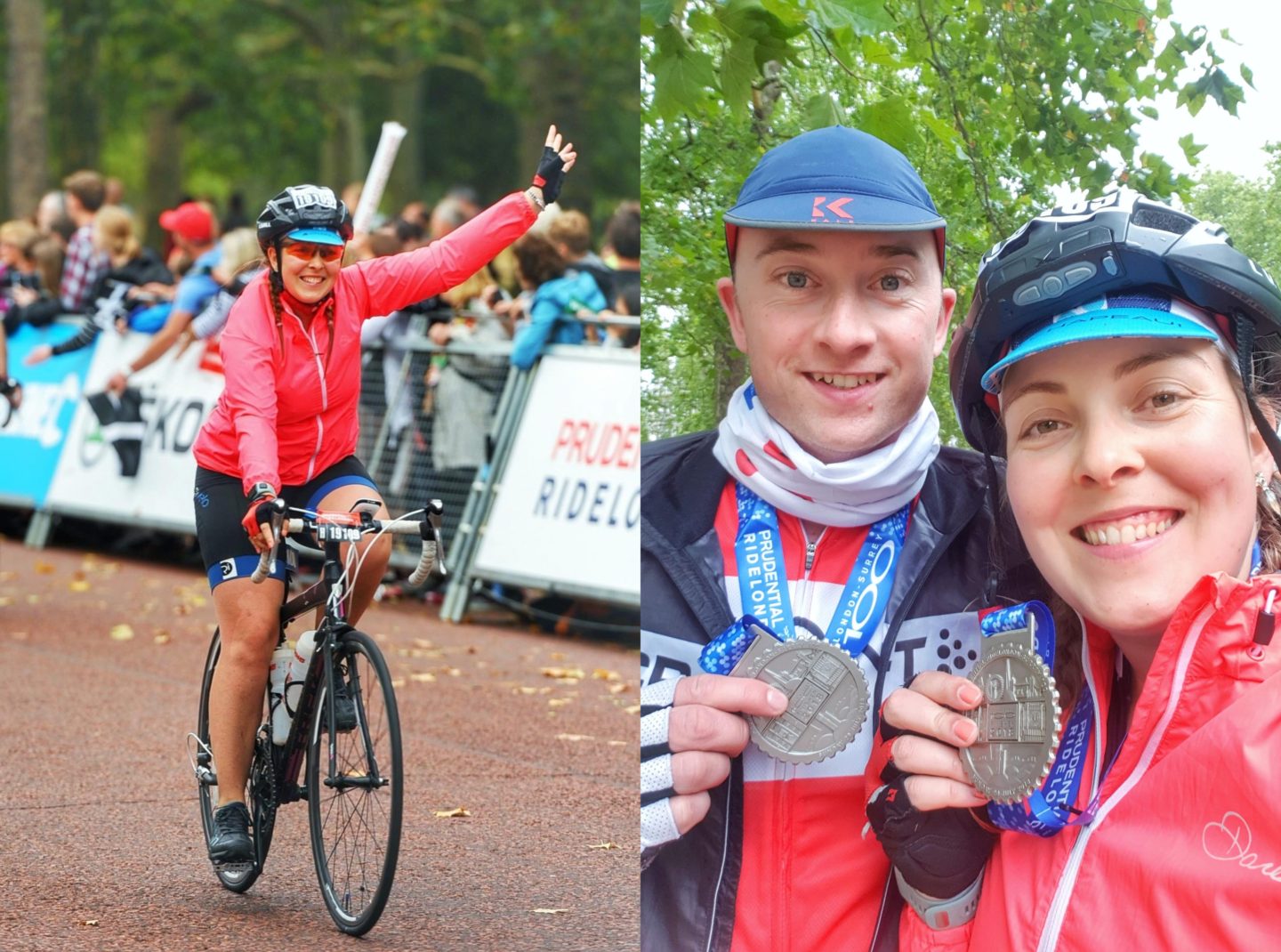 It got pretty congested on the roads back into the City due to all of the riders who had been diverted and were consequently finishing at the same time, as well as those cyclists who were tackling the 46 or 19 mile routes. My legs felt quite fresh however, so I decided that if I couldn't do the full mileage, I'd aim for a time instead. I pushed myself to complete the 86 miles in under 8 hours (including stops) and crossed the line with a time of 7:58:15, including a nice little sprint down the Mall which I'm pretty happy with!
Having been tracking James on the RideLondon app, I knew he wouldn't be too far behind me and sure enough, he crossed the line about half an hour later having completed 94 miles. We met up by the letter J in Green Park (definitely recommend using these as meeting points!) and had a little celebration with tea, beer, chocolate cake and chips. The photos don't really show how utterly drenched we both were, and we headed for home fairly soon after whilst it was still raining!
I wasn't particularly achey the next day, but felt incredibly exhausted – as well as riding for 8 hours, concentrating on where you're going with rain pouring down your face can be quite tiring. Whilst I don't imagine the weather will be nearly as bad next year, I don't think that I will enter the ballot for RideLondon again, at least not for the 100. Three times is probably enough, plus I'm keen to ride somewhere new and experience some different scenery!
Did you take part in RideLondon this year? Have you ever raced in such abysmal weather?
Beki x