I was meant to be collecting three medals this weekend. After completing the MK Rocket 5k on Sunday, I was supposed to head back on Monday for the Half Marathon and then – due to running two races over the MK Marathon Weekend – I could have picked up the additional Challenge medal.
However, as you may have seen on social media a month or so ago, I opted just to stick with the 5k. After picking up an injury at London Winter Run 10k back in February, starting a new job, and then having minor surgery which put me out of action for 3 weeks, I decided running 13.1 miles with minimal training wasn't the best idea…
Consequently, James, E and I headed up to MK on Sunday with the aim of running for fun as a family and picking up a rather epic cow-astronaut- space medal!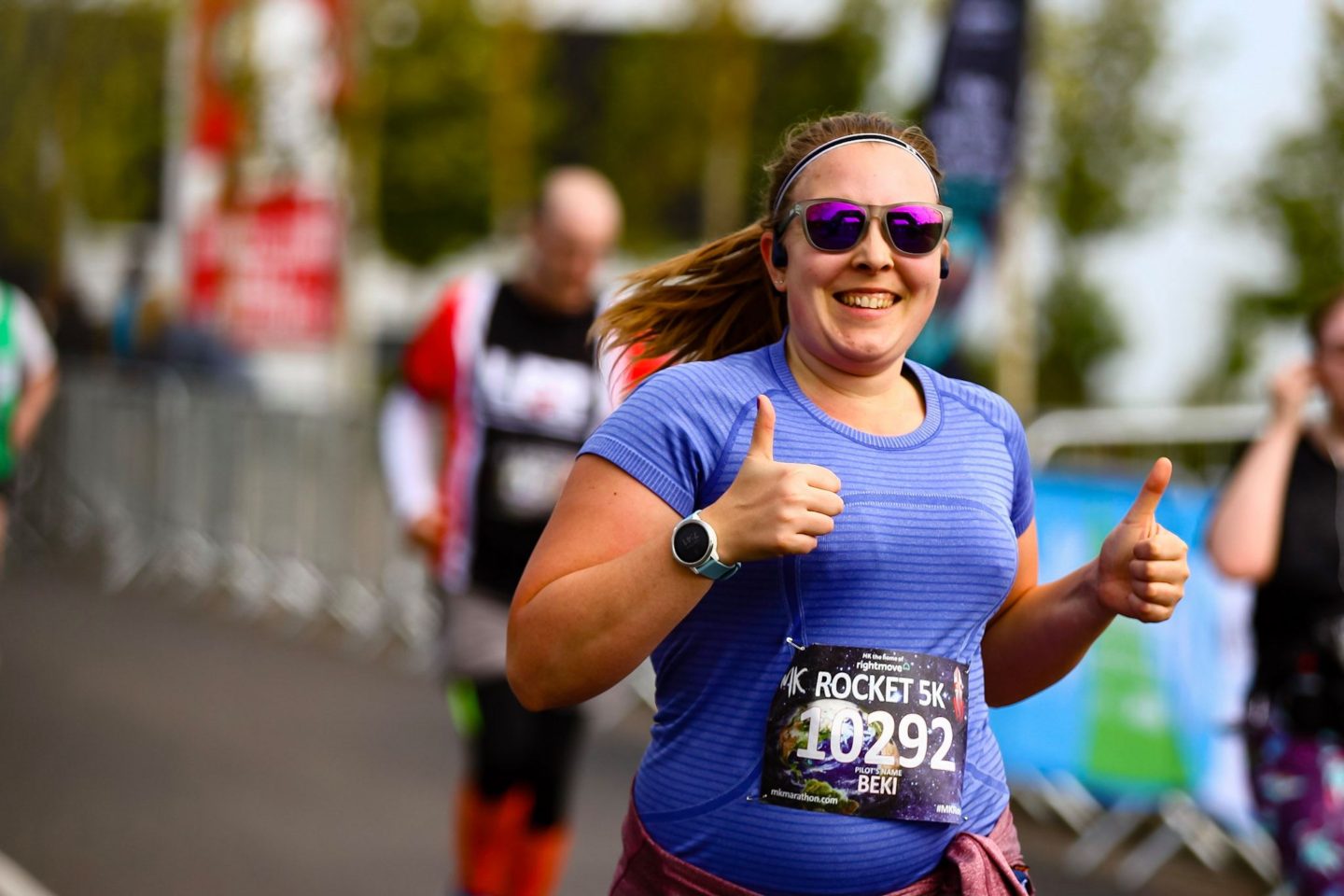 The race was billed as 'the fastest 5k on the planet', and although not an officially recognised statement it was pretty flat. Perhaps with a little more training I might have felt the benefit of that, as it was, my goal was just to run the 5k without stopping to walk!
I managed to achieve that and finished in 38:14, a pretty slow time for some, but I'm happy. It gives me something to work with, and improve upon. I've got a confirmed place in the Royal Parks Half Marathon in October, so whilst I may not have made it to the start line of the MK Half Marathon I'm still aiming to run the distance this year.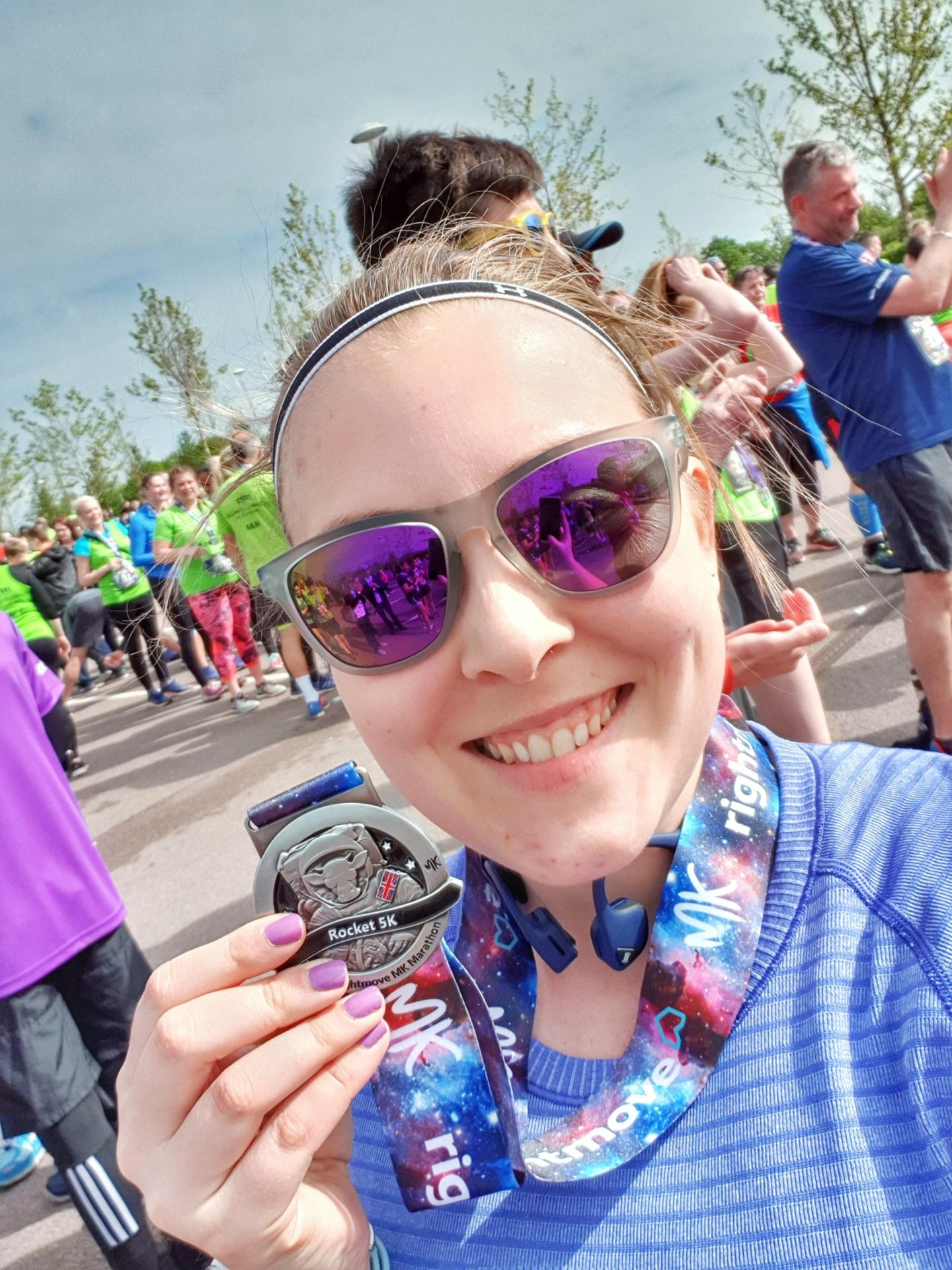 As for the Rocket 5k, my summary is below:
Things to bear in mind…
This is a point to point race which makes the logistics of how to get there, where to park etc a little more complicated. We opted to park at the start line and then walked back from the finish, which took about an hour. There was a bus which you could book seats on as well and some people car-shared so they had a car at the start and finish.
Race packs are not posted out so you had to pick them up from a store in Milton Keynes in the week before (which we couldn't do), or visit the help desk on the morning of the race. This was in a Wetherspoons which was handy for toilets, and there was actually no queue so it ended up being pretty quick.
Although the race is billed as being 'all downhill', 'the fastest ever', the gradient is actually really minimal and mainly just flat so don't get too caught up on it being an easy ride.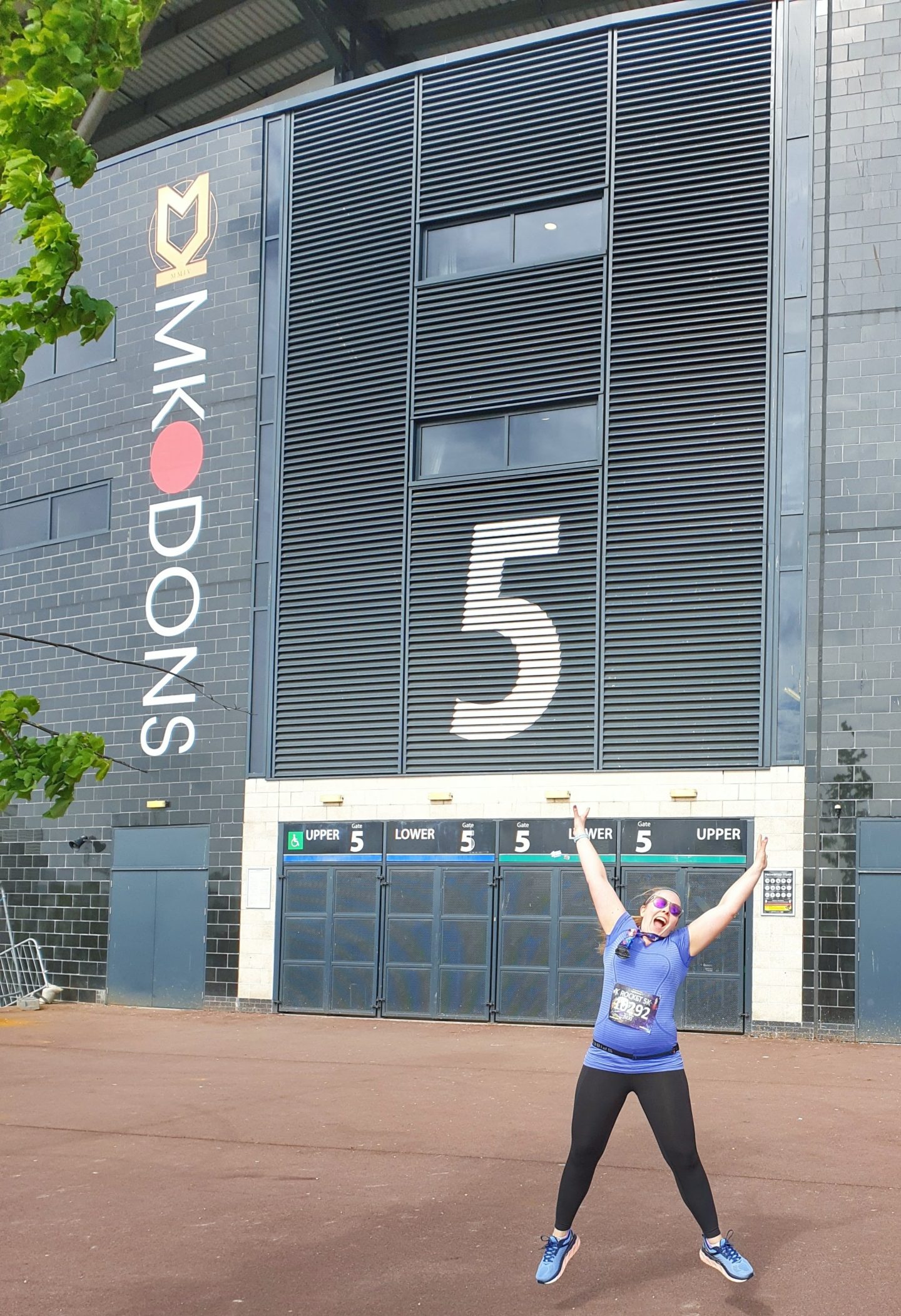 Great stuff…
The medal is awesome. The connection to cows apparently comes from a sculpture that was erected in Milton Keynes in the 1970s, but a space cow with a galaxy ribbon has to be one of the funkiest medal designs I've come across!
The organisation was great, and from the pack pick up to the finish line chute – where we were handed medal, bottle of water, chocolate brioche and strawberry milk – it was very slick despite 2000 runners taking part. It's also a closed road race which you don't often get for a 5k and one that finishes at the dramatic MK Stadium.
Part of the MK Marathon Weekend, there's plenty of chance for the whole family to get involved. As well as the Rocket 5k, there's a half marathon, full marathon and kids fancy dress Superhero Run on the Bank Holiday Monday (and if you do both days, you can get the extra medal!).
What's the coolest medal design you've ever had?
Beki x