If it doesn't challenge you, it doesn't change you – I wrote a blog post for work recently on this theme. How sometimes we need to face our fears in order to move forward, and progress as a person.
I definitely feel that this was the case with the active break I went on recently with Healthy Start Holidays! This perhaps makes it sound a bit scarier than it was – don't get me wrong, the week was a fantastic action packed week of fitness, food and fun – what Miss Wheezy is all about! But there were points where I felt a little out of my comfort zone, and had to grit my teeth and push through, only to emerge triumphant on the other side 🙂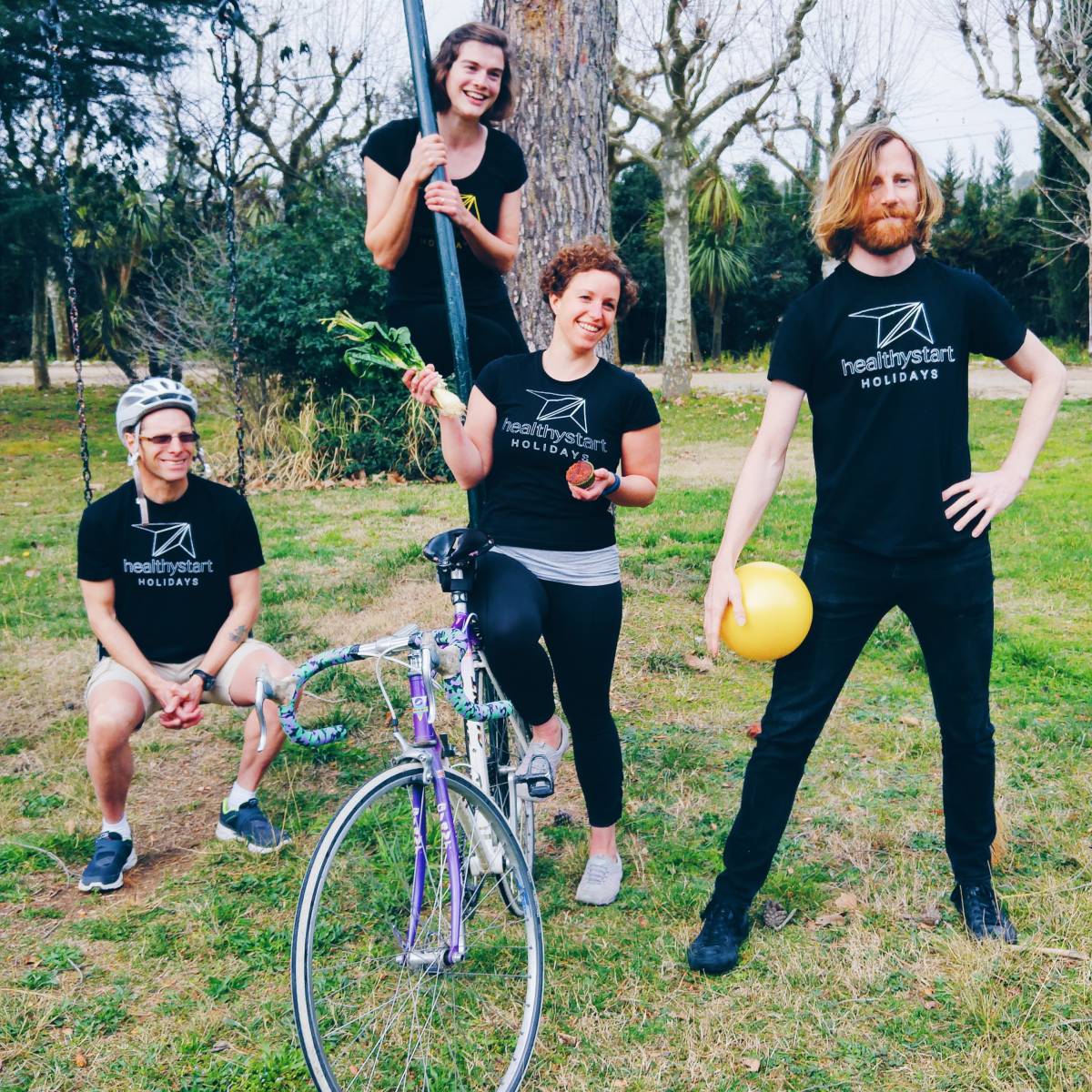 The Healthy Start Holidays team: Ian- chief coach, triathlete and Body Master, Laura- co-founder, triathlete and Pilates instructor, Ros- head of nutrition and food, and Rik- mad-keen Dutch cyclist and co-founder.
Cycling
As you are probably sick of reading about by now, I got a ballot place for Ride London this year having never cycled further than 40 miles, and not set foot bum on a bike for a good six months!
So far I'd got my road bike repaired, written a rough training plan and bought clipless shoes and pedals to become a "proper cyclist". I'd let the guys at Healthy Start know about my challenge, so when we headed out for our first cycling adventure of the week I was provided with a road bike complete with suitable pedals in order to practise clipping in. It was the first time I'd ever tried it on a road and not in my hallway holding onto the wall, and I felt ridiculously nervous. But after a bit of riding up and down the road outside the villa with reassuring guidance from Laura, I just went for it. That first session we rode 13 hilly miles of Spanish countryside, me cycling clipped in the whole time- talk about a baptism of fire!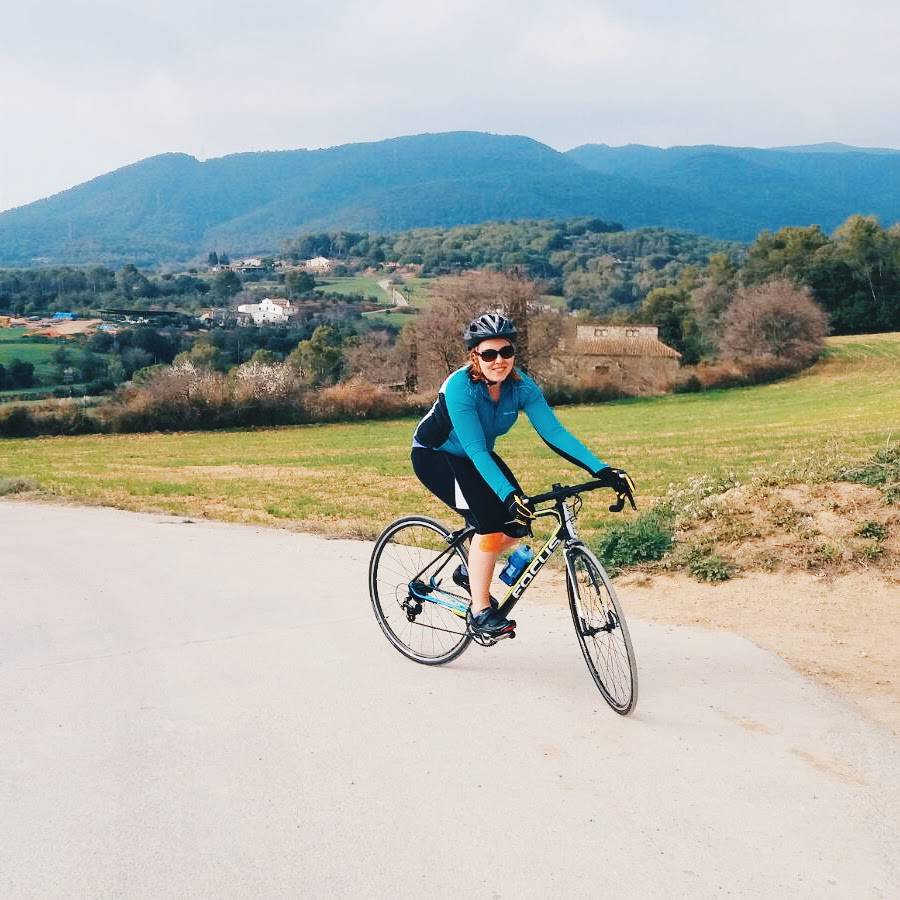 The second ride, which at 21 miles was even longer, I felt so much more confident. Once I'd realised I'd built up the whole "clipping in" thing to be this massive hurdle in my head, and it actually wasn't that terrifying I relaxed. I felt I could focus on enjoying the scenery, the insanely fast downhills and the coffee stop at halfway! I did fall off once of course, whilst stopping to try and take a photo – typical blogger! And there were moments when I was struggling to clip in again after starting – I found this much more difficult than unclipping strangely – where I felt frustrated, but overall it was such a positive experience.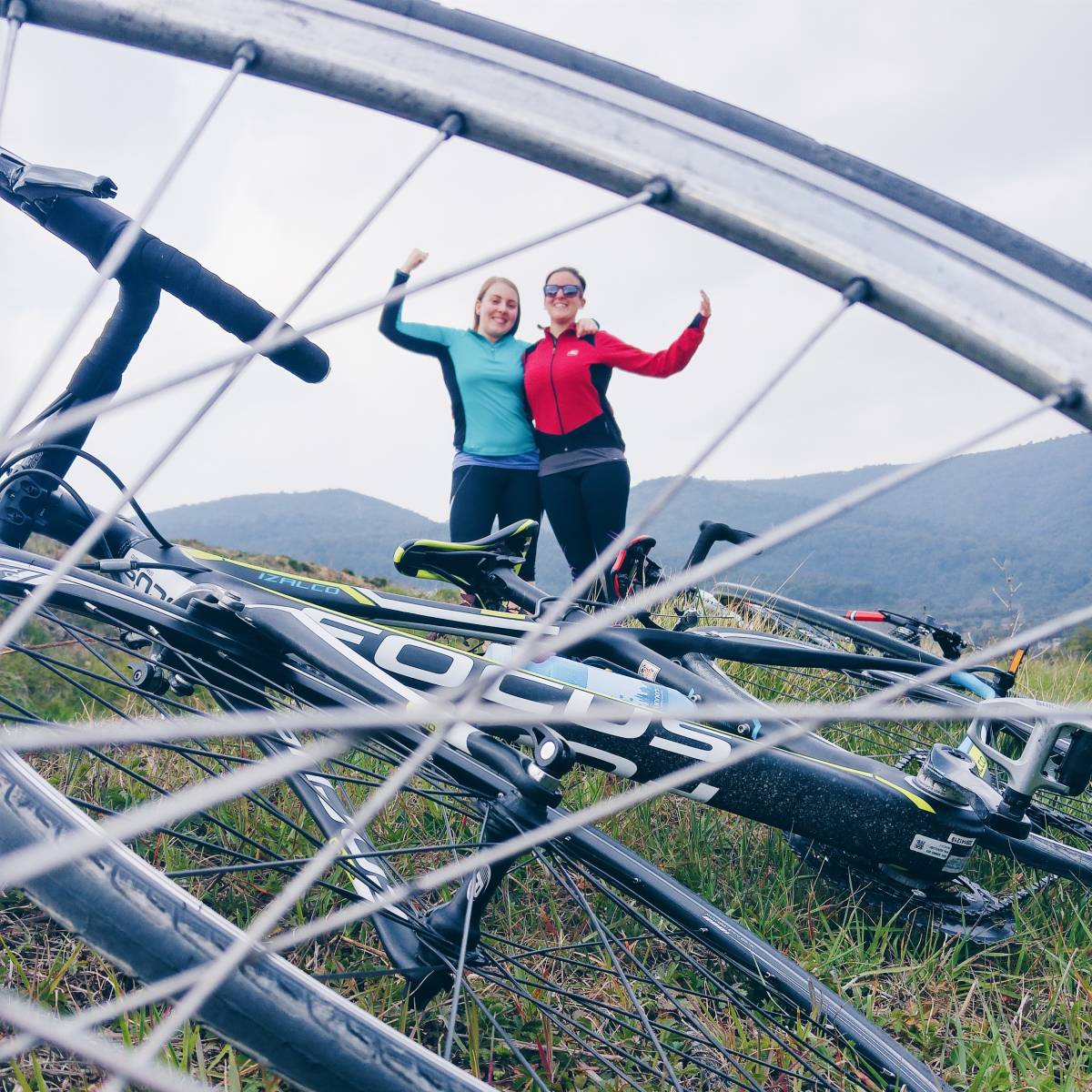 The Healthy Start guys were really encouraging and were obviously genuinely delighted that I, and some of the other girls who'd never been on a road bike before, had achieved something pretty big and perhaps discovered a new found love for cycling!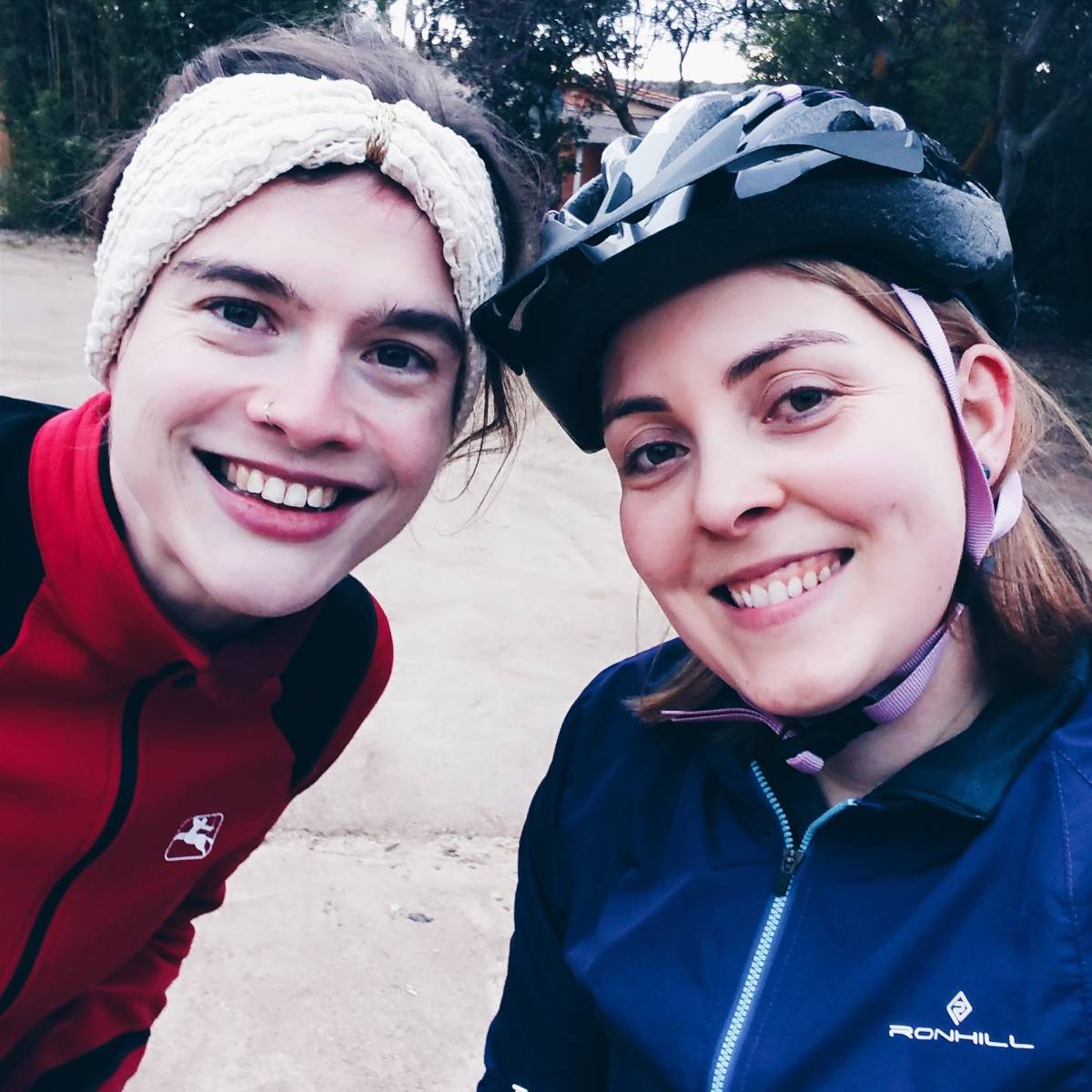 As well as riding in the countryside, we also cycled in Barcelona during the week, enjoying a tour round some of the key tourist spots led by Rik. It was a fantastic way to see the city and discover some hidden back streets you can't navigate on a sightseeing bus, and perhaps wouldn't have time to cover on foot. The bikes were a complete contrast to the speedy light roadsters we'd been riding, and I felt like I was cycling an armchair at times it was so relaxed!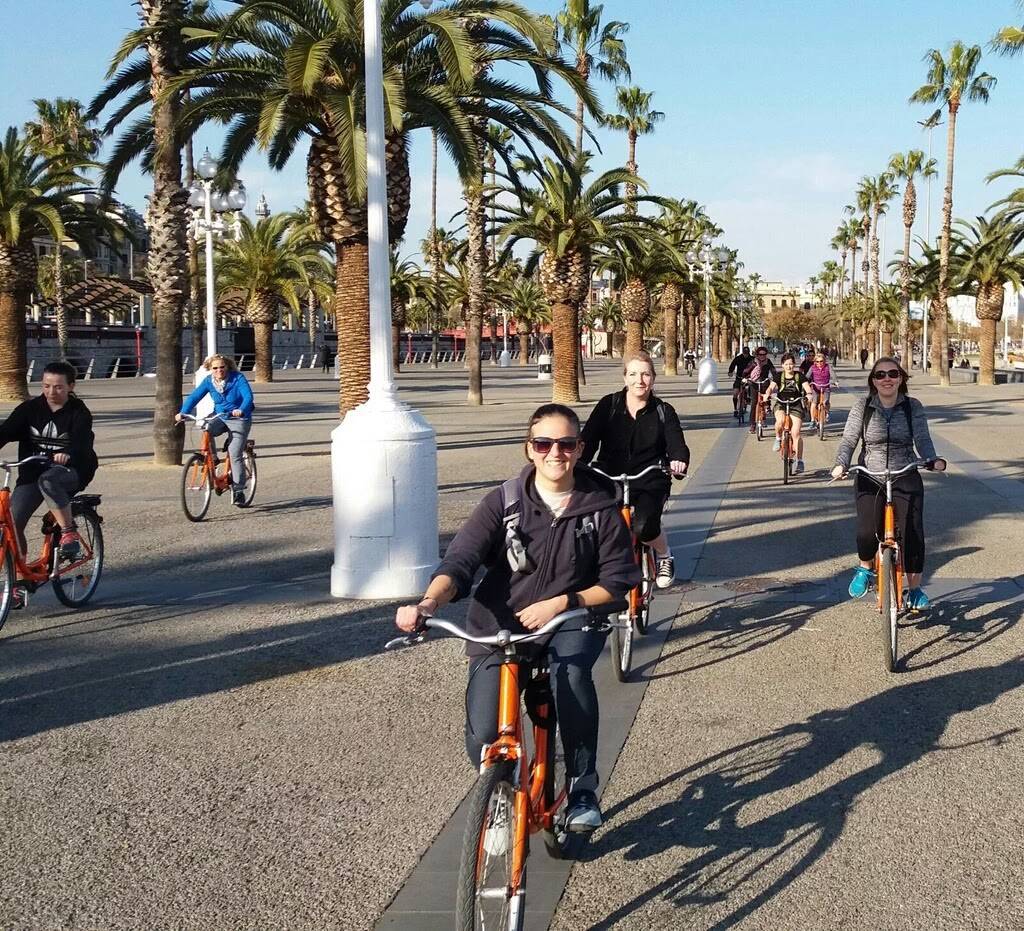 Swimming
Another form of exercise that I've never felt really comfortable with is swimming. If you believe in star signs, I'm a Pisces who feels totally like a fish out of water, in water – if that makes sense! I didn't learn to swim without armbands until I was ten, and although my brothers and I would mess about in the pool diving for bricks and rings on the bottom, I never learnt proper breathing for actually swimming and don't really like being out of my depth. I can do breaststroke with my head out of the water, very slowly!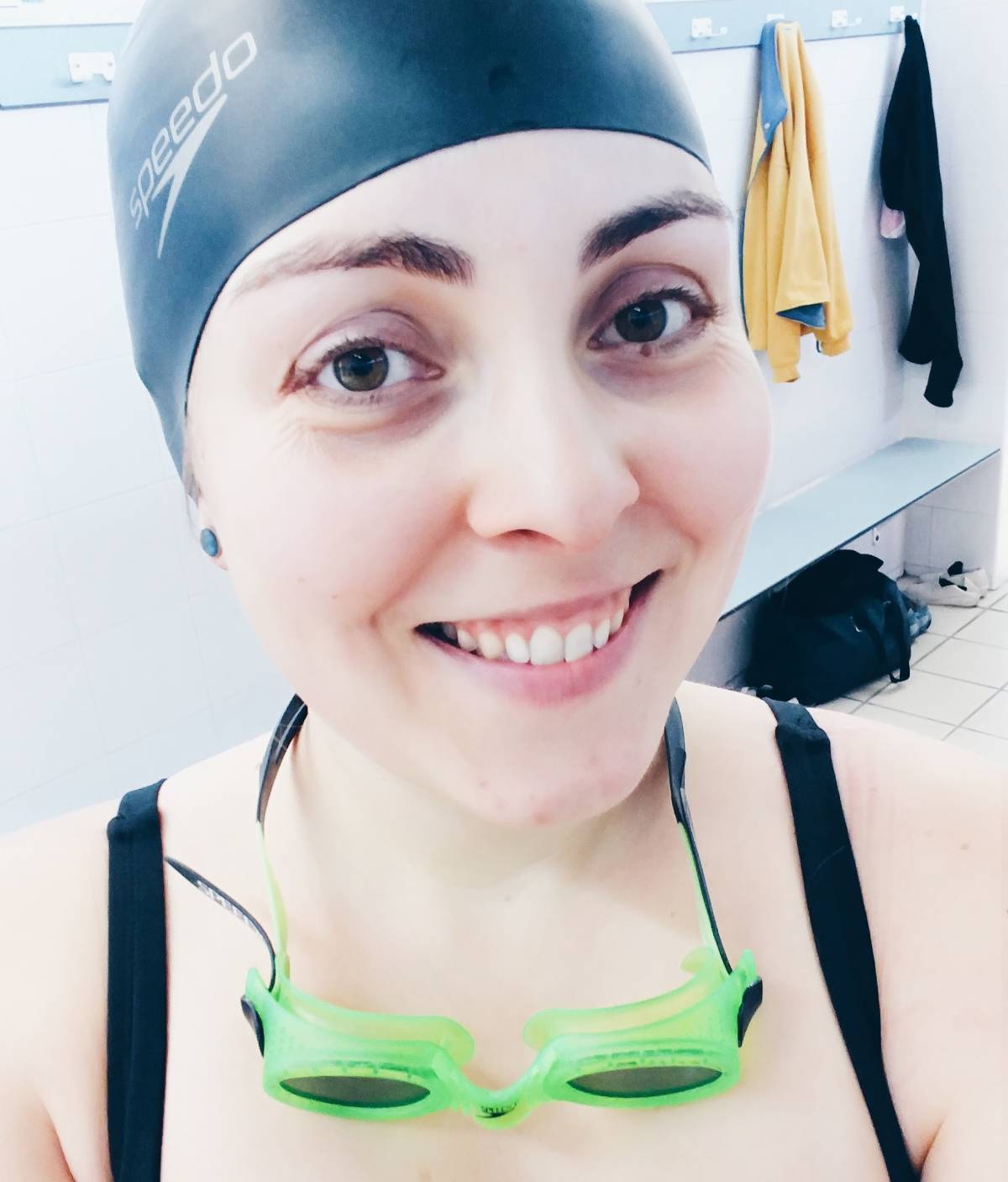 We headed to the local pool in Cardedeu one morning during our Healthy Starts Holiday, for a swimming lesson with Ian- one of the team and a pretty insanely fit triathlete. The different levels in our group were quite broad but Ian devised drills and technique work that was specific to each person. For me that started with just blowing bubbles in the water like a child! We also worked with floats and fins, to practise the different elements of a stroke – the hardest part about swimming is trying to remember to do ten different things at once! And believe it not by the end of the session I could (almost) do one length with proper breaststroke breathing – not very elegantly or with much finesse but a huge step for me. And having had that guidance, I feel like I could go away and take myself to a pool to give it a try on my own, and perhaps after a bit more practise look less like a drowning fish…
Stay tuned for more Healthy Start Holiday adventures to follow!
And if you fancy enjoying a week of cycling, swimming, Pilates, running, hiking and amazing food head over to their website and check out all the great weekend breaks they have available to book now!
Have you ever overcome a fear or suprised yourself by tackling a difficult challenge?
Beki x