When I saw that the weather forecast for Sunday said 30 degrees, I felt a little apprehensive about the BHF London to Brighton bike ride! I also seem to be making a habit of not having the best race prep (see the London 10 mile run) and ended up working a long 12 hour shift at the Human Race Windsor Triathlon the previous day. After walking around in the blazing sunshine I got home and stuck my feet in a bucket of iced water!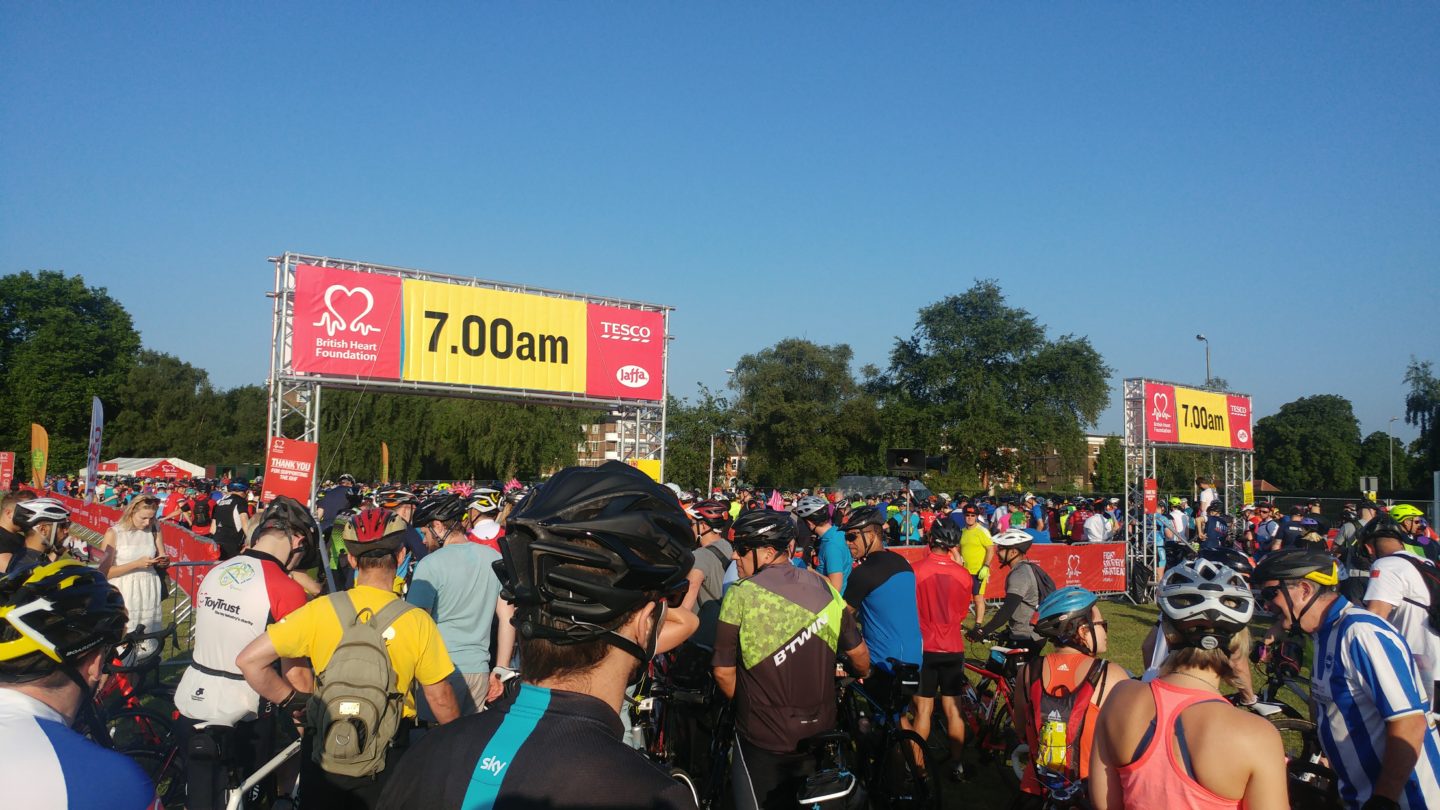 The next morning we were up at 5:30am to get a taxi to Clapham Common (NB: Addison Lee are great for transporting bikes!) and join the 7am wave to cycle from London to Brighton. The first few miles out of London were pretty congested, and there was a fair bit of weaving to find space amidst the hundreds of other riders. James and I had to keep a close eye on each other so as not to get lost in the crowds too!
We had decided to stick together for the whole 54 miles, which we managed to do, although there was a bit of to and fro as he overtook me on the hills and I overtook him on the flats, haha.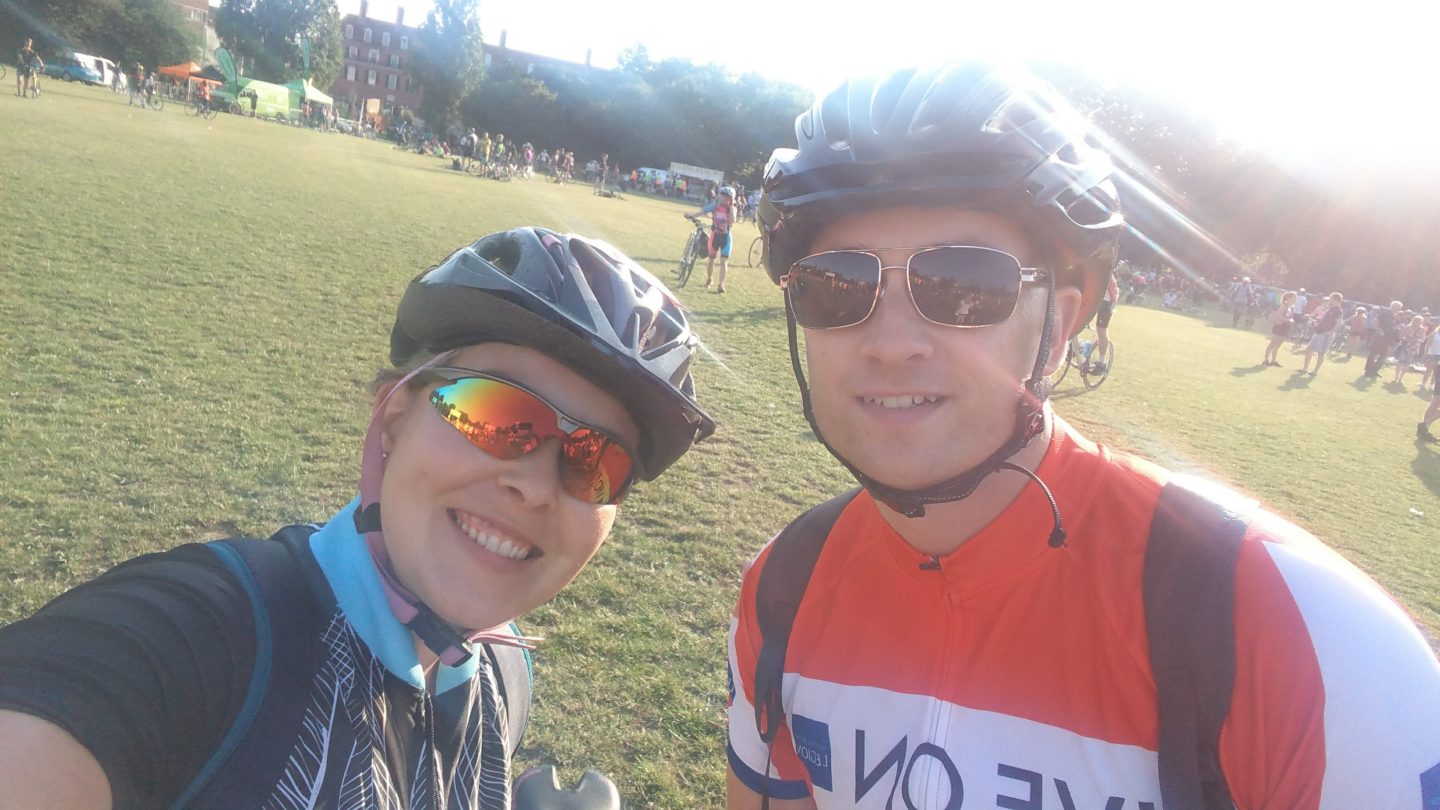 With the temperature already rising, we opted to get as many miles under our belts as we could before stopping. We managed to smash out 20 miles before taking a break at one of the 15 fuel points along the course – I'd stuffed my pockets with Chia Charge flapjacks, CLIF shotbloks and gels although once it got HOT it was definitely hard to make myself keep eating. My appetite always seems to disappear when the weather is warmer!
I also had two bottles on my bike, one with nuun electrolyte tabs in and one with plain water, and made sure to refill every time we stopped. Along with P20 sunscreen liberally applied, both of us stayed hydrated and sunburn free the whole day, which was definitely a lot better than some people fared.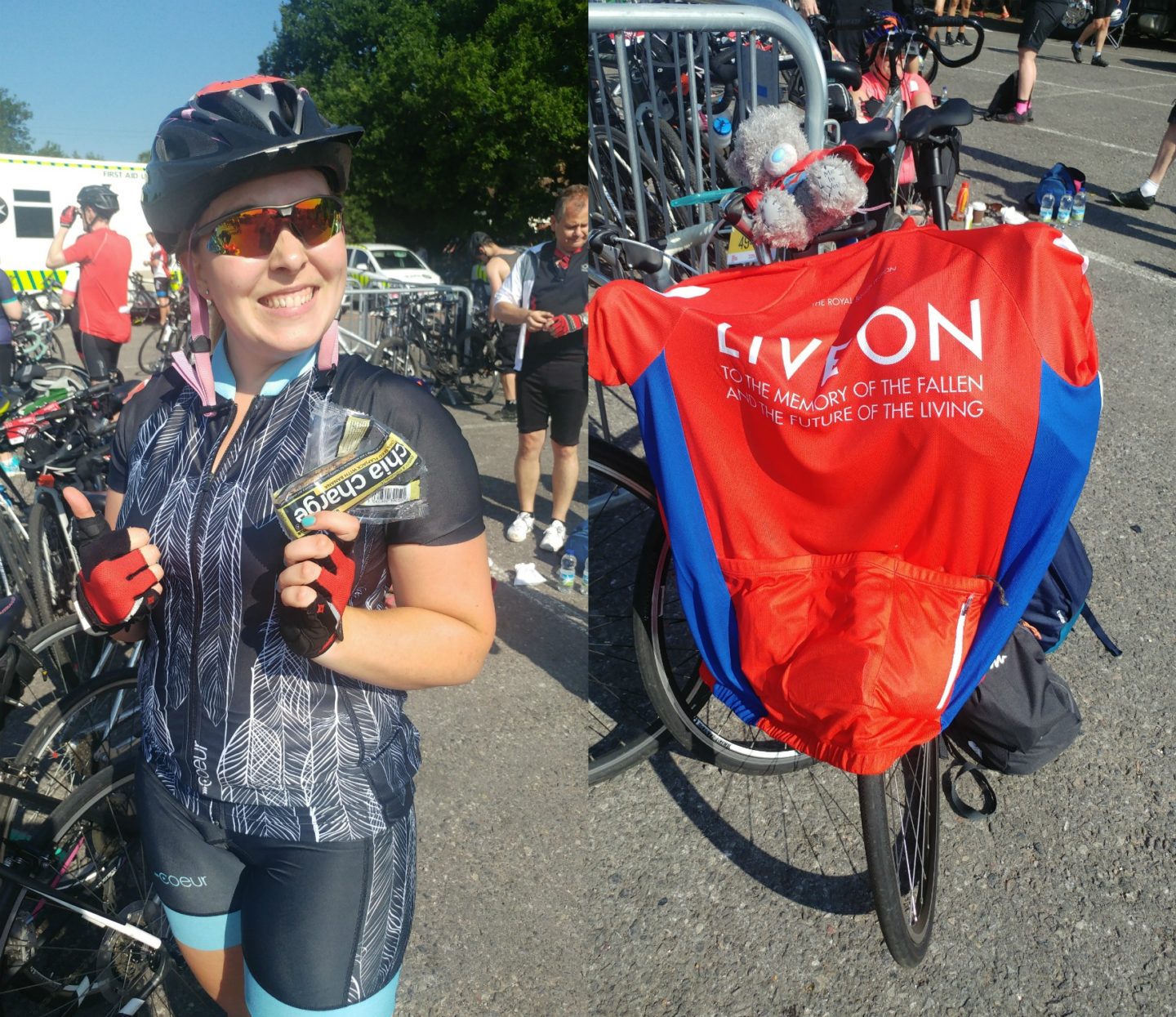 Our next break was at the top of Turners Hill at about 30 miles – this was a much shorter stop, basically for me to catch my breath after riding up the hill (I did all of them except Ditchling which I'm pretty happy with)! We also grabbed some orange slices from the Jaffa stand and took a few minutes to listen to the Royal British Legion band playing tunes in the sunshine.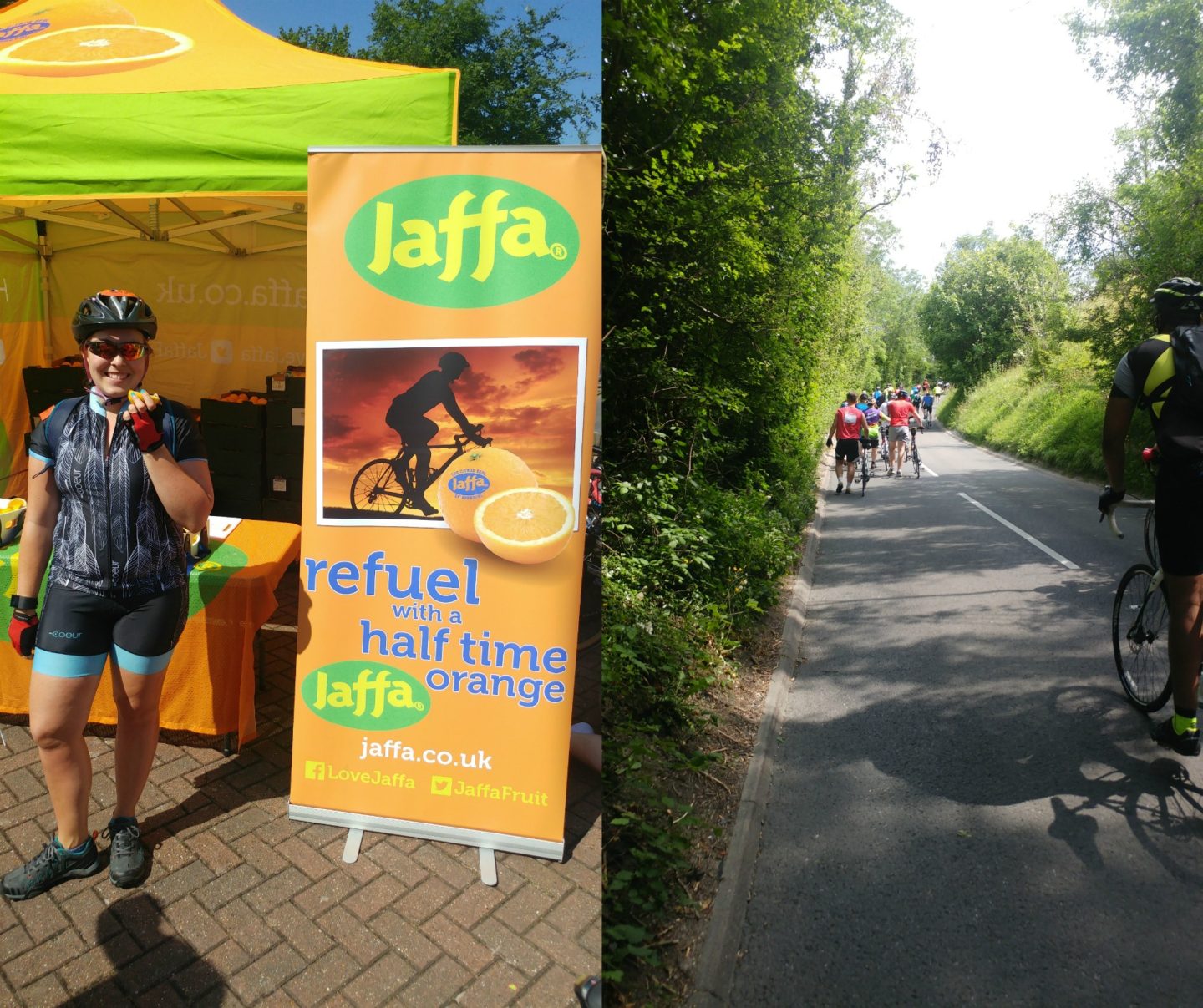 After that it was the final push onto Ditchling Beacon – we took a very quick pause just before the hill to refill water bottles in anticipation of the effort to come, and then powered on. By this point the heat was definitely getting to me and at 45miles as we hit the bottom of the climb I could feel my head and heart pounding, and the sweat dripping off my arms before I'd even starting exerting myself! I was determined to give it a try however, and after telling James I'd see him at the top, I set off grinding away. I made it about a third of the way up before admitting defeat and joining the long line of walkers shuffling our way to to the summit – it is such a beast of a hill, 1mile long and with an average gradient of 9%! I'm determined to make it up one day, but maybe not when it's 30 degree heat!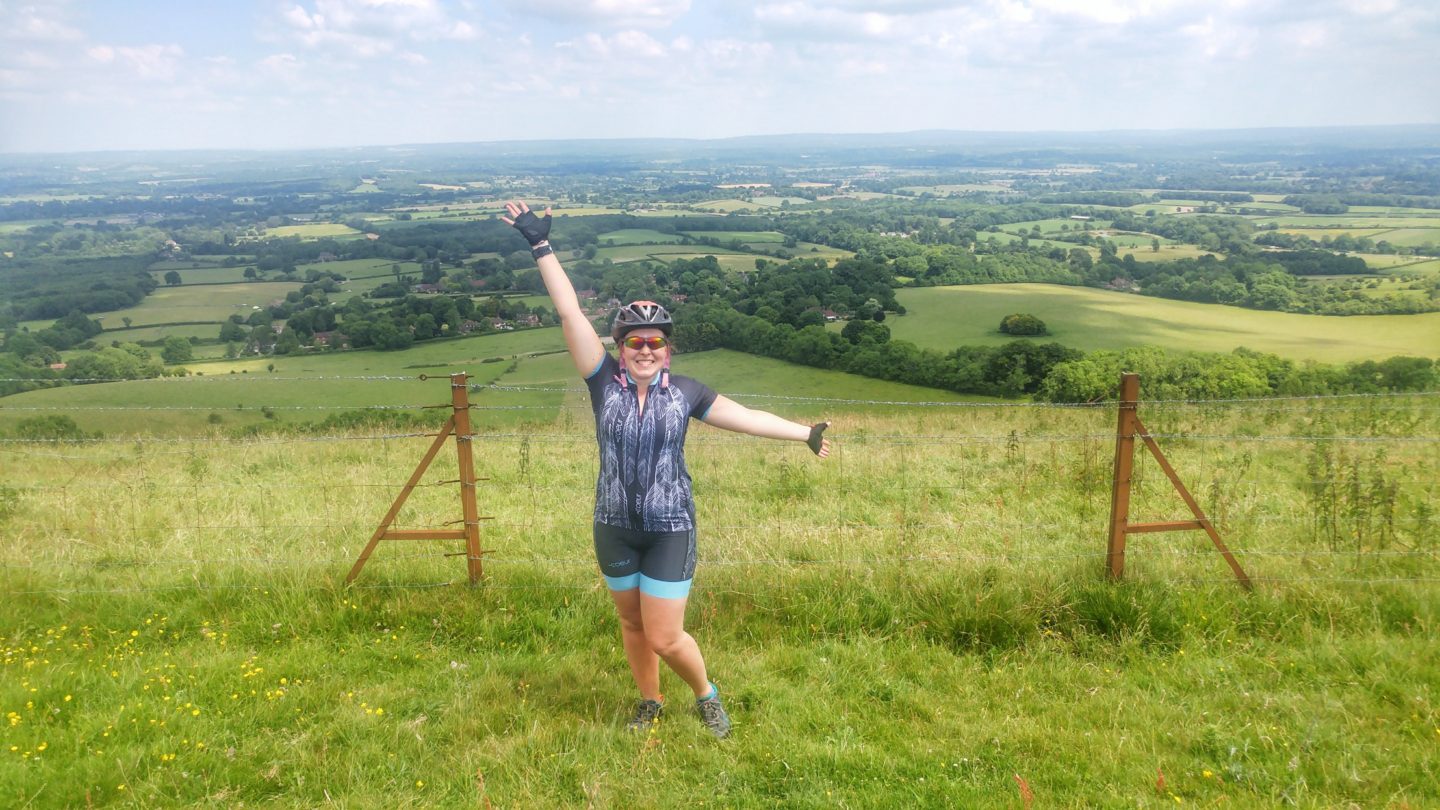 James of course made it up in one go on his first attempt of course – don't you just hate people who can do that?! I was super proud of him though, and we took lots of photos admiring the view from the top before clambering back on our bikes for the final stretch down into Brighton.
Things weren't completely straightforward from there however, as we ended up getting diverted in the last couple of miles because of an accident. This meant we came in on a non-signposted or marshalled route and the traffic was horrendous. I actually felt really unsafe and got off my bike to walk on the pavement (with several others) before a lovely old lady directed us to a quieter road that would take us back onto the official route. Finally we made it onto the promenade and could see the sea in the distance! James and I cycled side-by-side down the finishing straight and under the archway to collect our medals, with hundreds of spectators cheering and bubbles from somewhere floating across the course – it put a huge smile on my face to know we'd done it, and in such ridiculous weather too!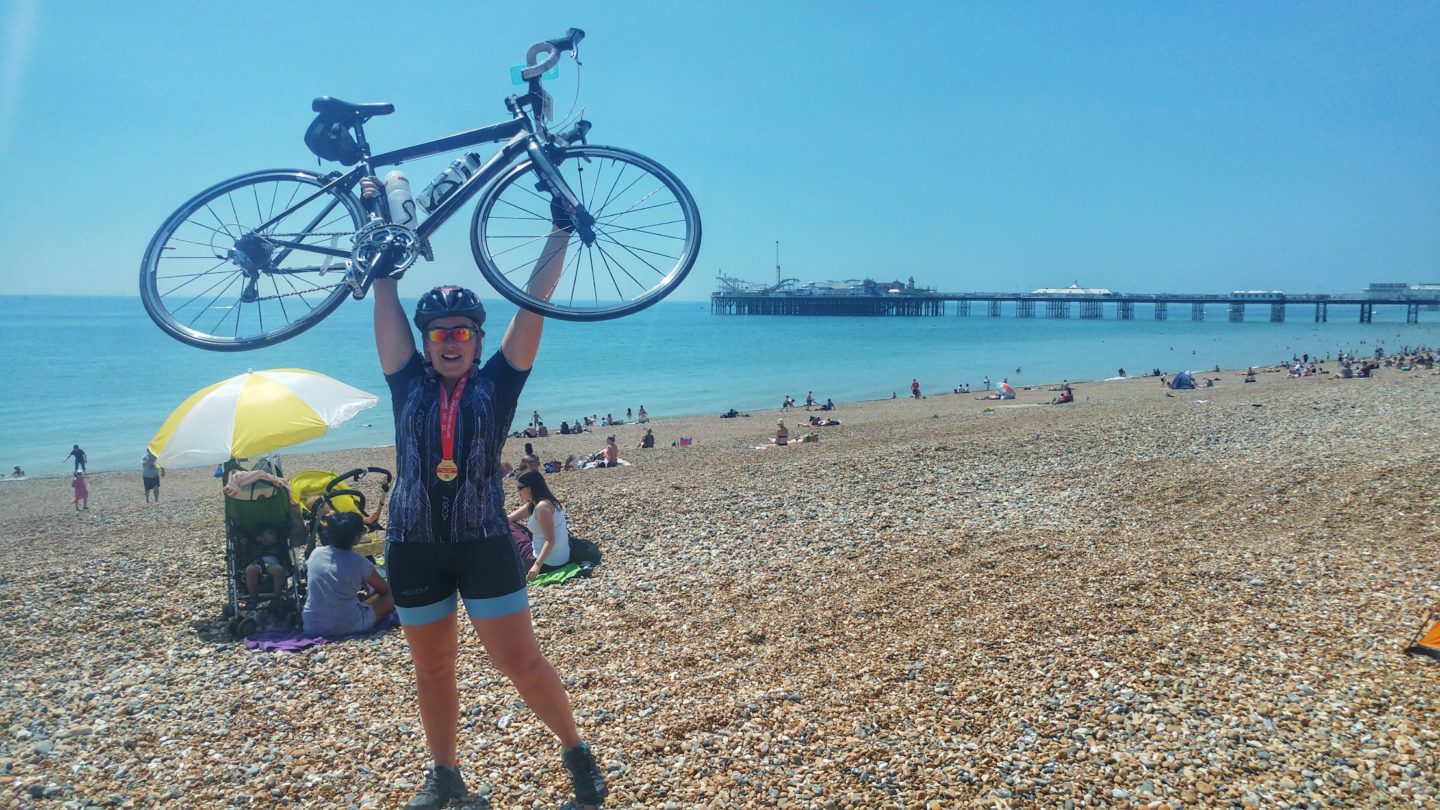 We made our way down onto the beach for the obligatory bike photos, and medal selfies – this was the first year the the British Heart Foundation organised a proper event village at the end with a big screen, food stands, entertainment and more. We didn't really stop to check it out to be honest, as I was quite clear that I wanted fish and chips to eat and they didn't have that as a food option in the village (!) but lots of people were enjoying the extra space to chill out and meet up with friends and family after the event so I definitely think it was a nice addition.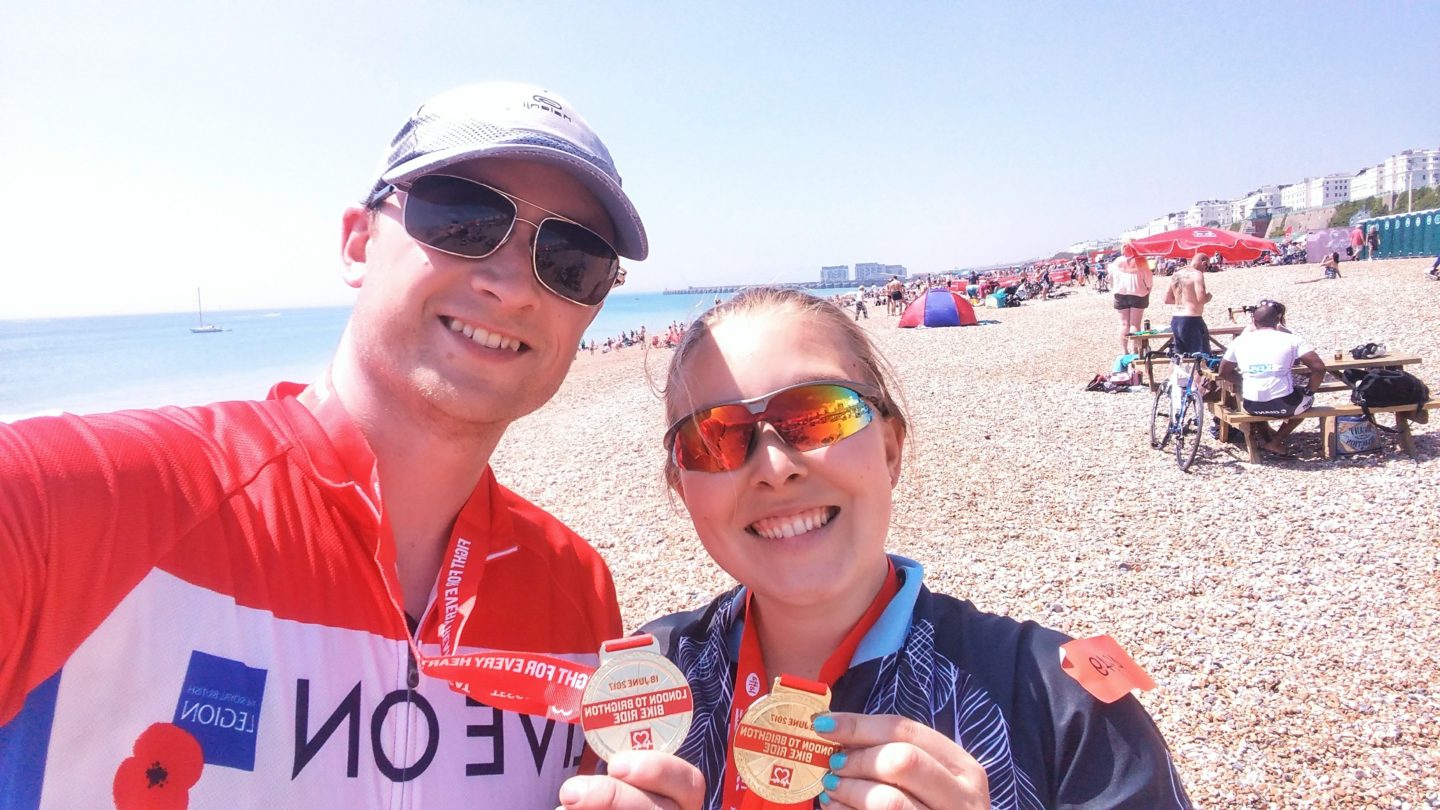 We had booked a hotel in Brighton so we could stay overnight and take our bikes back on the train the next day (as they're not allowed to be transported on the train on the event day itself) – it was a very old building as many of the hotels are in Brighton, and the room as so hot, with no air-con and a window that opened just a crack so we ended up spending time paddling in the sea and relaxing in a cool pub with a drink for most of the afternoon.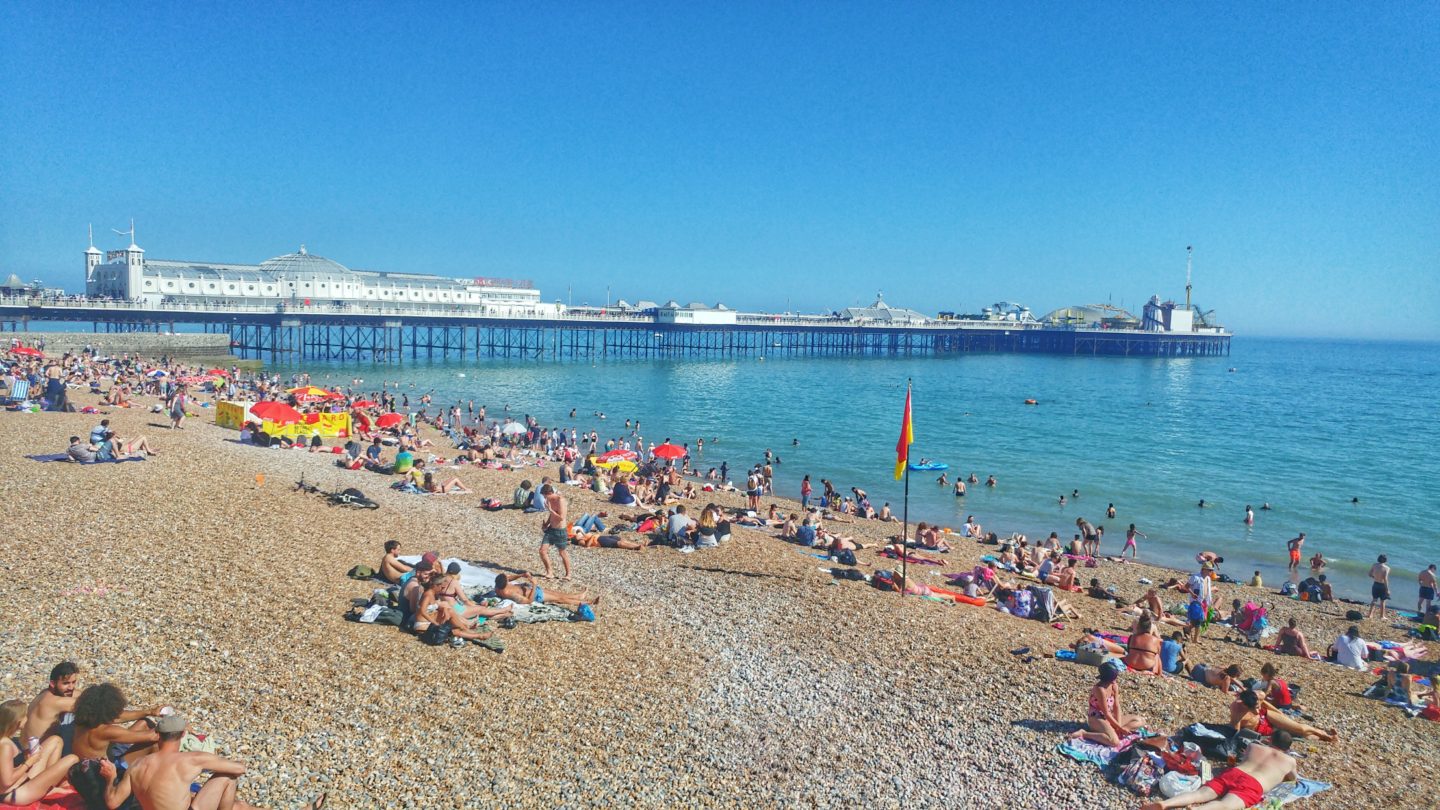 Brighton beach was absolutely rammed with people enjoying the abnormally warm British summer weather and it felt positively Mediterranean as we chilled on the beach at 8pm with the temperature still in the high 20s.
Two days later and my legs aren't achey at all – my saddle stamina definitely needs some work, but I'm actually feeling a lot better about my lack of training for RideLondon now! If I can get in a couple more medium distance rides, and the weather isn't quite so crazy we should be fine 🙂
Beki x