Everyone has different family holiday traditions. When I was young, my family went to Haven caravan parks, and then rented holiday cottages once we were all a little older and too big to fit in a tiny caravan! Some people go abroad, others camping, some might go to the same place year on year and others never visit a location twice.
James' family have a tradition of going to CenterParcs once a year for a long weekend – his parents, his brother's family and E, plus the dogs. This year was the first time I got invited along to join the rabble, and loved it! Having never been to a CenterParcs before I was equally as excited about the location, as the madness and fun of a family holiday.
CenterParcs – Did You Know?
CenterParcs started in Holland over 40 years ago, and then brought their idea of forest villages to the UK in 1987.
They now have five villages in the UK – Sherwood, Elveden, Longleat, Woburn and Whinfell.
Each village is set in over 400 acres of natural woodland, and offers more than 200 indoor and outdoor activities for families.
Swimming is free and included in your stay, all other activities cost extra and there are restaurants, cafes and shops on site as well as a spa.
Once you have driven to your accommodation and unpacked on arrival day, no cars are allowed on site until leaving day making the villages fantastic for cycling – particularly for kids. There are bike parks everywhere and you can hire bikes if you don't bring your own.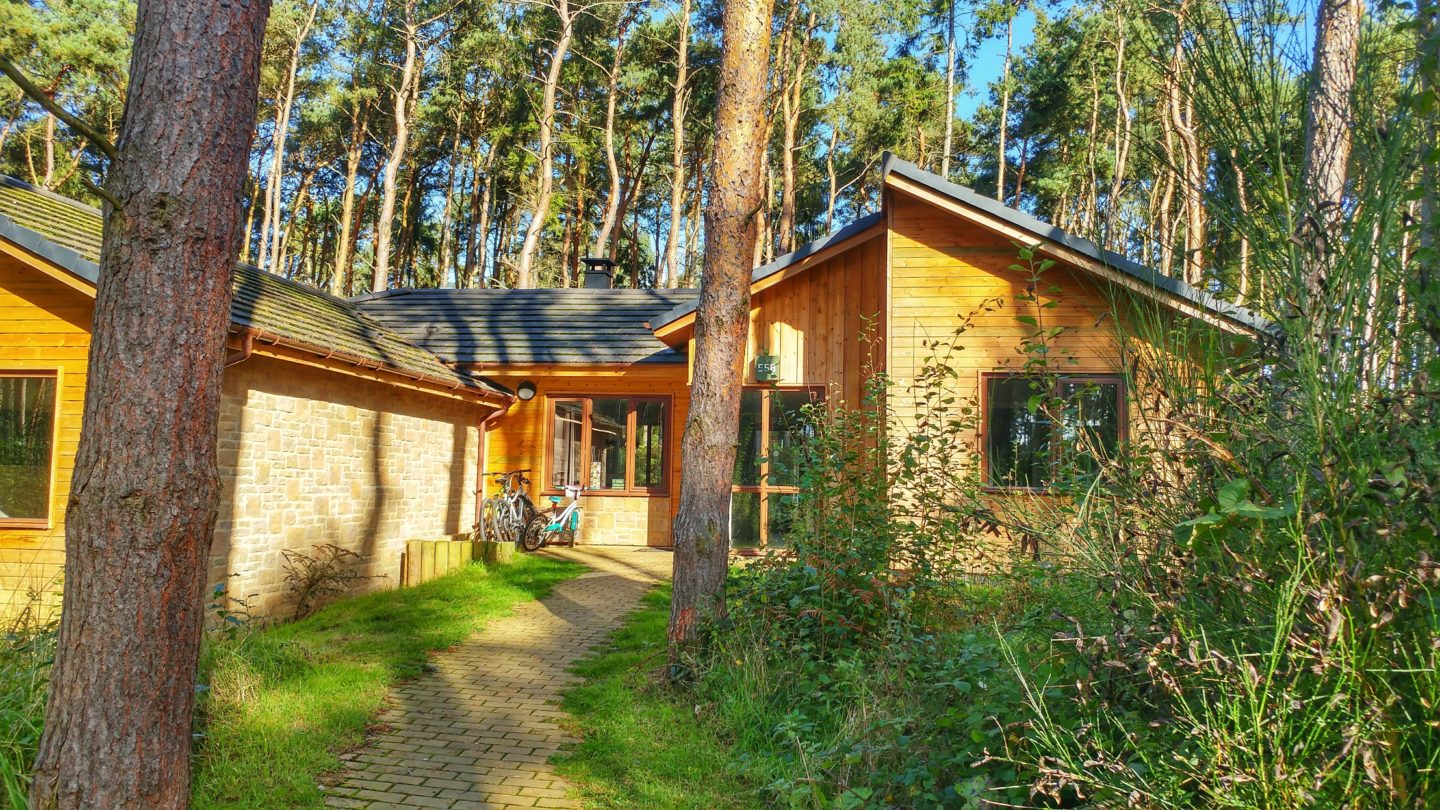 I loved our lodge in the woods – while each one is relatively close to the next, the landscaping and amount of greenery around means that you don't feel overlooked. They were also really modern and well equipped so you really only need to bring your own personal belongings.
On Saturday, James and I had a relatively chilled morning while the youngsters were taking part in a craft activity (Pirates and Princesses) and walked down to the lake to get a coffee. Woburn CenterParcs is one of the smaller sites, and you can walk between the lodges and Village Centre within about 10 minutes.
After lunch we had booked an activity called 'Encounter with Owls' which involved us being able to handle five or six different breeds of bird and flying a beautiful white barn owl called Marmite.
I loved it, and don't think I stopped smiling the whole time!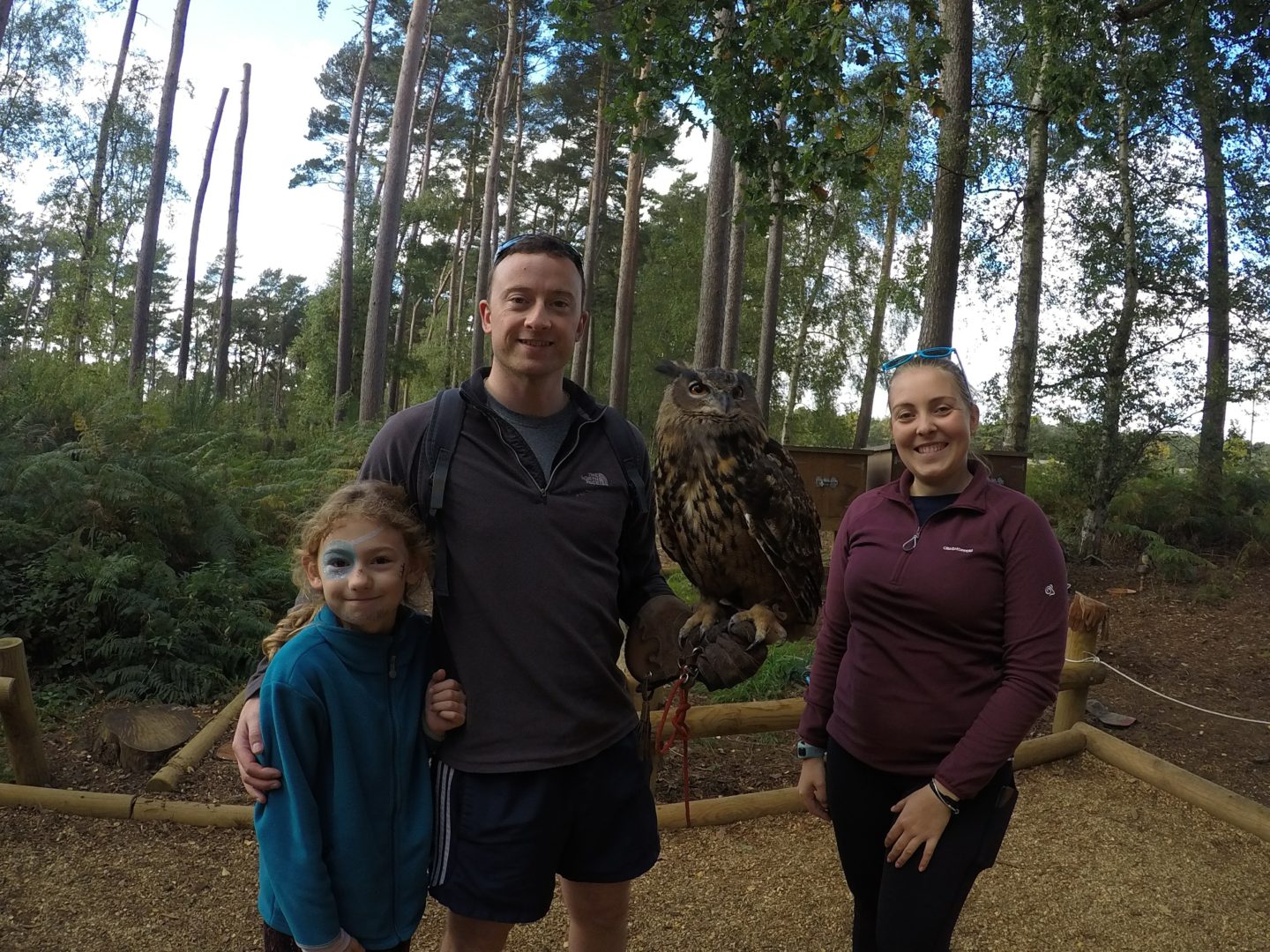 We were in a pretty small group so could ask lots of questions and the handler obviously knew what she was talking about. Owls are such amazing birds, and from the tiny fluffy Little Owl to feeling the weight of a huge Eagle Owl on my arm, the experience was pretty special.
After the one-hour session, we cycled over to the lake to hire a couple of kayaks. The lake is quite small, which means there's no real risk of drifting off anywhere if you're not a very strong paddler, although they do provide life jackets for everyone. When it gets busy, you do have to dodge around the larger boats but it was a good test of my kayaking skills!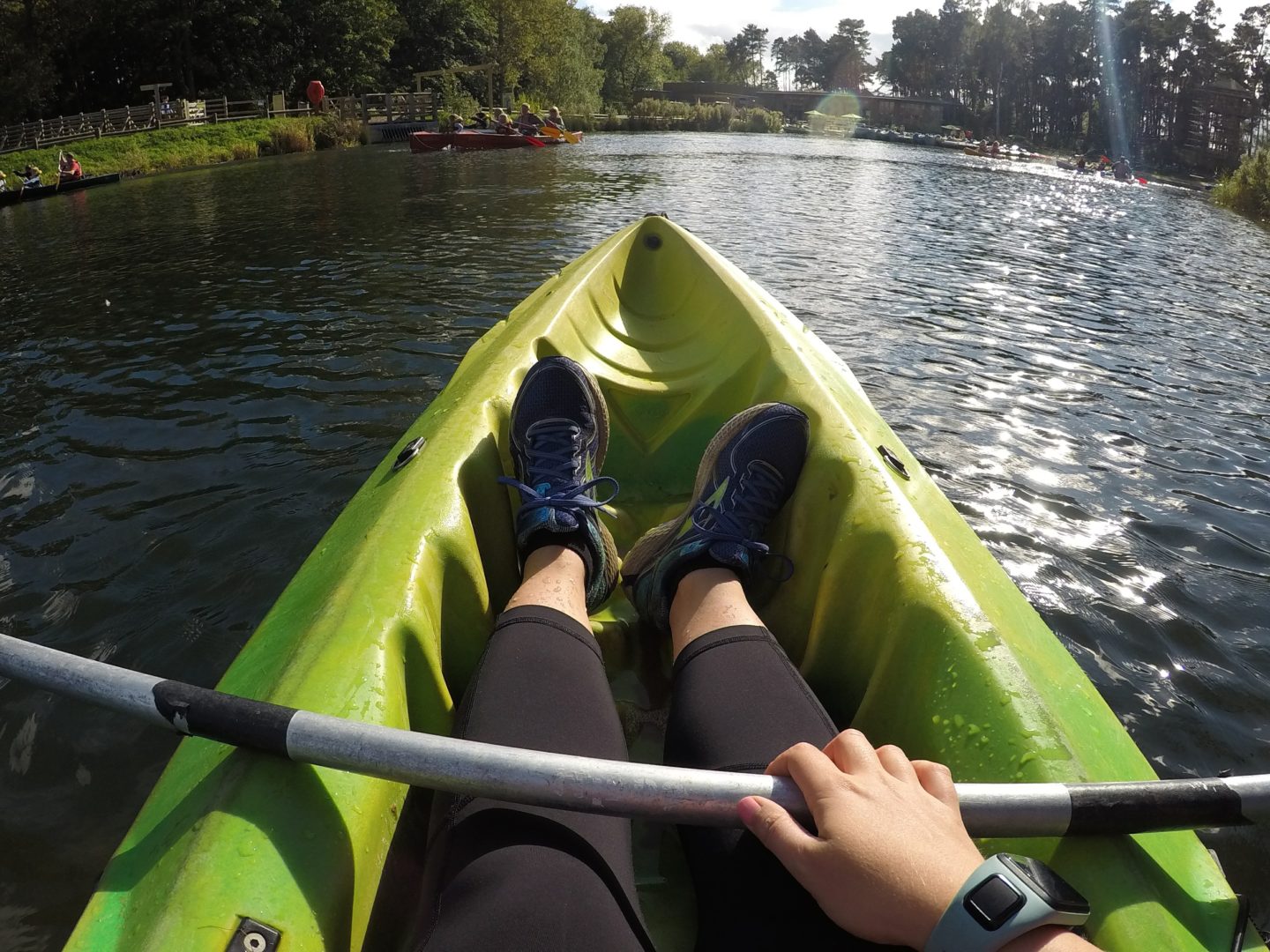 The weather was gorgeous and it was actually pretty relaxing chilling out on the water, although we did have a few races between me in the single and James and E in the double!
Sunday morning I went off for a bit of exploring and ran around the outside of Woburn CentreParcs – there's a bridleway that covers the whole perimeter of the village, with paths off in various directions so I managed to squeeze in about six miles whilst James and E went 'tree-trekking'. It was quite a hilly route, but it was great run to run off-road for a change although I did come back rather muddy!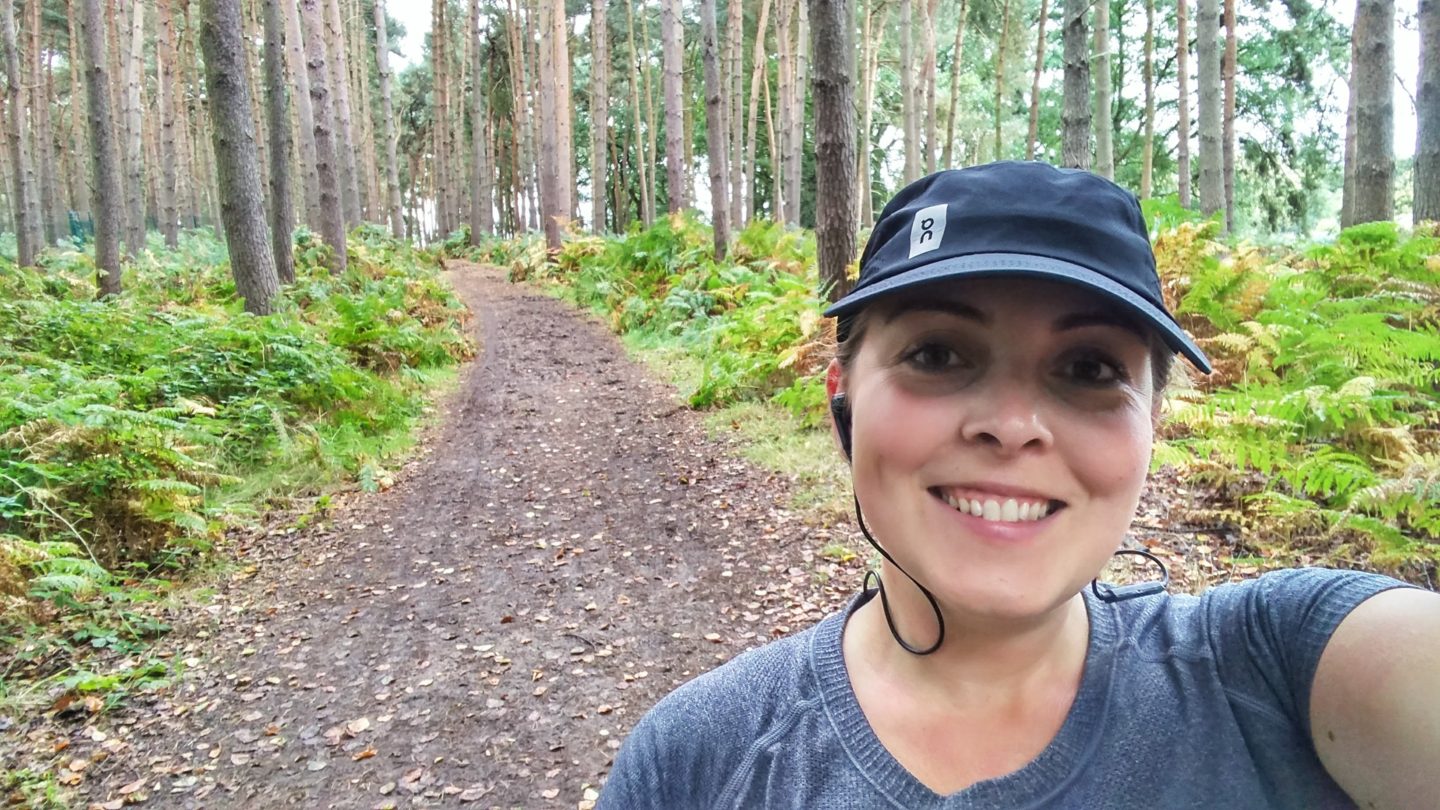 The whole family then spent most of the afternoon in the Subtropical Swimming Paradise which in itself is jam-packed with activities including three flumes, a wave pool, lazy river, outside rapids, toddler pool and pirate ship play area! The kids loved it and to be honest, it was great to behave like a kid myself and jump over the waves and fly round the wild water rapids laughing!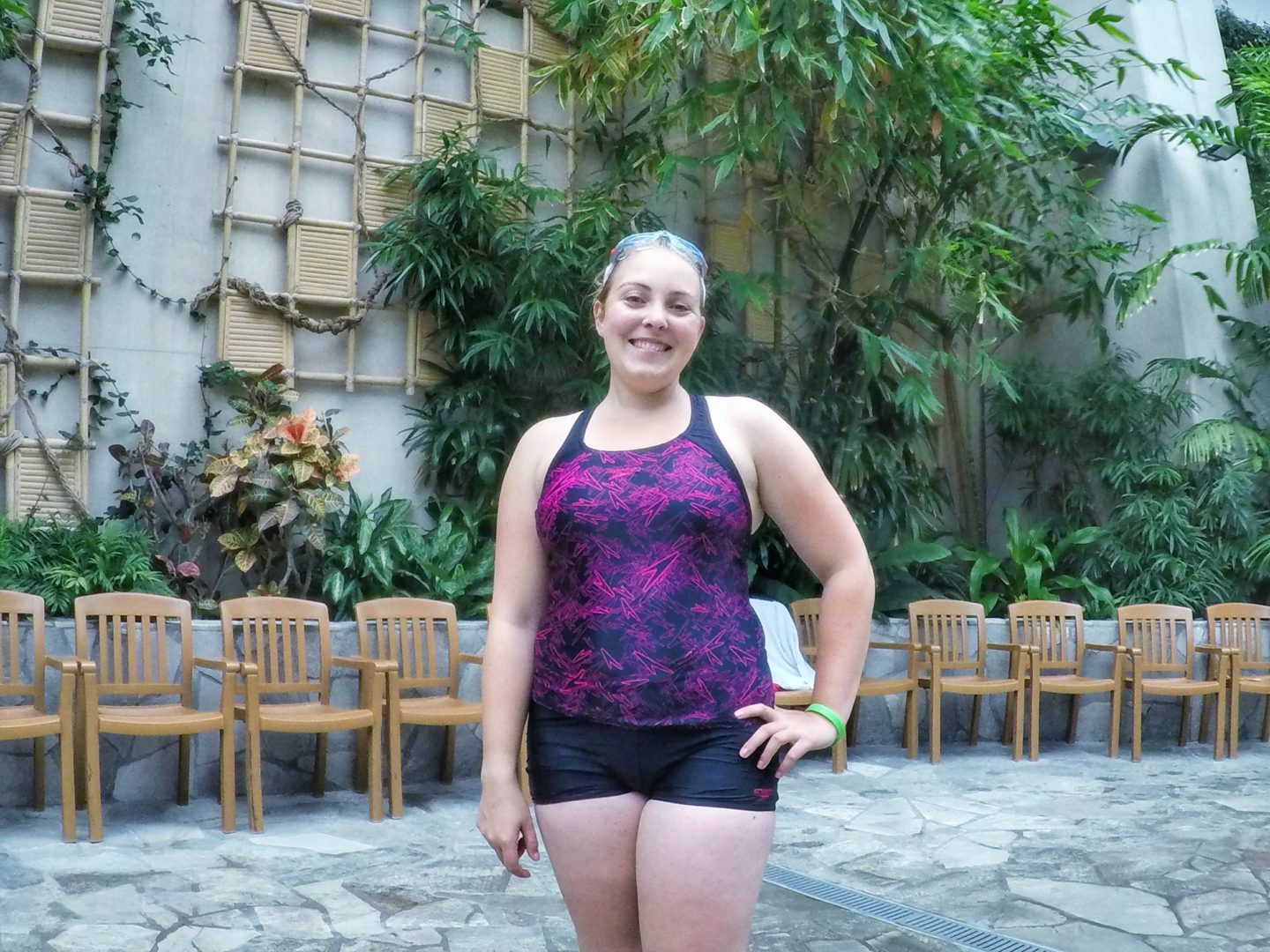 It definitely takes away the worry of 'what do I look like in a swimsuit' when you're trying to climb into an inflatable donut for the lazy river, or see who can blow the most bubbles underwater. Having said that, I did wear a new Speedo tankini with an inbuilt bra for support and shorts, which offer a little more cover than a highcut bikini so I felt pretty good. Plus I love the pattern! The goggles were new too and although I still don't know how to dive underwater without holding my nose, they meant I could join in with the 'who can sit on the bottom for the longest' games!
Monday came around all too quickly. You have to vacate your accommodation by 10am, but can stay in the village and take part in as many activities as you like during the rest of the day. After a lazy family brunch, James, E and I squeezed in a game of crazy golf and indoor short tennis before heading home.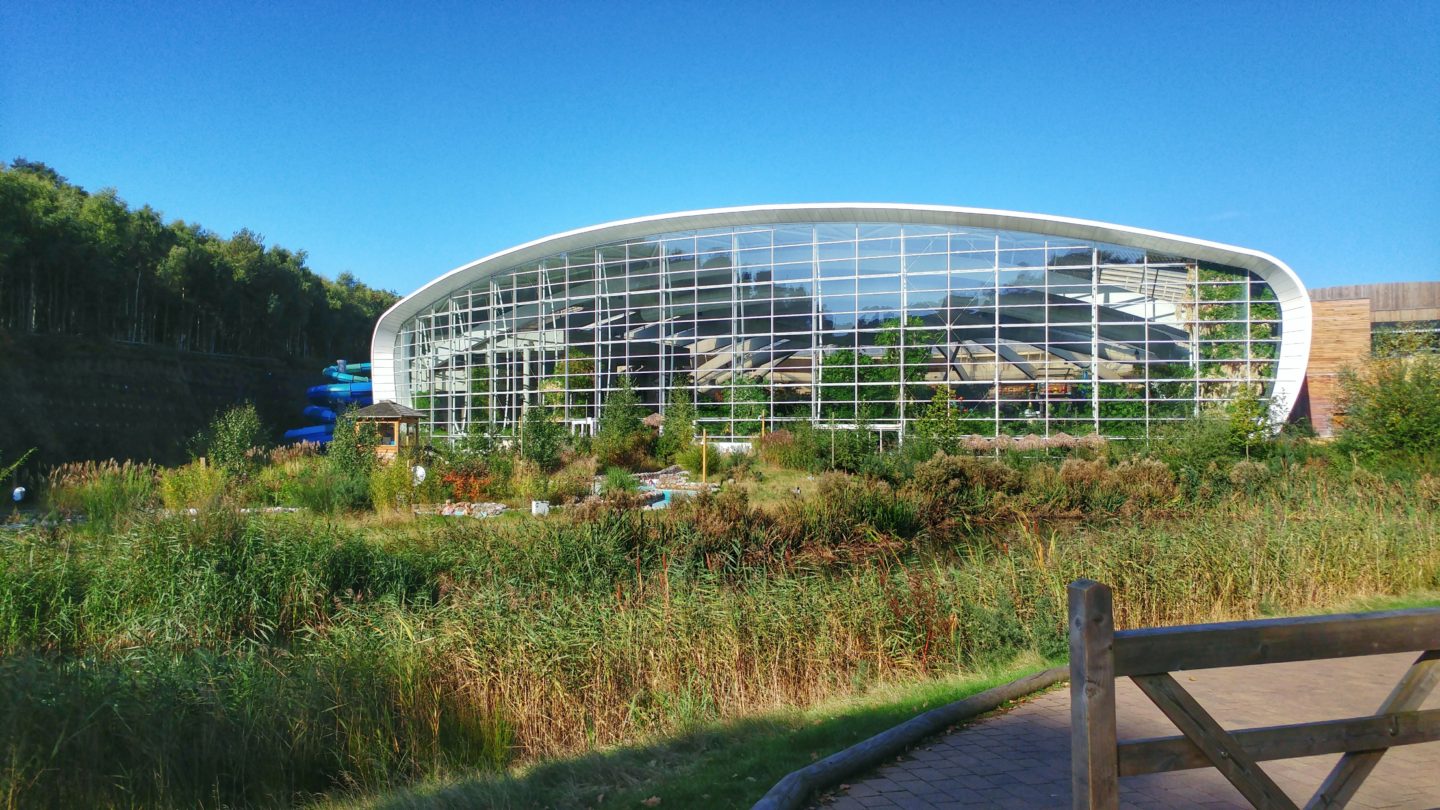 There were so many activities on offer at the park that I could have stayed several more days to check out the spa, do some pottery painting, visit the climbing wall and more. The danger is that with so many activities you can get carried away with booking everything, which gets expensive and also doesn't allow you any time to relax! I will admit that I felt like I needed a bit of a holiday to recover from the holiday, although it was lovely to spend time catching up with family.
I'm just going to start putting together my to-do list for next time…
Have you ever been on an activity holiday? What were your family holiday traditions?
Beki x
NB: I was sent the Speedo swimsuit from DW Sports to review.