Climbing Kinder Scout in the Peak District during an amber weather warning probably wasn't the best decision we've ever made, but the weather has been so ridiculous lately that the prospect of another weekend stuck inside wasn't very appealing.
Plus, as long as you're well prepared and sensible, there's no reason why a snowy adventure has to be dangerous – it might just push you out of your comfort zone a little more than usual!
Get Outside Tips for Winter Adventures
Know your Route – We used the Ordnance Survey Maps app to plot a route that we wanted to hike, and picked up the OS paper map for the area as well – having both is the safer option. Despite downloading the offline map to my phone, it was so cold that both our phone batteries died! A compass is also an essential item to carry, as is knowing how to use it – there are some great articles and videos on the Ordnance Survey website if you need a refresher.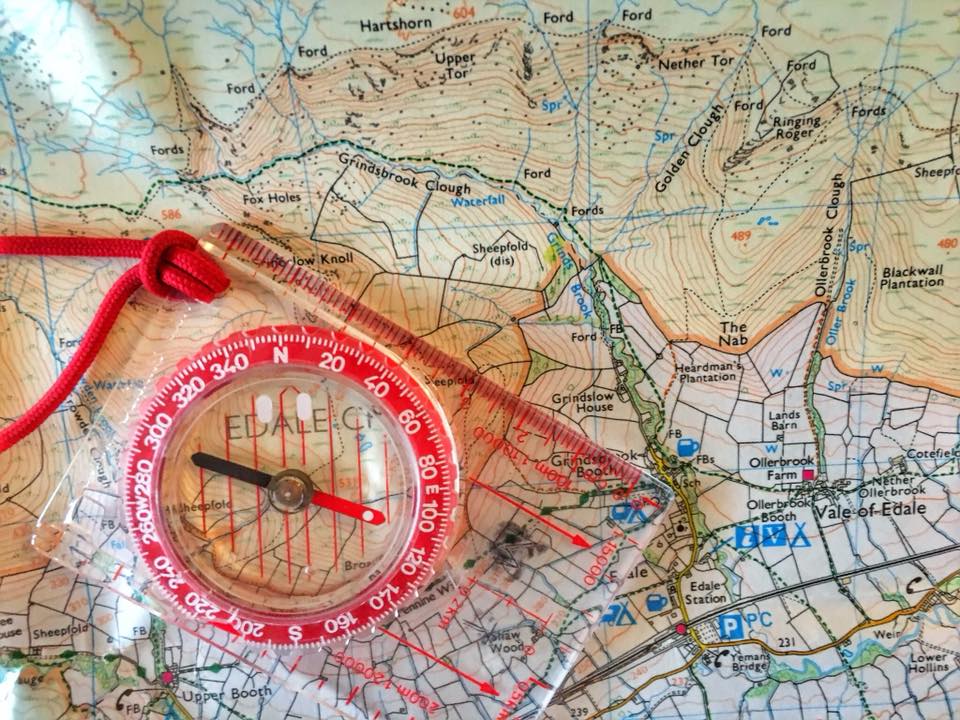 Wear appropriate Kit – Layers, layers, layers! This is key to staying warm in winter conditions, as is having a quality waterproof jacket and trousers, and good boots. My Merrell boots and Craghoppers jacket were awesome, and I love my collection of BUFF scarves and beanies – as an asthmatic, cold weather is tough, so breathing through a BUFF makes it a little easier. It did freeze though and became a little like wearing a cardboard tube by the end of our walk!
We also took crampons and ice axes, although we didn't end up using them – we probably could have, but took the decision to keep moving, rather than stop and take time putting them on in the cold and wind.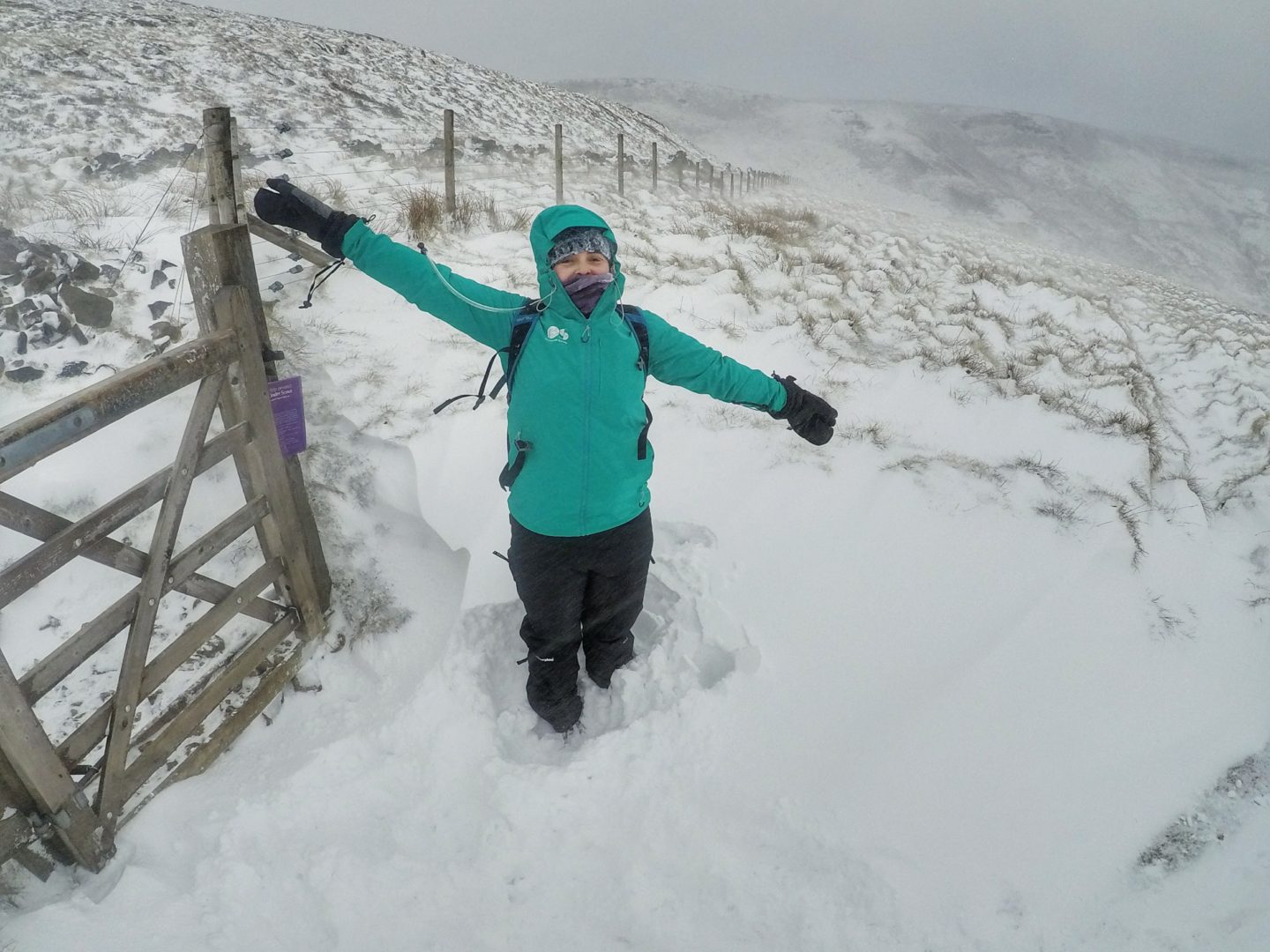 Enjoy the new Experiences – I've never really explored in wintery surroundings before, and although initially apprehensive I really enjoyed stomping through snow drifts, catching snowflakes on my nose and admiring the spectacular views. Seeing the hills covered in snow made it look truly magical, like a proper winter wonderland – not something we get too see too much 'down south'!
It was even better to be able to share it with James (and Blake) and see how happy the environment made both of them. It's been a busy few months and James and I haven't had much time to spend together so to get away and explore together was great.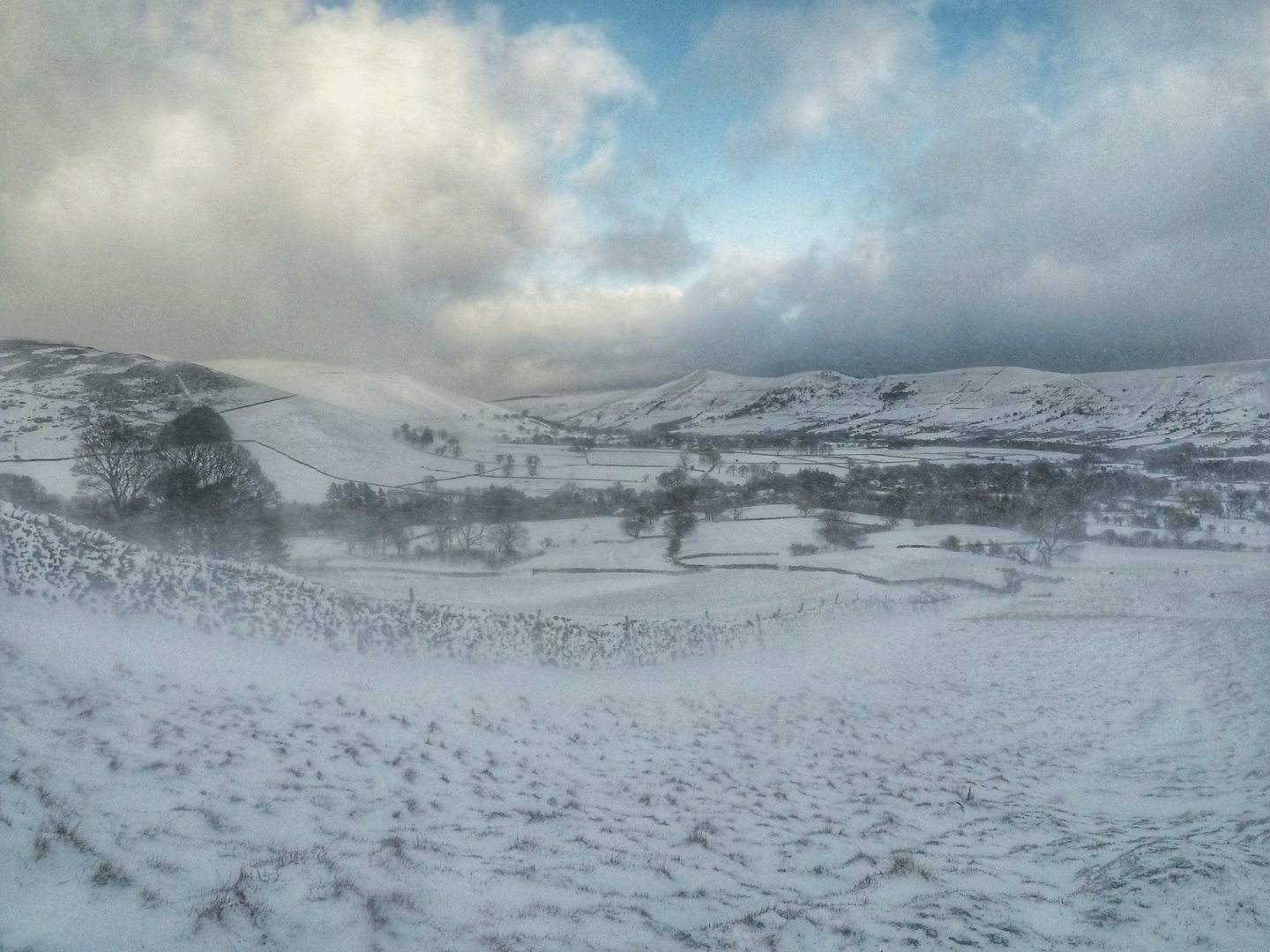 Know when to call it Quits – We managed to complete our ascent without too much trouble, although getting out of the gully over some slippery, icy rocks took a little mental talking to. However, once we were on a more exposed path the wind was so strong it was blowing us off our feet, and the snow blasting into our eyes so we could hardly see where we were going.
Our original route was a longer loop, but we decided to cut things short and take a quicker path back down in order to get back to the car before it got dark, and to avoid getting into trouble. Even so, I had to stop for a moment and huddle behind a boulder to catch my breath as the wind whipped it away!
James said that in moments of potential panic, make yourself do some mental arithmetic – if you can answer '5 x 7' correctly, then you are in a calm enough frame of mind to make sensible decisions about your expedition. A good tactic to stop you making rash decisions when scared!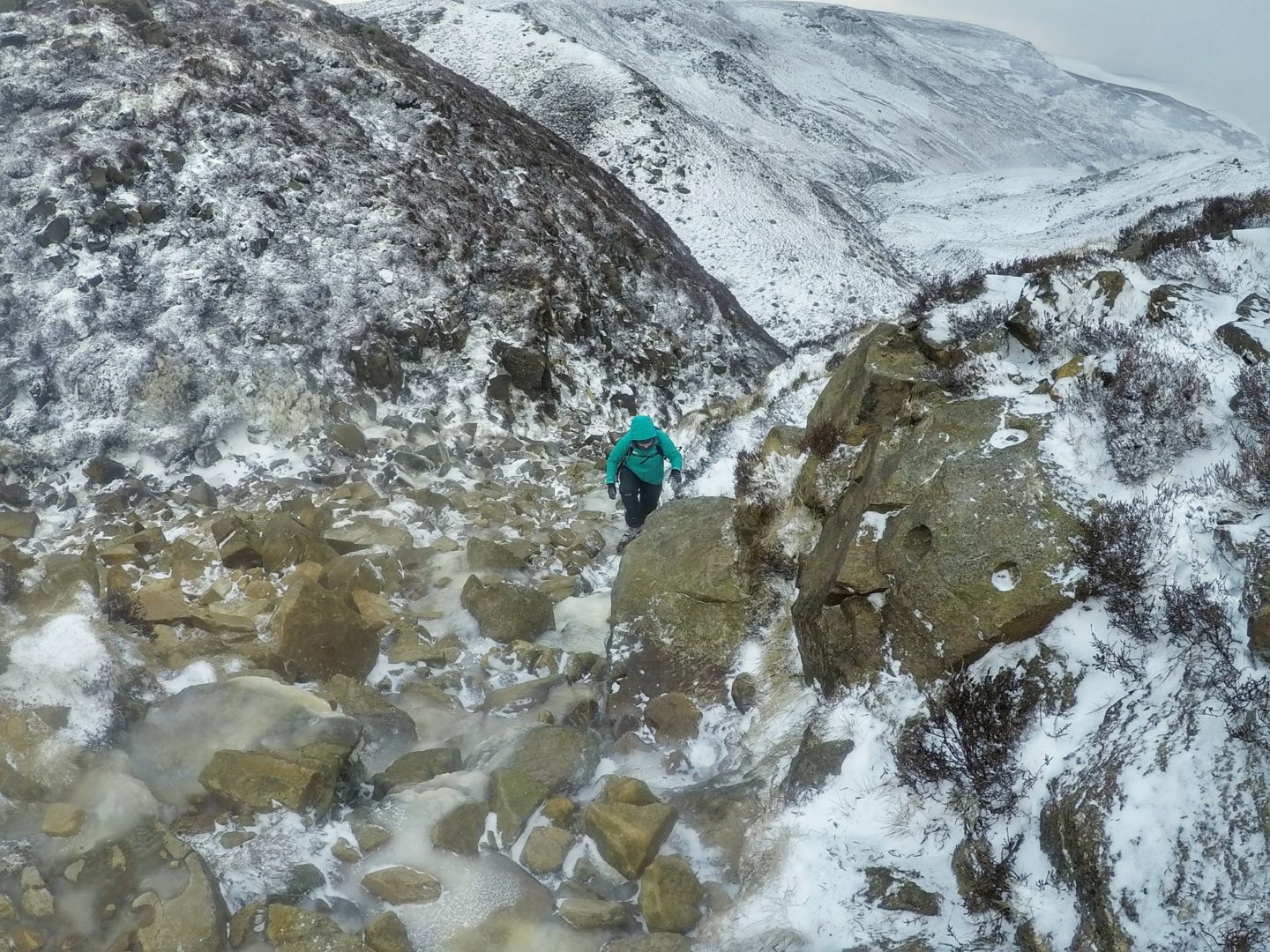 Always finish at the Pub – Having a reward or goal at the end of your adventures makes the return trip a whole lot easier. Once we'd got down from the exposed peak, the last stretch of the route was much more enjoyable – admiring the views and practically skipping the last few miles to the pub!
Thawing out in front of the fire and enjoying a huge bowl of sausages and mash was possibly the best feeling I've had for a long while as well. There's a huge sense of satisfaction in completing a challenge, and talking about with a friend over a well earned drink!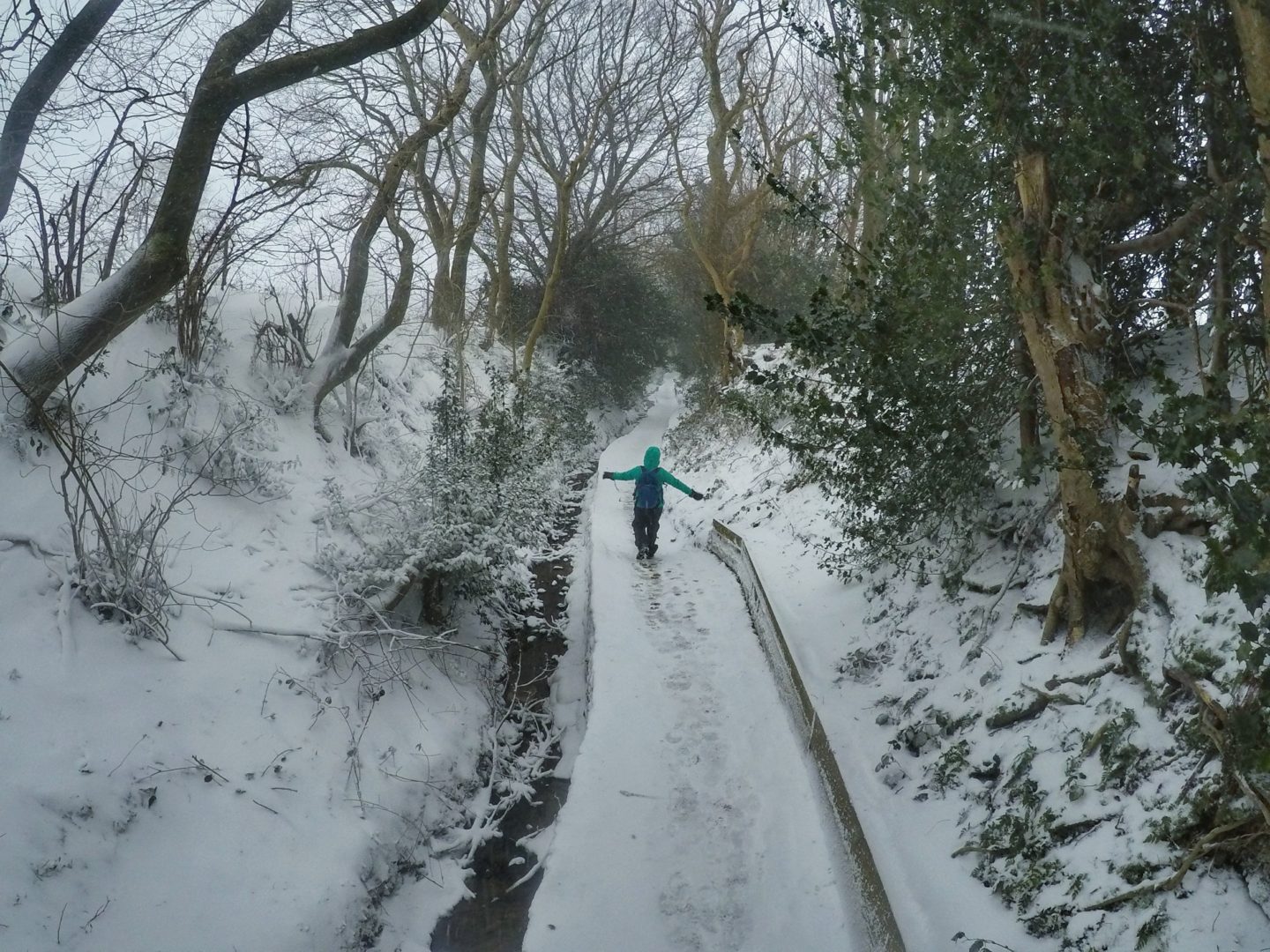 How do you explore in wintery conditions? 
Beki x