I love trying new snacks!
I like to have a selection of healthy options available at home and at work, to help me try and make better choices when I get peckish.  I leave the house at 7:30am and don't get home until 7:30pm most days, so snacks play a big part in my day.
Here are some of this month's newest nibbles:
Proper Pops
These little pots of savoury treats are popped, not fried, and packed with protein to help keep you fuller for longer. Made with milk and pea protein and containing natural flavourings they're a great portion controlled crunchy snack, when you would prefer a savoury rather than a sweet treat.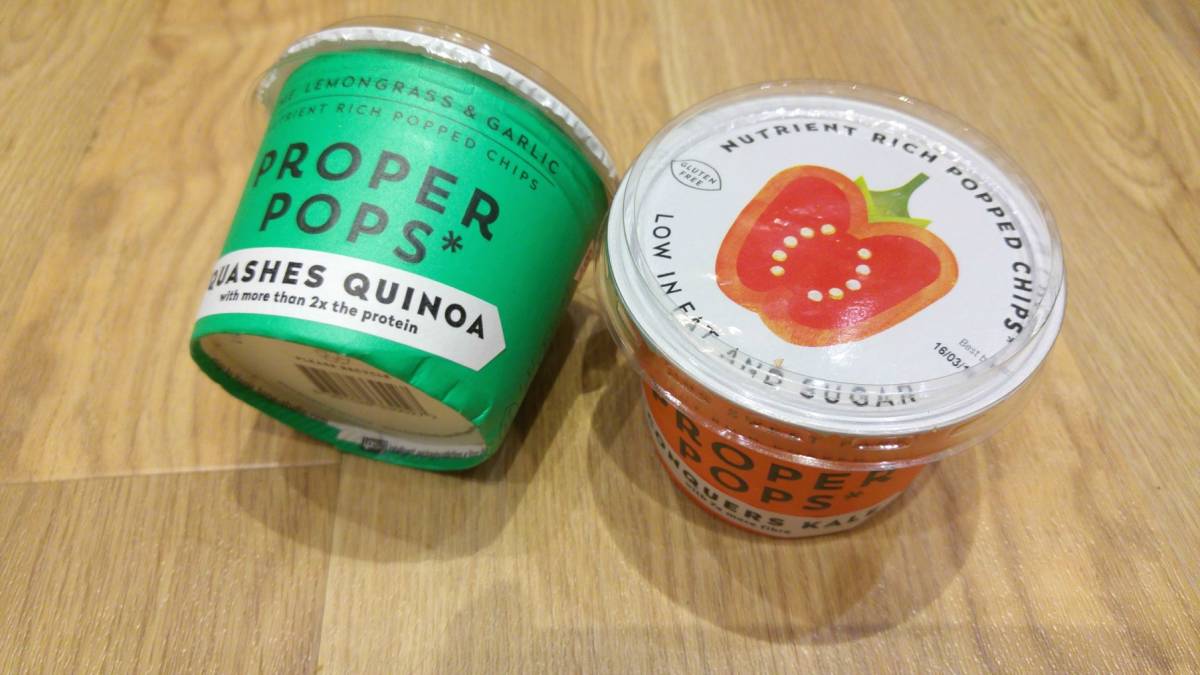 The flavours are pretty zingy – Lime, Lemongrass and Garlic, Zesty Lemon and Fiery Chilli, and Sizzling Sweet Paprika!
Bounce Balls Chocolate Orange Flavour
I love Bounce Balls and so far my favourite flavour has been Spirulina, but look out there's a new kid on the block! Just in time for Christmas, Cacao Orange Bounce Balls are hitting the shelves, as the perfect healthy stocking stuffer.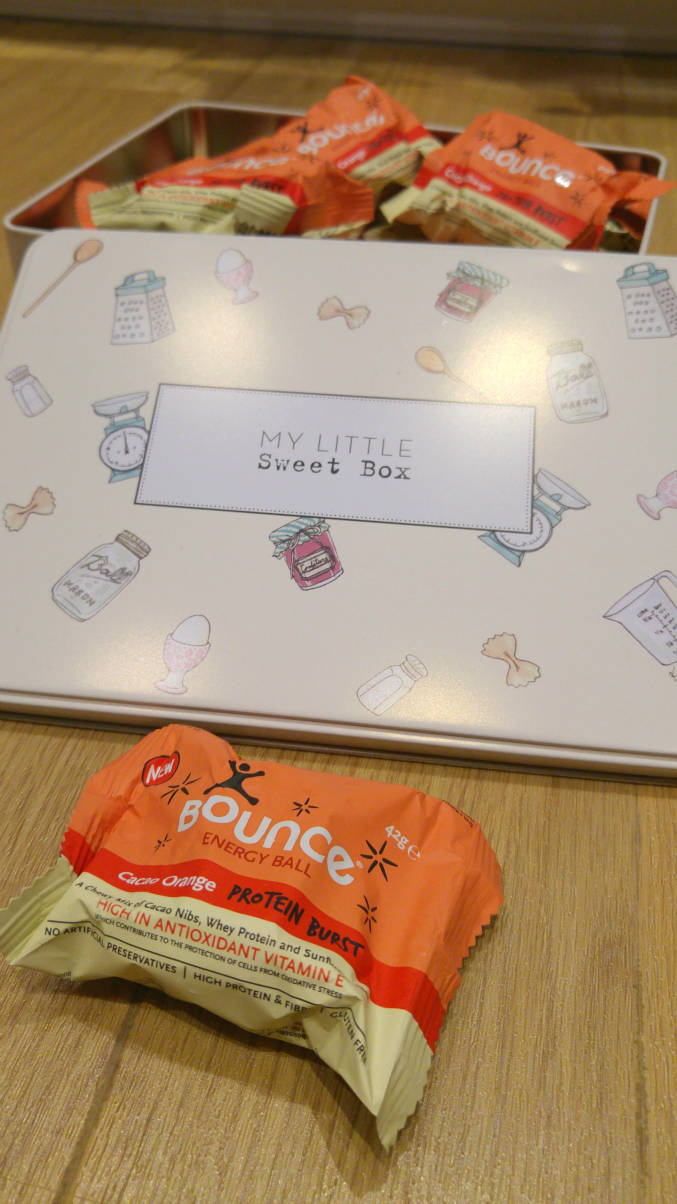 Packed with high quality protein, Bounce Balls are great energy boosters before exercise- I often grab one before a morning workout or to keep me going through an evening fitness class until dinnertime. They are also full of antioxidants, which help to protect your body during the winter months- a great excuse to try one now!
Psst – tune in for my Christmas Fitness Competition at the beginning of December to win a pack to try for yourself.
Superfoodio Box
Snack boxes are all the rage at the moment, from the original Graze box to specific paleo and vegan options delivering you tasty healthy snacks to your door (or desk). Superfoodio specialise in Superfoods, hence the name, and each box contains a selection of delicious snack choices, including bars, cereals and drinks, plus a versatile meal ingredient to cook with.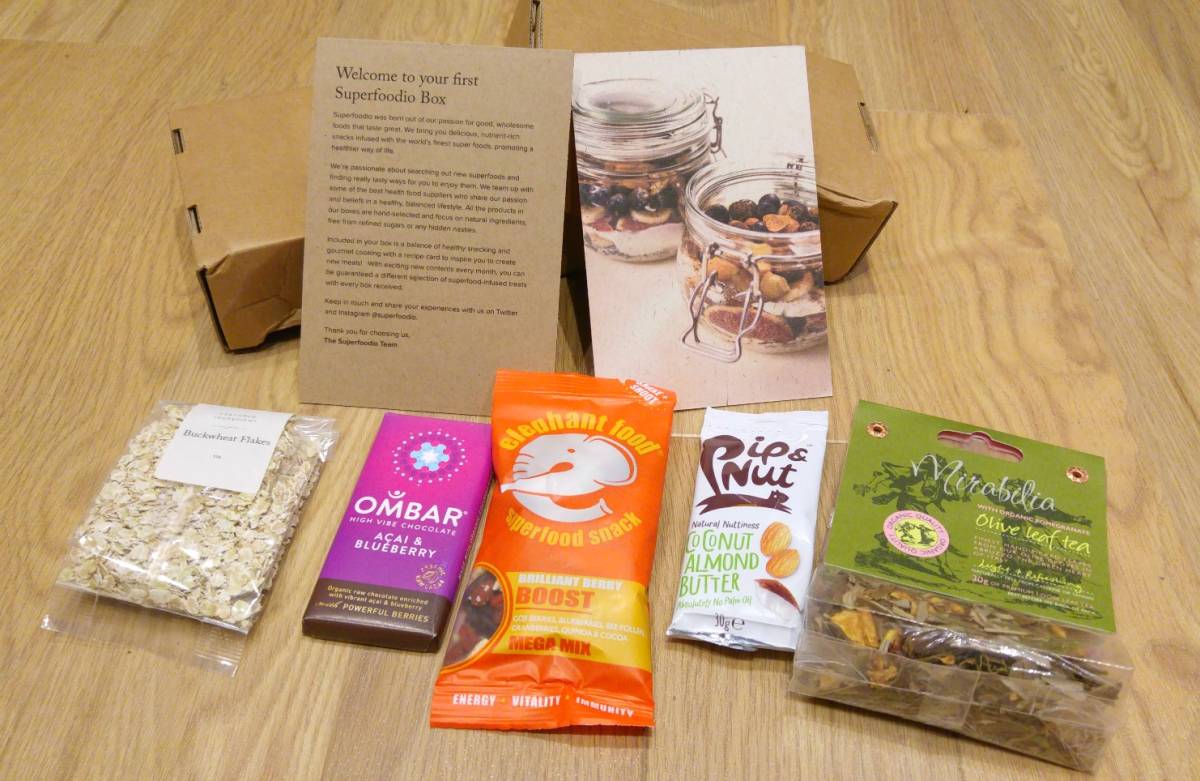 My ingredient was Buckwheat Flakes – in the box was a recipe card for a Buckwheat Breakfast Pot, which I will definitely have to try! The OMBAR chocolate and Pip & Nut Coconut Almond Butter may have already disappeared (yum)… But the Superfood Mix will be making it into my handbag to take to work- it's packed with goji berries, blueberries, chocolate covered cranberries, brown rice and quinoa – how many superfood ingredients can you get in one packet?!
Not so sure about the Olive Leaf Tea – I don't actually like olives so am a little afraid the tea will taste like them…
What new snacks have you tried recently?
Beki x
NB: I was sent samples of these products to try, but as always all opinions are my own.