WIAW time!
This is what I ate yesterday (Wednesday) – head over to
Peas&Crayons
to check out what other lovely treats people have been eating this week!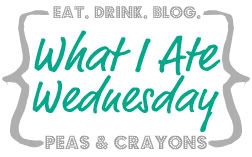 Wednesday
I was supposed to go to Crossfit yesterday morning, but am suffering with severe DOMS in my hamstrings and lower back after doing deadlifts on Monday evening (new 3RM = 60kg!) – so I decided to give it a miss. An extra hour in bed is always nice too 🙂
Breakfast
I may have gone back to my trusty banana and peanut butter porridge with chia seeds for breakfast. It tastes amazing and keeps me full for the morning too!
Mid-morning cup of tea…
I went to Pilates 1-2pm, so had a late lunch today.
Lunch
I had soup in the fridge but after getting hot and sweaty during the Pilates class it was the last thing I fancied!
So I ended up buying a chicken wrap from Waitrose.
Mid-afternoon snack
Apple and a cupcake. One of the girls was selling these at the
Pilates studio
to raise money for her theatre group to go touring and perform at the Edinburgh Fringe Festival. It was Earl Grey tea flavour! Yum.
After work Mark and I went to a lecture at the
Geological Society in London
which was really interesting. The building is amazing too- old fashioned and with an awesome library, complete with dusty books and a little balcony around the walls to reach the upper levels!
Dinner
After the lecture we went to
The Banana Tree in Soho
for dinner. It was packed, and noisy but in a "great atmosphere" way. They do Indochinese food, and I opted for the Duck Red Curry, which came with Jasmine rice, spicy crackers, glass noodle salad and sweetcorn cakes. Very tasty!
On the way back to the station we walked past the M&M's shop in Leicester Square and I just had to take some photos! I'm not really a fan of M&M's (I prefer Smarties!) but the colourful tubes are pretty eyecatching 🙂
Ever tried an Earl Grey tea cupcake? Mark had some beer the other day which had lemon and bergamot in it, which are the flavours of Earl Grey. It was quite nice!
M&M's or Smarties? I love the orange Smarties as they actually taste of orange!
Beki x