Happy Wednesday people! Hope your week is going wonderfully! I'm trying not to freak out too much about the London Duathlon on Sunday…
As always, WIAW is about food and fun!
Comparison – Judgement – Restriction – Guilt
Celebrating one of the glorious things we all have in common: We all eat!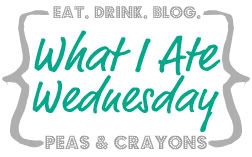 Breakfast – pre and post Crossfit
A Trek banana bread flapjack (this flavour is awesome!) before and a whey protein shake with almond milk after.
Mid-morning snack
Apple with almonds – I have to count them out otherwise I'll eat the whole pack! The combination was pretty tasty 🙂
Lunch
Chicken and chorizo soup
Carrots with red pepper houmous
A very orange lunch!
Mid-afternoon snack
Free latte from Waitrose (if you have a Waitrose card you can get a free hot drink every day, and now it's right next to our office it's pretty tempting! I haven't been having one every day yet though, mostly just once a week…)
Dinner
Salmon pan fried in coconut oil with roasted broccoli and kale, and cherry tomatoes – yum! I cooked it in olive oil with salt and pepper, and the kale goes lovely and crispy.
Evening snack
Glass of white wine, leftover from a risotto Mark made the other day 🙂 And a mini Mars bar, which I was given at work today for completing a survey for HR, haha.
Beki x