Happy Wednesday!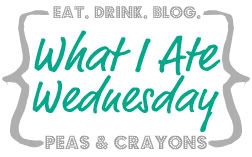 To mix things up this week I've decided to do a "
hypothetical WIAW
" of all the things I would eat in a day if money and calories were no object! These in no way reflect a healthy balanced diet or even resemble meals, it's just a bit of fun 🙂
Passionfruits * Homemade warm crusty bread with butter * Gooey chocolate brownies * Salmon teriyaki * Mountains of fresh berries * Pies (of any kind!) * Gu vanilla and chocolate cheesecake (or any cheesecake really!) * Peanut butter * Poached eggs
What would you eat if there were no limits? What are your favourite foods of all time?
As always head over to Peas and Crayons to join the What I Ate Wednesday party… 🙂

Beki x